Doughty Valley Steam Days celebrates its humble beginnings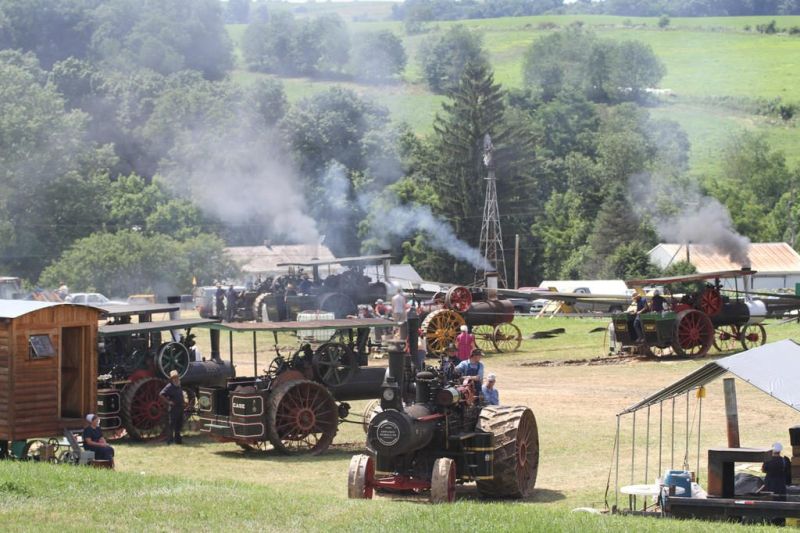 Usually when sparks fly and people blow off steam, that means there is trouble a-brewin'. However, when it comes to the Doughty Valley Steam Show that takes place near Charm every year and has for the past 17 years, blowing off steam and making sparks fly are good things, really good things.
With a host of steam engines and tractors that fill the air with multi-colored smoke and a Friday evening spark show that lights up the evening sky with a stunning cascade of glowing orange sparks created by cedar chips, the steam show has developed a reputation as being one of the best shows of its kind, and the board members have done a great job of making sure the show's motto, "Keeping history alive," is a focal point.
What has truly made this event a unique one is that it doesn't take place at a fairground or show ground, but instead it takes place in a working field, where the board can create some fascinating demonstrations to show threshing, an old saw mill and more as they were designed to operate more than a century ago.
"We hear about how wonderful the natural setting in the hills of Holmes County makes us unique and special all the time," said Abe Mast, who along with Reuben Kandel ignited the steam show's beginning.
The Doughty Valley Show, which will take place this year July 26-28, is a real throwback to the days when steam was the king of power. That idealistic and historical look back at an era that helped move America along in its growth is one of the biggest reasons fans of this show continue to come year after year.
In its infant years in the early 2000s, the Doughty Valley Steam Show was held at Dan Mast's 20-acre farm, a location just east of the Dan Miller farm, where the show takes place today. The rolling pillows of steam and even the aroma of burning coal brought curious people from near and far as the show took root.
According to Abe Mast, the idea of hosting a steam show began when he and Kandel, who were both longtime steam engine fans, put their heads together. The two traveled many miles to attend steam shows, but at one point they realized there were a large number of steam engines right here in Holmes County. In an area that was largely inundated with the rolling fields of many Amish farms, it seemed as though this area would be a perfect fit for a steam show.
"I remember this so clearly," Abe Mast said. "Years ago Reuben and I were attending the Stutzman Steam Show in Geauga County, and we were standing right beside a 2390 engine when they were sawing, and Reuben said, 'Abe, why can't we have something like this in our area?' I was thinking that exact same thing. I really give Reuben the credit for starting this."
As time went on, Abe Mast said that idea rattled around in his mind for quite awhile. He had an old steam-run saw mill he had purchased in 1969, and that would become a centerpiece for the first show in 2001.
"We sawed with a steam engine and used the on-line mill, and that was quite a unique sight," Abe Mast said. "People came from all over to see this old machine turn my saw mill. We smoked up the valley big time and have been ever since."
J.D. Miller and Ray Miller joined the push to start a steam show, and Kandel became the president while Abe Mast was the vice president.
The first show featured seven steam engines and the saw mill, and it was a mild success.
Over the next several years the show grew, but Ray Miller wanted to stop the show because he felt they were getting in over their heads. Abe Mast said he left that meeting feeling very different about what was taking place. He said he spoke to several people, and they all had the same response.
"They all said, 'Don't you let this show go down,' because we all felt we had something special. Yes, we were a little short on money, but we kept on going," he said.
Eventually they had to move to a larger location, which ended up being Dan Mast's field near Guggisburg Inn off of state Route 557 near Charm.
The numbers were increasing, but when the Medina County Fair experienced the tragedy of having one of its steam engines blow up in July 2001, killing four people, steam engine shows took a hit, and there were much greater rules and stipulations put on those entities presenting shows. Thus the Doughty Valley Steam Show board was created, and they incorporated in 2008.
J.R. Schrock came on board as president, and since then the group has had to add to the safety of the show. J.D. Miller would bring in one person to patrol the grounds and keep an eye out for anything that might create safety issues.
"We never even knew who that person was, but we wanted to make sure we were doing things the right way," Abe Mast said.
With safety being a valued part of the show, it continued to grow. As more steam engines came in to participate, the show began bringing on many unique and beautiful antique tractors, which continues to be a big part of the show today. In addition they have implemented some tantalizing shows aside from the daily demonstrations, like the spark show, a steam engine pull and the man-versus-steam tug-of-war that features close to 200 people trying to out-pull a steam engine.
By continuing to add new features and highlights to the show, they have been able to keep it fresh without losing the commitment to keeping history alive by focusing on the historical significance of steam. In addition the show's country atmosphere helps it maintain that sense of the simplicity of the early days of steam.
In addition to the authentic steam engines and tractors, they have brought in an authentic cook shack, which was a rolling kitchen that would accompany the threshing and logging crews out in the fields decades ago to cook meals for the workers. At the Doughty Valley Show, women in the cook shack will prepare meals, just like it would have been a century ago.
The early shows saw several members preparing baked beans and even corn on the cob, preparing it right in the steam engines. Abe Mast said the first year he made a gigantic pot of stew over an open fire. Today they have the cook shack serving food as well as other vendors who make things like kettle corn and other food.
What that has done is create a wonderful atmosphere that has helped build relationships between people who have similar passions for steam, and that has made it a very reunion-like weekend as year after year people return to enjoy the company of each other.
"We have a lot of people who continue to come back year after year to get together with each other," Abe Mast's brother Dan said. "It is very much like a reunion, and the family keeps on getting bigger and bigger because it is a passion that we all share."
Abe Mast said there have been many times he has wondered how a few men were able to create something as big as this show has become. It has been a lot of work, but it has been a labor of love for the board members who have kept it going.
The board is currently seeking new membership, and at $8 per year, the membership fee is very affordable. That fee also gets members into the steam show on all three days, opens the door for all general membership meetings, and includes an invitation for members and their guests to the annual banquet and auction at Sharon Church. This year's banquet and the ever-growing auction will take place March 24, the auction beginning at 5 p.m. and the meal following at 6:30 p.m.
Anyone interested in becoming a member of the club may do so by calling Schrock at 330-763-0303.
Whether it is the demonstrations or shows, the sheer joy of watching this slice of Americana is well worth the price of admission for those in attendance.
Between the wafting smoke, the shrill plaintiff call of the whistles, the gentle sound of the engines hissing after being worked out and the natural setting, the Doughty Valley Steam Show continues to be a source of joy and a trip down memory lane for many.