Duxbury named Powell Citizen of the Year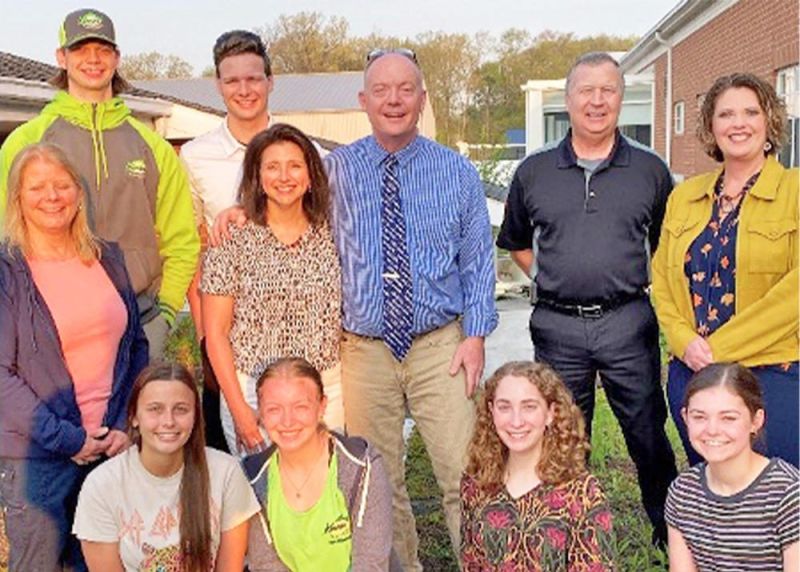 Jim Duxbury, longtime Orrville High science teacher, was selected as the 2021 Paul L. Powell Citizen of the Year during an early morning meeting with the Conservation of Parks committee on May 12.
"His leadership has been the driving force behind numerous community projects that go beyond teaching in the classroom," said Barbara Schelcher, a teacher at Orrville High School, in her letter nominating Duxbury.
"I'm not often at a loss for words," Duxbury said upon learning he had been selected. "I have to say that I am speechless."
For nearly 30 years, Duxbury has been guiding Orrville students through community-service projects and environmental exploration. He has planned weekend, spring break and summer excursions throughout Ohio and the United States.
Duxbury has coordinated trips with students in Orrville High School Earth Science Club to the Smoky Mountains, Shenandoah, Ozarks, Hoover Dam and the Grand Canyon.
"He teaches students how to raise funds for these experiences," Schelcher said. "It is important to Jim that every student has the opportunity to participate."
Duxbury's commitment continued through the challenges of the COVID-19 pandemic. Instead of an overnight trip, he bought each student a pop-up tent so they could have a campout in the school courtyard. The students had a star-gazing experience and learned about the constellations.
In 2021 COVID-19 protocols continued to present obstacles for transporting groups of students on the traditional outdoor adventures and activities such as planting trees and recycling efforts. Prompted by a desire to do something to help others, Duxbury applied for a grant to fund a project building beds for Sweet Dreams for Kids.
Duxbury worked alongside students in the Conservation of Parks class to raise additional funds, purchase supplies and find a space for the beds to be built. Twenty-six beds were built in two days and distributed with the assistance of Orrville Salvation Army to kids in need throughout the community.
Over the years Duxbury has assisted students with grant writing for Apple for Alzheimer's and organized geode breaking, recycling drives and even frog jumping for Heartland Education Community's Character Education Week.
Every January through April, Duxbury raised trout in his classroom. The special-needs classes came daily to feed and care for the fish. In the spring the students released the trout to stock local streams.
Duxbury also has been known to place blue bird houses along the Rails-to-Trails bike paths.
In 2020 Duxbury and wife, Amy, founded Lavender Trails on a plot of land owned by The Will-Burt Company in Orrville's Industrial Park. Environmentally and civic focused, they took a Brownfield and made it beautiful. Over 1 mile of lavender with eight different species is planted in a diamond-shaped garden. Lavender Trails is open to the public each year in July. Proceeds from Lavender Trails, plus donations from visitors, support a special cause each year. In 2021 Down Syndrome Association of Northeast Ohio was the recipient.
"Jim has never been one to look for accolades or seek acknowledgement," Amy Duxbury said. "He always gives credit to others."
Duxbury will be the 57th Citizen of the Year recipient. The recognition was first presented in 1969 to honor the legacy of Paul L. Powell, owner of The Orrville Courier-Crescent newspaper from 1930 through the mid-1960s. The Dix family established the Paul L. Powell Citizen of the Year award to recognize him for his community leadership, journalistic talents and affection for Orrville.
The Paul L. Powell Citizen of the Year award will be formally presented to Duxbury at the Orrville Area Chamber of Commerce Celebration of Community Awards Dinner on June 21. Tickets to attend the event are available at www.orrvillechamber.com.