East Holmes Fireman's Festival moves ahead cautiously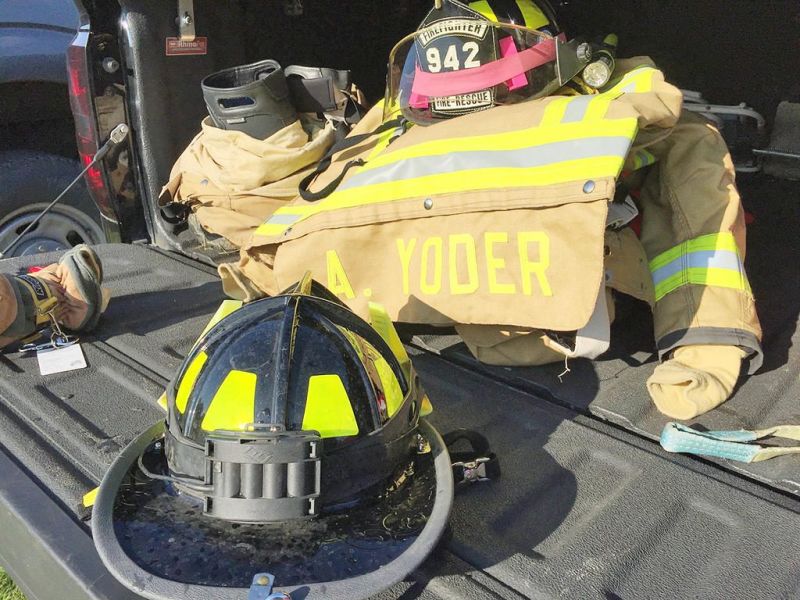 After fleshing out the details concerning how to best practice social distancing among a crowd of people, the show will go on for the East Holmes Fireman's Festival in the area behind Berlin Elementary School Saturday, July 18 beginning at 4 p.m.
Like all events slated to take place in the days of COVID-19, the annual festival was in question until the state relaxed some of its social distancing guidelines recently.
"We discussed how we wanted to try to go about promoting the event, and if we should even have it, quite a bit in the station," said Nate Miller, president of the event. "We talked to the health department and got their input, which was a big part of our decision."
How many people will show up to the event is now anyone's guess.
"It's really a tough year to predict how many people will show up," said Dave Hostetler, vice-president of the event. "Will people want to come out because they are tired of not doing anything? It may be a bigger crowd than ever or much smaller, we don't know. We just have to prepare like it is going to be big."
East Holmes Fire & EMS fire chief John Schlabach said he touched base with the health department. He said the easiest thing would have been the throw in the towel and cancel the event, but with the help of the health department, they wanted to move forward because it has become such a large part of the give-and-take between the department and the community.
"We knew we would have to concede a few things and adapt and make a significant number of changes, but we wanted to provide a celebration where people could have a fun time and still be safe," Schlabach said.
One of the biggest changes will be the absence of the kids' rides, an activity area that has been highly utilized over the past years as kids romped around on a number of climbing obstacles, jumping pits and other games.
"We are still trying to find some smaller games and activities to keep the kids busy," Miller said.
Another big change will be in the way the department serves its barbecued chicken dinners. Rather than have people come through a line, pick up a tray and be served, the department volunteers will now pre-package the chicken quarter dinners in a closed container. There will also be carryout meal options available for those who can't stay.
"Buffet style is nice, but it wasn't practical in terms of safety," Schlabach said. "The health department was really pleased with that decision."
In addition, there will be multiple handwashing and sanitization stations set up around the Berlin Elementary School area.
With social distancing in mind, the firemen realized that they would not be able to put everyone eating under the big tent, so they are encouraging people to bring their lawn chairs and spread out, with the area where the kids' games serving as additional space to eat.
There will be five food vendors on site, adding to the menu of food options. Another fan favorite is the homemade ice cream, and even that may look different, with patrons asking the servers to put the toppings on the ice cream for them to create a safer, healthier area.
After doing a car accident extrication and a house burning demonstration the year prior, this year's event will welcome back an old favorite in the fireman's water games.
With a number of area firefighting squads teaming up, squads will go against one another in a series of games like the water barrel fights that have always been a huge draw.
"I listened to feedback from community members who really wanted to see the water games return," Miller said. "It's a lot of fun and very entertaining for people."
The live entertainment on the stage will include performances from Polen Band, Liberated and Sacred Grace, which should fill the evening schedule with plenty of great music. Polen Band will perform from 4-6 p.m., Liberated will take the stage from 6-8 p.m. and Sacred Grace will perform from 8-9:30 p.m.
The annual auction, which will again include the fireman's quilt along with several other pieces, including a custom-made East Holmes Fireman's engraved rifle, will also be up for auction.
The EMS safety tent will be on hand, and the annual rifle and gun raffle will also take place. The raffle will feature a number of rifles and handguns. Tickets for that may be purchased ahead of time or on the night of the festival, and people need not be present to win. The raffle drawing will take place right before the fireworks show, which will take place right after dusk.
The festival will be much like it has been in the past, yet different because of social distancing efforts.
Still, it will move forward.
"It's made for a lot more work for us, but we felt it was important to give the community something," Schlabach said. "This is such an important part of our giving back to the community. We really hope that it continues to be a fun night while we practice health and safety."
While it took a lot of additional work, as always, the group went about working through the issues together and came away with what they believe will be an entertaining and safe festival.
"This takes a huge community effort, and we are always glad to have volunteers help set up or tear down if anyone is interested in lending a hand," Miller said. "We have had youth groups and individuals help in the past. We have never had too many people help with the festival."
Anyone who would like to volunteer their services or purchase raffle tickets early may do so by calling the fire department at 330-893-2117.
With most things under tents, the show will go on, rain or shine.