Edgewood students part of Killbuck Marsh renovation efforts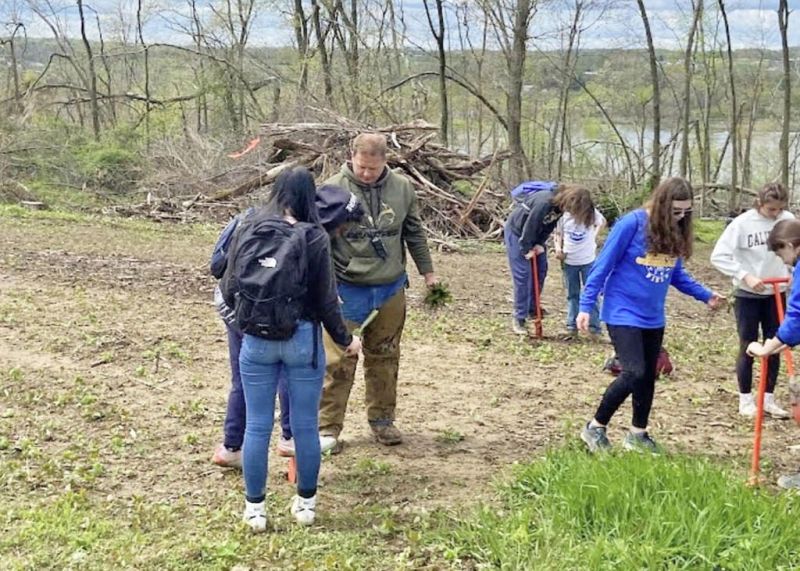 This spring the Edgewood Middle School seventh-graders of Wooster City Schools were challenged with a problem-based learning opportunity when they were asked to help find ways to conserve and preserve the Killbuck Marsh after major destruction.
On June 14 a derecho, a rare, dangerous storm, devastated the Killbuck Marsh Wildlife Area in Wayne and Holmes counties. Birds such as water fowl, song birds, wild turkey, owls, eagles and some game birds lost their natural nesting and/or roosting trees as a result of this storm. Additionally, at one time the habitat had a healthy beaver population. However, they are nearing the end of their 100-year cycle, and the number of beavers has decreased greatly, impacting the wetland habitat.
Edgewood students were asked to explore options to help with the restoration of this large area that has been preserved as a wildlife refuge for many years. Seventh-grade students in the science classes of teachers Jim Figley and Emily Harley were posed with multiple areas to research to help solve this real-world problem. Areas of research included why the wetlands matter, why people should care about the Killbuck Wetland, the impact the issue has on people, what people can do to help, and what careers are necessary to address and solve this problem.
Beginning in fall 2022, with help from Devon Miller and Barry Pickens from Deer Creek Hardwoods, Dennis Solon with the Ohio Department of Natural Resources began the rehabilitation of this ecosystem. Clearing fallen trees to create room for new plant and tree life was just the start.
The many weeks of research and learning that took place in the science classes culminated in a two-day excursion to Killbuck Marsh. On the first day out to Killbuck Marsh, Edgewood students and staff worked with the Ohio Department of Natural Resources staff — Solon, Erich Long and John Abele — along with Devon Long and Pickens to clear debris from fallen trees and plant new trees in the cleared-out areas.
On the second day of the project, students and staff cleared trash and debris, planted more trees, and explored a Revolutionary War veteran cemetery on the property. The day ended with people from Operation Orphan Wildlife Rehabilitation Inc., which had been rehabilitating an orphaned beaver, releasing the animal into its natural habitat. Both days of the Killbuck trip, students and staff were provided lunch by Don Lewis from the Wooster City Schools Food Service Department.
Through this experience students were given the opportunity to work with a reporter and photographer to learn how to document an event like this. They also worked and learned from wildlife and conservation professionals in the field. Edgewood seventh-graders were immersed in experiences environmental specialists tackle daily.
"It was such an amazing experience watching our students give back and perform such an important act of service in the Killbuck Marsh," Edgewood Principal Heidi Haas said. "I was very impressed with the work ethic our students showed, both in the classroom and at the marsh. I look forward to growing this partnership and seeing great work continue for years to come."
Many of the involved field workers and school staff said these students are the future of conservation and preservation, not just for Killbuck, but also for all natural habitats. Other adults working with students said if this project inspires even one student to go into the field of conservation or merely appreciate nature more, the mission was accomplished.