Global gratitude conveyed to MCC for annual meat canning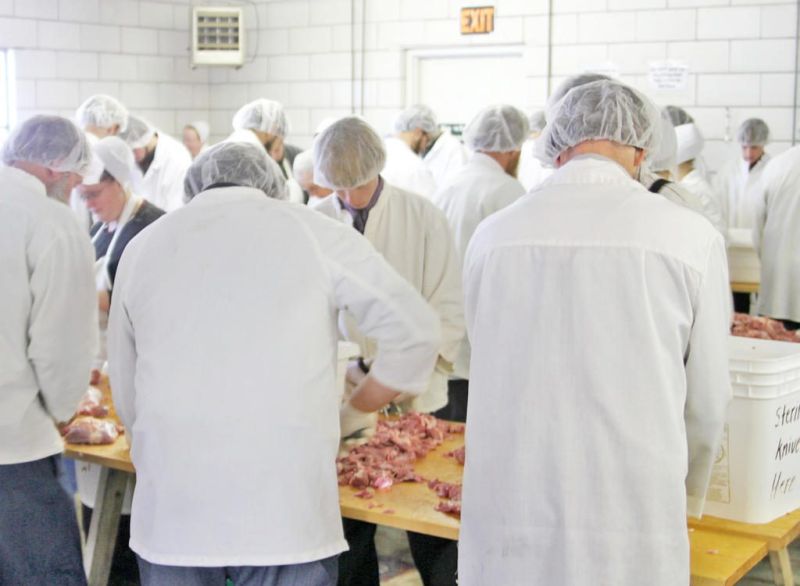 While volunteers and the Mennonite Central Committee meat canning crew is busy on the home front canning meat, those who volunteer and give to the MCC meat canning project often don't get the opportunity to hear firsthand what a global impact this project creates.
Joe Miller, acting president of the MCC meat canning program, said hearing the joys and blessings from leaders around the world is encouraging, and those words should be a reason to celebrate and a driving force in giving to the project.
"We never know who might be incredibly blessed by our effort, so we volunteer and give in faith that God will use this to bless many people around the world, and he has been doing just that," Miller said.
Miller said they recently completed a project focusing on an unusual request from Brethren in Christ churches in Cuba, where church leaders there used the meat and MCC relief kits to share with their hurting neighbors.
Leaders there and others shared their gratitude to MCC for its efforts to reach out to hurting nations and communities around the globe.
"We partnered with the Cuban BICs to In the Name of Christ to bless hurting people in Cuba," Miller said. "Shipping from the U.S. to Cuba took a lot of paperwork, but we got it accomplished. Linda Shelly, MCC director for Latin America, was in Cuba when the container arrived in Cuba."
Stories like this surface from all over the world.
Following are five messages of joy and thanks from leaders around the globe:
"We are grateful to our Mennonite brothers and sisters for what you have sent, for this donation that we are receiving today. Thank you because this is a door that is opening, and we believe that all this help is possible in the name of Jesus Christ, and it will come to those in need. We are grateful, and we are praying for you as well, that you may be able to continue to share, not just with us, but we know there are many places that you can help with the blessings that you have received from the Lord. —Pastor Ignacio Quiñoz from the community of Australia in Jaguey.
"We are grateful because today we see the answer to our prayers, what we have been praying for a long time. We see that what we thought was impossible is possible. We see that we are in the hands of God. Thank you for this help. The timing was right. This is a response of divine provision, and you are instruments. We bless you. We are grateful." —José Gonzalez, pastor of the church in Santa Clara.
"By the grace of God, we are infinitely grateful to God for this gesture that you have had with us — a gesture of love, of goodness — sending this help in these times of COVID, with all the needs we have in Cuba. We are infinitely grateful to God. We ask God to continue to help you and to reward you greatly for this gesture that you have had toward us. We bless you in God's name … and victory." —Santiago Forero, presbyter of the Brethren in Christ in Santiago de Cuba.
"Greetings to the brothers and sisters from Mennonite Central Committee. We are from Bayamo, Granma in the eastern part of the nation of Cuba. We give thanks to God for all your efforts, all your support, so that this blessing could arrive in our hands to bless so many families in these times of COVID, in these intense times in our nation. We bless you. A huge embrace from Cuba." —Pastor Jesus Gabriel Acosta, president of the missions committee.
"Hello, my dear brothers and sisters. May God bless all of you around the world who made this donation possible for the Brethren in Christ in Cuba. Today we were receiving this help that you contributed from your hearts. We are very happy. May the good hand of God be with you so that you never lack anything. God bless you. My beloved brothers and sisters, may you be blessed. Thank you and my God keep you." —Pastor José Ramón Castillo Hernandez from the BIC church in the most western province of Cuba, Pinar del Río.
MCC meat canning continues to play a critical role in aiding many people around the world, feeding the hungry and bringing hope to struggling communities. Opportunities exist for people to join either by volunteering for the upcoming meat canning days in Kidron Jan. 24-26 from 5 a.m. to 10 p.m. or by volunteering to take on a larger role by joining the traveling canning crew.
If interested in volunteering to join the crew, email Miller at joemiller@mcc.org or call him at 717-808-2417. Anyone interested in volunteering for the Kidron meat canning days can text Trent Metcalf at 330-465-4191.