Father's Day Fishing Derby scheduled in Bolivar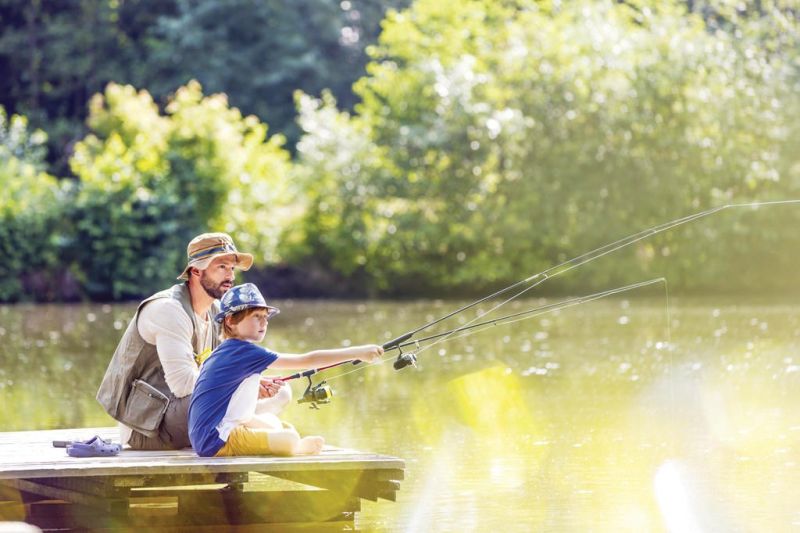 Joe Rinehart of Bolivar found a serious gap in this year's Father's Day activities in the area: no fishing tournament for dads and their kids. Rinehart, a fisherman, decided to create an informal Father's Day Fishing Derby, which is set for Sunday, June 16 from 1-5 p.m.
The location grew out of unsuccessful queries to the state about the complication of requiring fishing licenses.
"I was concerned about that," Rinehart said, "for people who wanted to participate but didn't have a fishing license. The original idea was to have the tournament on the Tuscarawas River, and you'd have to have a license for that unless I could get an event exemption."
The solution came when a pond behind NTR Canoe Livery was offered. "It's a private pond, so that solved the license problem," Rinehart said. "And if anyone who is a licensed fisherman wants to go and fish in the river, that's easy and close by."
Classes will be divided into age 3-5, 6-8, 9-12, and 13 and older. Prizes for each class will be given out including Zoar event tickets, weekday canoe rentals at NTR and children's fishing equipment. A light brunch is planned, and there is no registration fee to participate.
Rinehart realized some of the traditional area events for the summer would not be held. "There will be a lot of work going on downtown in Bolivar this summer, so the strawberry festival has been canceled," he said.
Rinehart started thinking about something he could put together for Father's Day. He said he views the Tuscarawas River as an underutilized area resource. "I started looking to see what might be coming up on the river for people who like to fish, and there was really nothing. I thought a Father's Day fishing tournament was something I could easily make happen and bring people's attention to this wonderful resource," he said.
Rinehart has good memories of fishing with his own father, who passed away last year. "He was not a big fisherman," he said. "But our time together spent on a lake is one of my best memories and stories today. It wasn't about the fishing but about the memorable things that happened around the fishing trip. The Father's Day fishing tournament this year is meant to be a way for kids to share time with Dad and make some memories. It's very informal and should be fun."
Rinehart was able to get some help from area businesses and organizations. The first Father's Day Fishing Derby is sponsored by NTR Canoe Livery, Towpath Trail Snack Shack, Wallace and Associated American National Insurance, the Bolivar-Zoar Rotary Club, Big Brothers/Big Sisters of East Central Ohio, and Dick's Sporting Goods. Rinehart wants the tournament to become an annual event.
"You know it's not planned to be a super competitive thing," Rinehart said. "There aren't going to be a lot of rules or strict guidelines. The idea is to get kids of any age, their dads and grandfathers together for a nice afternoon of fishing and fun."
Those who would like to purchase a fishing license and ply the Tuscarawas River may get it at Ace Hardware at Buehler's in Dover, Discount Drug Mart in Dover or New Philadelphia, Coulter's Dog and Hunter's Supply, or Wal-Mart in New Philadelphia.
The pond at NTR Canoe Livery is located just off I-77 at exit 93, Bolivar. The address is 11358 state Route 212 NE.