Fire hose wagon featured at the Mid-Ohio Draft Horse Sale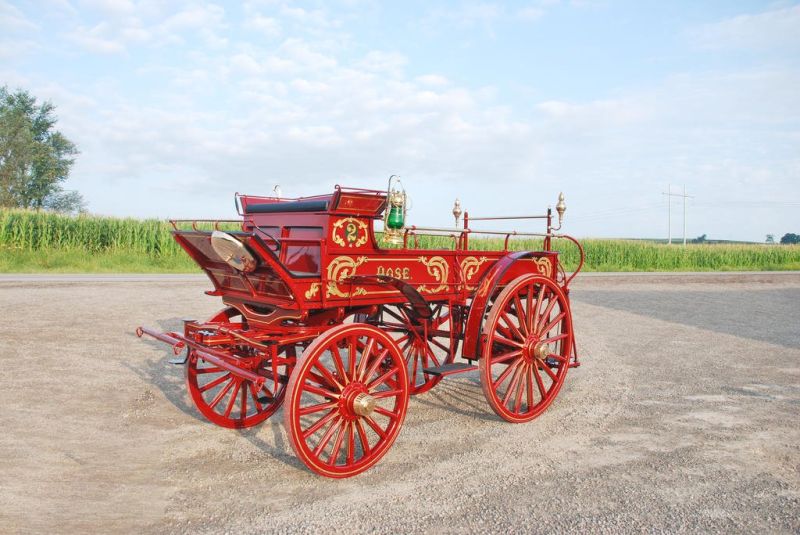 The crew at Weaver Wagons & Custom Design recently restored an 1893 fire hose wagon that will be on display for the public to see in the Mt. Hope Event Center during the Mid-Ohio Draft Horse Sale from noon on Oct. 7 to noon on Oct. 11.
The fire hose wagon was purchased by a fire department in Michigan in 1893 for $450. The fire hose wagon eventually became the property of Tom Doyle of Medina, where it is part of the Little Wiz Fire Museum. In an effort to put the pizzazz back into the piece of aging equipment, Doyle turned it over to the crew at Weaver Wagons.
"It really looked like a very simple project until we got it in and started to look at all of the iron work on the undercarriage," Weaver Wagons & Custom Design co-owner Emery Weaver said. "There was a lot of work that needed to be done, and it was truly a learning experience for us because these types of machines don't come through very often."
Because the wood was so weathered, most of it had to be replaced, which Weaver Wagons did with maple wood. As for the iron castings, they used almost all of the original metal, meaning a great deal of tearing down the carriage, sandblasting, cleaning and painting it to its original appearance.
Weaver said they took plenty of photos as they went so they would know exactly what it looked like before they disassembled the wagon and to preserve the historical restoration process.
"It was amazing to see the transformation take place," Weaver said. "We like the idea of preserving something this old that has such great historical significance. It is a very rare piece of equipment that we had a lot of fun restoring, and getting a chance to show it off at the Mid-Ohio Draft Horse Sale is exciting because I think a lot of people will be very interested in seeing what an old fire engine looked like more than a century ago."
The restoration process took more than a year of on-and-off work from the Weaver Wagons crew, and it was at times slow going because of the detail involved. What came out of the finished process was a valuable piece of equipment.
After the sandblasting, woodwork and reassembly was complete, the fire hose wagon got an eight-step painting process with automotive paint that gave it a new red sheen.
Weaver Wagons then brought in another professional, Wayne Troyer of Troyer Art, who displayed his skill by adding all of the gilded gold, black and ivory trim paint that Weaver said really took the old piece of machinery to a whole new level.
"Wayne's incredible pin-striping adds so much to the overall beauty of the wagon," Weaver said. "He is an amazing artist."
With the addition of some expensive oil lamps adorning both sides of the engine, Weaver Wagons has recreated a glimpse of the days of yore when firemen had far more antiquated equipment with which to work.
Weaver said the experience in recreating the aging piece of history was satisfying and enjoyable. He said it also helped them prepare to restore a ladder truck from the early 1900s.
In addition they are now preparing to tackle another late-1800s fire hose wagon that is in far worse shape than Doyle's.
"It will be a challenge, but now we know a great deal more about how to approach the job than we ever did before," Weaver said.
The wagon made its initial debut in its new form in Bucyrus and made a stop on Sept. 29 at Medina Wings and Wheels Cruise and Fly-In at the Medina Airport before coming to Mt. Hope.
"We invite everyone to stop by our booth and check out the wagon," Weaver said. "It really is a neat piece of history."
The Mt. Hope Event Center is located at 8076 state Route 241.