Church food pantry meets Thanksgiving Day rush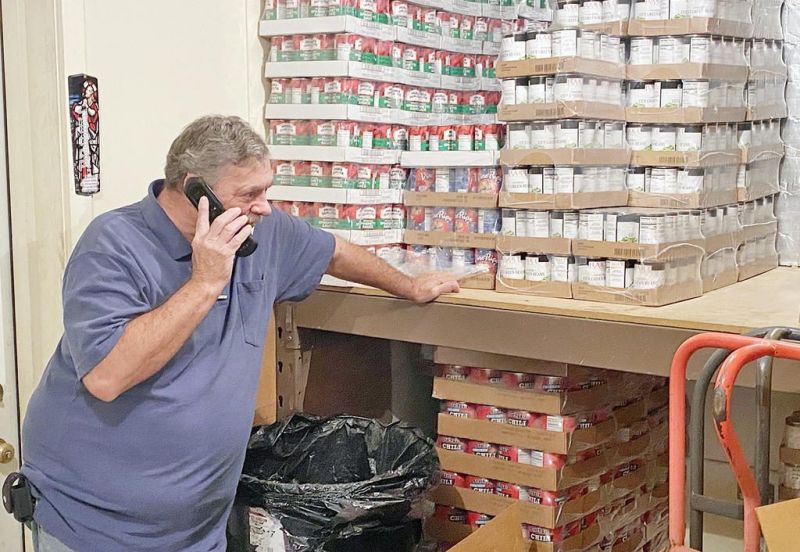 As a child there was a year in the life of Millersburg Church of God Pastor Dave Masters where his family didn't have food for Thanksgiving, and it was only through the kindness and compassion of a local family who brought four bags of groceries to the Masters' home that they could truly be grateful for a Thanksgiving dinner.
That moment has never left Masters' mind, and his understanding of the needs facing some families is why he is so passionate about sharing blessings with others, especially on Thanksgiving Day.
"I've never forgotten that," Masters said. "That has driven me when it comes to serving through our food pantry."
For a while it appeared as though the Food Pantry at the Millersburg Church of God might have made it through the roughest part of the COVID-19 pandemic.
However, after a lull in the summer, the virus has returned with a vengeance, and as Thanksgiving approached, the food pantry volunteers found themselves slammed with visitors in what has annually been a very busy week, regardless of whether the virus is present or not.
"This week before Thanksgiving has always been our busiest, and we were slammed this morning," Masters said. "We had four rows, and there was no place to get in off of state Route 39. The parking lot was packed."
The food pantry has been busy, having rolled 55,700 pounds of food and other items out the doors in October while delivering 840 backpacks to area schools to give to children on free or reduced lunch tickets. Masters expects numbers to grow this month.
Masters said the spike in families served in the first surge of COVID-19 this spring was 181. The week prior to the Thanksgiving week push was 143, and he expected close to 200 families to come through when the Nov. 20 event was completed. He said they had 180 hams prepared and several others that were cut in half. Plus, they were providing large bags of potatoes, along with the other canned goods and sundries that normally go out with each family visit to the pantry.
"We have seen the numbers steadily climb over the past weeks," Masters said. "Two weeks ago we had 35 new families who had not been here before. The Lord has provided the food, but what we are desperate for right now is volunteers."
Masters said a number of volunteers are elderly and don't want to risk being infected with COVID-19. That has left fewer volunteers as the need continues to grow. Masters also said they have worked incredibly hard to maintain a virus-free facility, disinfecting at least three times each day and making sure all areas that are used are thoroughly cleaned. To date, the facility hasn't seen one case of COVID-19, and Masters said it is due in large part to their commitment to cleaning and disinfecting.
"It's been a struggle to get volunteers in during this time," Masters said. "We have been blessed so far to have avoided COVID. I think Lysol is my best friend right now. But what we really need more than anything is volunteers."
Anyone interested in volunteering may call the church pantry secretary Shirley Proper, who does the scheduling, at 330-763-1086.
Recognizing the lack of volunteers and the certain onslaught of families visiting on Nov. 20, Masters scheduled aid support from the National Guard 1485th, which has been to Millersburg before to lend a hand.
"I knew our arms and legs couldn't handle the volume we would be moving out of this place, so I called, and they were more than glad to be of service," Masters said. "One way or another, we would get the job done, but it sure is nice to have their strong support."
Cpl. Billy Morr of National Guard 1485th and his team were scheduled to lend a hand at the food pantry on Friday, Nov. 20, and their commitment to serve was very much appreciated by the pantry's volunteers.
Morr said they were honored to come down to lend a helping hand, and he said while this isn't what people typically think about when serving in the National Guard, these types of visits have become commonplace as they help wherever needed.
"The National Guard has been on active duty with the Akron Food Bank since April," Morr said. "As of now we will be at least through December. It is fulfilling for us to help, and we appreciate getting the chance to serve others. As long as they need us here, we will be here if we can make it happen."
Morr and two other National Guard members were busy loading cars and getting carts of food ready to be gifted to families for a Thanksgiving feast that each of the families coming in appreciated.