Food vendors cope with slower sales at fair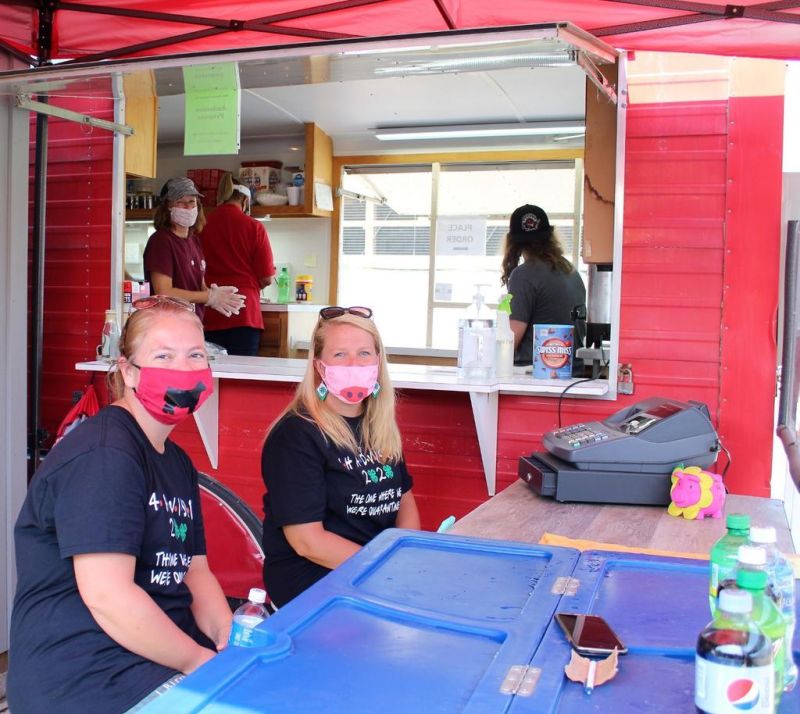 When it came to planning the food needed for this year's fair by the four organizations that set up near the main show arena, it was a shot in the dark for one, day by day for another and prepackaged items only for another.
It was the Clover Café that made the biggest change to serve the Tuscarawas County Junior Fair. They moved from their spacious kitchen and dining area into a small barn near the Pork Producers trailer. The food is still prepared in the Clover Café kitchen and taken to the barn to be sold.
"We cut back on how much we ordered because we didn't know," said Barb Rice, a Clover Café volunteer.
The group also cut back their menu. "We aren't doing a formal breakfast, and we didn't do soups because that would have been difficult. I've had people complain; they miss the chicken noodle soup and the chili," Rice said.
They have noticed some best sellers already this week.
"The big hit in the afternoon was the walking tacos. We have just been selling tons and tons of those; they are very popular. We have a fair special, and we just do things that are grab and go," Rice said.
The formal breakfast has been replaced with breakfast rollers filled with eggs and meat. They also are selling doughnuts, orange juice and one other popular drink.
"We sold a lot of hot chocolate because it's been so cool. Hot chocolate in the morning was a big seller," Rice said, adding they've also sold a lot of the breakfast rollers.
The volunteers are following all the rules, and everyone has been cooperative in wearing their masks.
"I said I would help but just in the café. I'm still trying to stay away from people," Rice said while adding her wish for better days.
Rice is happy the junior fair exhibitors are able to compete, and the slower pace of the fair has been enjoyable, even though there is much to miss this year.
"It has been nice that the focus is on the 4-Hers and their animals and not distracted by some of the other things that go on at the fair, although you miss those, but I think everybody's been happy," Rice said.
At the Pork Producers trailer, "It was pretty much a shot in the dark," volunteer Sue Canfield said. "We thought we would do one-third of what we did in the past."
The group used 38 hogs last year to provide enough food for the fair; this year they only planned to use 15 hogs. "Last year we ordered 855 packages of buns; this year we only ordered 230 so far. I ordered an extra 50 just in case. You don't know," Canfield said.
The group also went from 150 volunteer spots to fill last year to just 60 this year, and they had to make changes to their food service operation.
"The health department, the way we understood it, said we could only have four people in here because of floor space. So we moved the cashier outside," Canfield said. "The reason the pop's outside (by the cashier) is because our cooler broke the day before the fair. The cooler was in here. They had to take it out, and it would take two weeks to repair."
Currently, they are using an extremely large ice-filled cooler to keep the pop cold.
A fence around two sides of the trailer separates the line of customers from the walkway.
"I kind of like it. Of course, we usually have a line a mile long, and this year we haven't so it's hard to tell if it's working better or not. Sometimes between the Cattlemen and us, you can't get through," Canfield said.
The Pork Producers trailer is open this year from 8 a.m. to 8 p.m., and Canfield said on Saturday they will close around 2 or 3 p.m.
Be sure to get your fill of pork burgers early as Canfield is concerned they might run out.
"It's hard to tell what to order, but we're not doing too bad. It's as good as we expected but a lot less than last year," Canfield said.
The proceeds from the Pork Producers trailer are used for scholarships, to support 4-H activities and to make improvements at the fairgrounds. They only have their sale one time a year at the fair.
The Tuscarawas County Cattlemen's Association food trailer volunteers are ordering day by day. The group orders meat from Sugar Valley Meats.
"The first order was the same, but after that, we are just going on what we are selling as far as ordering meat," said Kriss Raber, secretary of the Tuscarawas County Cattlemen's Association.
Raber said the group also cut down on their menu selections.
"We don't have as many sandwiches. We didn't do beef and noodles this year, and the only day we did roast beef was today (Wednesday)," Raber said. "We just did steaks, hamburgers, breakfast sausages and beef franks."
The group is proud of the fact they use only locally grown beef.
They only made a few changes, putting in Plexiglas panels in the front and on the side, and they have cut down on the number of volunteers in the trailer.
The trailer opens at 7:30 a.m. and closes around 8 p.m.
"We are running about half of what we usually do as far as the day's totals," Raber said.
The proceeds of the Cattlemen's Association trailer go toward sponsoring 4-H and FFA shows, scholarships, and to Akron Children's Hospital and Hospice.
While the Tuscarawas County Dairy Committee's dairy bar didn't have to make any changes to their building, the change in the products they are able to sell have lowered their sales.
"We had to change the whole way that we were doing things. Everything this year had to be prepackaged," volunteer Marcia Loveday said. "We could not have any ice cream that we could dip, and normally, the most popular thing was our milkshakes. We have a lot of disappointed people that there's no milkshakes."
They were only allowed to have four people inside the dairy bar at a time, which meant they wouldn't have enough help to do what they've done in the past.
"It's hard to run with four people. Usually, we have six to eight depending on how many volunteers you can get," Loveday said.
The prepackaged products for sale include ice-cream cups from Miller's Creamery, M&M ice-cream sandwiches and regular ice-cream sandwiches. The organization uses the proceeds for scholarships.
"It's different, but we're still here, and we're having our fair for the kids," Loveday said, adding her grandchildren are showing animals at the fair and they are thrilled to be there. "We're just glad to be here for the kids."