Fredericksburg Art Pottery showcase will feature a wide array of fun collectibles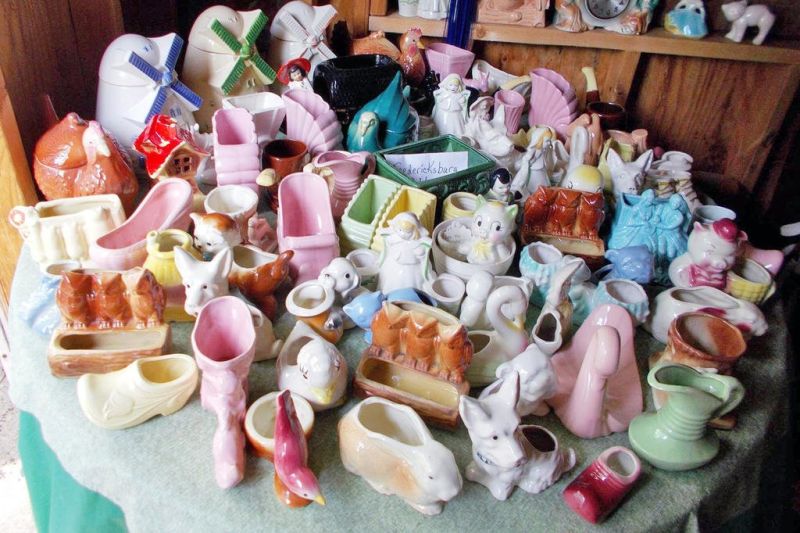 What kind of treasures might be lurking on the recesses of your kitchen cupboards or on the shelves in the corners of your basement or attic?
Perhaps among the many knickknacks and novelty items collected over the decades are some vintage Fredericksburg Art Pottery pieces.
Fredericksburg Art Pottery is among the most unique and varied pottery around, and it is not what many people think about when they think of traditional pottery.
Fredericksburg Pottery pieces showcase a slice of Americana in their appeal and range from animals and cartoon figures to windmills, children, clowns, shell vases and everyday objects that harken back to the good old days.
Over the July 4 weekend, area collectors will host a collector's display of Fredericksburg Art Pottery Co., pieces that adorned homes back to the mid-20th century.
The Fredericksburg Art Pottery Co. event will take place in Fredericksburg next to the car wash on the west side of the traffic light on the square in downtown Fredericksburg.
Not only will there be a pottery display, but also the event will feature the FAPCO book titled "The History of Fredericksburg, Ohio Potteries and Reference Guide," which talks more in-depth about these collectibles and explores the history of the Fredericksburg Art Pottery Co. factory.
"Over the past number of years, we have put Fredericksburg Art Pottery in the window of the hardware store, and our goal with this event is to make sure people are aware that something really unique and fun was created right here in our back yard," said Larry Staufer, one of the event coordinators.
"A lot of people from our younger generations aren't aware of what it is and that this pottery was ever made locally. People from all over the U.S. are collecting it, and there could be some of it in homes in our area, and people might not even be aware. I wouldn't be surprised if a lot of people have it tucked away in their homes and don't have any idea that it might be valuable and collectible," Staufer said.
The weekend's festivities will feature a number of collectors setting up their collectibles July 4-6. The three-day event also will feature the raffling of baskets filled with pottery, all of the proceeds from the weekend going toward the publishing of a second Fredericksburg Art Pottery Co. book.
Fredericksburg Pottery was built in the early 1900s, just west of the village. The company struggled to make it over the years and went through several ownership changes until it was purchased by John McLane and other investors in 1939. The decision to begin to create novelty pottery items was made, and the trend soon caught on well. The products began to show up in five-and-dime stores like Woolworth, and Fredericksburg Pottery was shipped nationwide and became popular because it was inexpensive.
The knickknacks and novelty items being made even included a deal to make Disney products for a year, and local people were hired to hand-paint them as they went out the door the thousands each day.
Eventually the plant in Fredericksburg burned down in 1965, but the uniqueness of these hand-painted items has kept them in the collector world for decades.
"They employed a lot of local people to hand-paint the pottery, and at this point there are probably very few people still alive who worked there during that era," Staufer said.
According to Staufer, the company's planters, clocks, lamps and cookie jars are all highly collectible, but it is the unique characters that includes all types of animals, children and inanimate household items that make the colorful and sometimes odd pottery so enjoyable to seek out and collect.
"There is just such a huge variety of the Fredericksburg Pottery, and our aim is to bring a part of this local history to the people and talk about the role the company played here in our area," Staufer said.
For collectors, heading off to rummage or garage sales or visiting an antique store or an auction and finding pieces of the pottery is great fun. Staufer said the more informed a person is, the more apt they are to be able to fetter out the Fredericksburg Pottery pieces, which in itself is an art because many of the pieces were never marked as to where they came from.
"This should be a great weekend because people who don't know a lot about this pottery can come and see what makes it so much fun, because there will be a lot of personal collections there for people to view," Staufer said.
To see the variety of collectibles and knickknacks, stop in Fredericksburg July 4-6 to check out the collections. Who knows? It just might lead to someone going home and finding out they have a shelf full of locally made pottery stashed away in their home.