Gibbs honored for long service to Wooster High football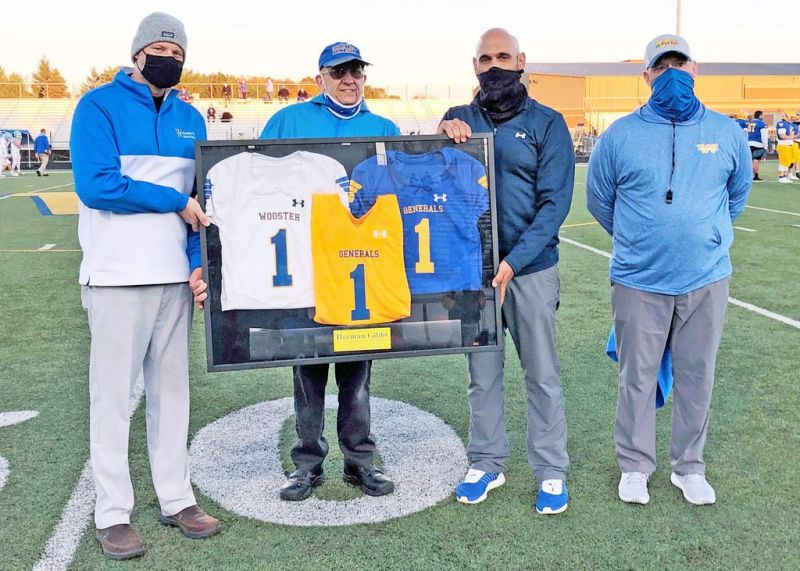 Herman Gibbs was born with a hereditary vision problem, which prevented him from playing sports as a student at Wooster High School in the 1960s.
However, that hasn't stopped Gibbs from watching Generals football teams play for most of his life.
In fact, the 72-year-old has probably seen more Wooster football games than anyone. Few, if any, have supported the program like Gibbs.
Gibbs was honored at midfield for his contributions to the Wooster football program prior to the kickoff of the Div. II playoff game at Follis Field on Oct. 16.
In a game that would turn out to be a 48-40 Wooster loss against Olentangy Berlin, Gibbs volunteered for the 475th-straight contest. He has managed and operated radio communications, which connect the coaches on the sideline with those in the pressbox, during home and away games for 47-straight years. The streak started in 1973 under coach Bob McFarland.
Gibbs also was honored for making a $35,200 donation earlier this year to the Wooster football program. His contribution enabled the purchase of new varsity uniforms, as well as new headsets for the coaches. By next year, every Wooster team down to seventh grade will have new uniforms thanks to Gibbs.
Wooster superintendent Michael Tefs, athletic director Joe Rubino and varsity coach Doug Haas presented Gibbs with three No. 1 Wooster jerseys in a frame to honor his loyal service.
"Herman's contributions to Wooster Football obviously go way beyond just being in charge of our communications on Friday nights," Haas said. "His dedication and commitment to Wooster football are such that he not only has donated his time for so many years, but also his financial resources.
"His passion for Wooster Football is second to none. As Herman has said all along, this has never been about garnering any sort of recognition, but rather making sure the boys have every resource available to them in order to compete at the highest level, which is something he was unable to do as a high school student. That is a very powerful 'why.' Herman has lived out his 'why,' and I am proud to be able to call him a friend and a colleague."
Gibbs worked as a radio technician and TV repairman before retiring and combines a passion for electronics and Wooster football by helping the Generals. He's never asked for anything in return but was clearly moved by the pregame ceremony.
"I appreciate it very much," Gibbs said. "I'm glad to have served all these years, and I hope I can keep on going a few more. My goal is to make it to 500 games; we'll see what happens."
Gibbs, a 1966 WHS graduate, is vision-impaired but sees well enough to have a low-vision driver's license. He became a fan of WHS football during one of the program's most legendary seasons.
"I've been following Wooster High School football since 1960, the year (coach) Roman Majerczak was undefeated," Gibbs said. "I didn't feel like I could make a real contribution as a player when I was in high school, but football has always been a real passion of mine. A few years after I graduated, I offered to help coach McFarland."
Gibbs' working career included 31 years at The College of Wooster as the engineer for the radio station, selling and servicing Magnavox televisions, a stint with Wooster Appliance and operating an electronics business out of his home.
Gibbs never married or had children of his own and saved up a good amount of money over the years.
"(The donation) is better than giving it to the rest home," Gibbs said. "I've been saving money for a long time and wanted to do something big, something beyond self. I stayed simple all my life, and high school football has been my passion. It feels great to see them in the new uniforms, and I'm so glad we've been able to get through the COVID-19 and have a season."
Among the many games Gibbs has watched, several stand out as the most memorable.
"Last year's game that we won against (Mansfield) Senior and a few years ago at Ashland — we had a kind of a kicking contest that we wound up winning in overtime — were both great games," Gibbs said. "And the 1986 Final Four team had some really memorable games."
Edgewood Junior High principal Brad Warner played on that 1986 Generals team and called Gibbs one of the most loyal supporters you'll ever find.
"I used to pick Herman up at his house when I was coaching," Warner said. "He's the behind-the-scenes guy who makes things happen that no one ever knows about. And that's what makes things happen for kids that people don't know. From a kid in the stands, to coach on the sidelines, to an athletic director, a principal, I've watched it all, and he's been there the whole daggone time. He is just a great guy, a real gem."
Aaron Dorksen can be emailed at aarondorksen24@gmail.com. Follow him on Twitter at @AaronDorksen.