Habitat for Humanity dedicates new Loretta home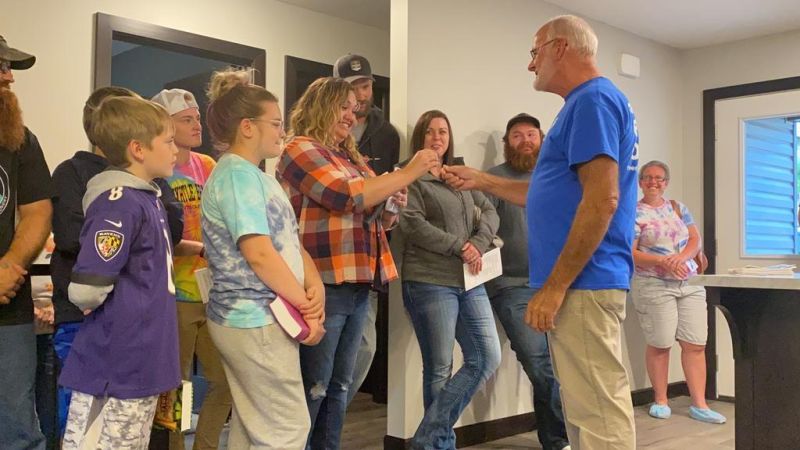 There is an adage that says, "Home is where the heart is."
For those families involved with Habitat for Humanity, maybe it needs to be adjusted to say, "Home is where the hearts are."
That is because with each Habitat home build, the family is not left alone to fend for themselves, but instead they are wrapped in a blanket of love and commitment from area Habitat members who help walk them through the new joy of being a homeowner.
On Thursday, Sept. 9 in Millersburg, Holmes County Habitat for Humanity celebrated its newest home build, celebrating this special day with Teresa Loretta and her children Brandon and Lindsey, who gathered with friends, family and many HCHFH members who welcomed them into their new home.
"We are so excited and humbled right now. There were times when it wasn't easy and we had to put in a lot of work, but at each step people were there to help us move along the process," Loretta said. "It really felt like God was putting people in place to get this home built, and we are so grateful to the community and to Habitat for this blessing."
Mary Neutzling, executive director of HCHFH, said building those types of ongoing relationships is as central to each build as the structure itself.
"We need to be there to help each family walk through the process of becoming a new homeowner," Neutzling said. "That is central to our organization and to help them be successful. It's important for our homeowners to realize they aren't in this alone, and they have people to whom they can reach out and get advice, support and direction. The one thing we can't afford to do is hand them the keys and then walk away because there is a lot to do in owning a new home."
For Loretta, whose experience with HCHFH began in 2019 and with Habitat moving carefully through the pandemic, it may have taken a bit longer than usual.
"At times it seemed like it was taking forever because I was so ready to see this happen, but once we broke ground, time flew," Loretta said.
At the dedication service, Linda Campbell, HCHFH board vice president, welcomed everyone to the event. Member Tom Lee opened with a prayer and thanks, with Pastor Mike Loretta of The Church at Millersburg providing a call to worship.
Lee said of this build, "Life is hard. With COVID and so many other things happening in our lives, it is nice to get together to celebrate something positive."
Mike Loretta, who also serves as family support for HCHFH, said he knew it seemed like a long time coming for the Loretta family. But he said he remembered the day of the groundbreaking ceremony in which he read from the Book of Isaiah about how God will do new things for his children and great things will spring forth.
"Because of the hard work of everybody and the compassionate hearts that have given to the project, we built a new house, but that isn't the end of the story."
He went on to read from Proverbs 24, where it says, "Through wisdom a house is built, by understanding it is established and by knowledge the rooms are filled with all precious and pleasant riches."
He told Loretta if she would apply God's wisdom, understanding and knowledge to their new house, it would be transformed into a home.
Ironically, that was the very verse Teresa Loretta had written down as part of her thank-you speech.
"It's always been hard to ask for help, so this has been a humbling experience," Teresa Lorretta said. "So many people stepped up and helped. There were so many prayers before we even began to build. We thank everyone who helped build, who prayed for us, walked alongside us and the impact you have made on my life and the lives of my children."
Neutzling then presented each family member with their own new Bible, and board member and construction supervisor Pete Hilty presented them with a hammer, the symbol of construction, and the keys to the home. Maurice Reynolds, Loretta's father, then gave a prayer of thanks to wrap up the dedication service.
One of the foundations of the Holmes County Habitat group is the faith aspect. Neutzling said there are always hiccups during a build, but every need is always met and each problem that arises is taken care of, and much of that stems on faith.
"Faith allows us to not stress about all of the things that can go wrong during a build," Neutzling said.
She said the contractors and subcontractors in this area also make it a pleasure to work a home build, and their effort paves the way for others in the organization to do the little things that help make a house a home for a family.
In addition, Hilty said they are grateful for the support they receive from both business and individual donors who make each build possible.
The dedication marked another step in Habitat of Humanity's goal of making a house a home.