Have some fun at the Sugarcreek Fabulous 50s Fling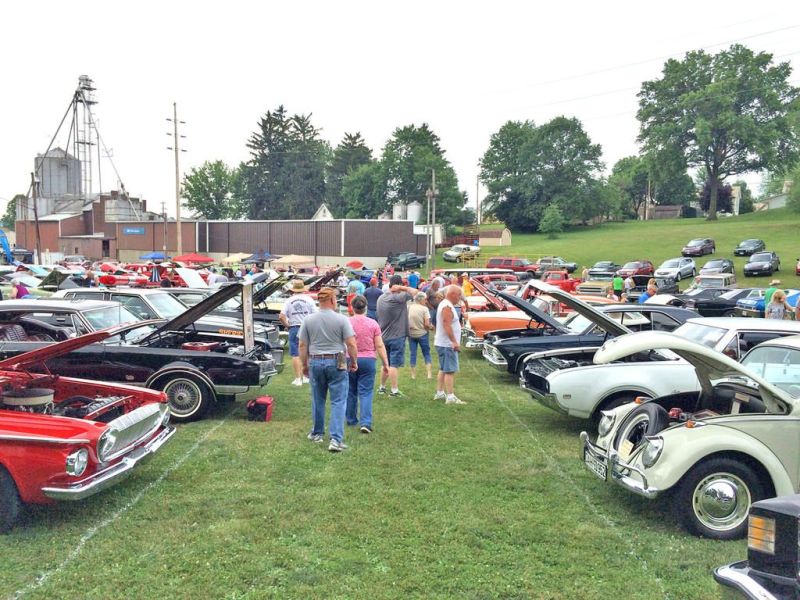 Vintage wheels, 1950s music and dancing, and a wine tour are just the tip of the ice berg when it comes to the annual Sugarcreek Fabulous 50's Fling.
This marks the 29th year in which some vintage automobiles have lined the grounds of Sugarcreek with tons of classic cars that can transport people back into their heyday or give younger generations a glimpse of life back when guys were referred to as "Daddy-O," loose change was called "nuggets," cruisers on the strip used to burn rubber in their T-Bird and teens used to cut a rug on the dance floor at the hop.
"Everyone here shares the same passion," said Christine Quickel, Village of Sugarcreek marketing director. "We've developed a winning formula that continues to bring people back to Sugarcreek."
The event will begin Friday, June 7 on the grounds behind the fire station located on Broadway Street with the Friday Night Cruise-In. The cruise-in is an open-class event, and everyone is welcome to bring any vehicle and check out the Friday night festivities. It will start around 4 p.m.
Typically the first 150 cars on Friday receive a dash plaque and special awards from local celebrities or the committee awarded by personal preference, like the Mayor's Choice and Chief's Choice. Spikeman DJ will perform from 4-6 p.m., and the local classic rock band Double Deuce will perform live from 6-9 p.m.
The Wine Country Cruise is a self-driving tour that takes patrons to five of the best local wineries and wine stores the area has to offer. It will begin Friday afternoon at one of the local wineries and end at the car show grounds in Sugarcreek. The event also will feature an optional poker run. Each winery will have a deck of cards and will mark participants' sheets as they visit. Participants can turn in their sheet at the show, and the best hand will win a prize. Sheets must be turned in by Friday at 6 p.m. at the show to be eligible for the prize.
"The Friday night show has actually become almost every bit as popular as our Saturday car show," Quickel said. "It's a very relaxed and enjoyable evening, and this year we have added live music to the event for when everyone returns to the show grounds after the tour. With five local wineries involved, it should be a great deal of fun."
Registration for the car show will begin on Saturday, June 8 from 9 a.m. to 1 p.m. The live music will begin at 11 a.m., and all the food vendors will be open by then. Awards to the show's top cars will be handed out around 4:30 p.m., and a $500 award will go to whomever's car is tabbed as Best in Show. The first 200 to register their vehicles will receive a dash plaque.
Over the nearly three decades of existence, the Fabulous 50's Fling has generated plenty of buzz as one of the finest shows of its kind.
"There is a lot of nostalgia here, and it does take people back to the old days," Quickel said. "We have seen a lot of families bringing their children and grandchildren to the show, and we hear a lot of adults telling the kids all about their cars and their days when they were younger, and that is fun to hear."
She said another plus for the show is the variety of cars that roll in. With cars from 1985 and earlier, one might never know what will show up. The only certainty is there will be plenty of vehicles lined up, making a day in the sun for those who share that same passion for vintage cars.
"We get an incredibly high-quality bunch of cars in for the show," Quickel said. "It's great to walk around and listen to the owners share about their cars, but while it is very relaxed, they are all pretty competitive when it comes to winning that Best of Show award. That means a lot to them."
This year food will be provided by local nonprofit organizations. You can enjoy breakfast on the grounds or at the First Methodist Church next door. All food vendors will be open by 11 a.m. on Saturday, so make a day of it and come enjoy cars, music and food.
"We always invite people to walk through the downtown area to experience everything else Sugarcreek has to offer," Quickel said. "There's a lot to see and do."
While cars are king during the weekend, there is more to the event than just wheels. The Fabulous 50's Fling provides visitors with entertainment. Each year a live music group performs renditions of 1950s classics to transport people back in time. This year under the pavilion The BelAirs will perform from 11 a.m. to 4 p.m.
"It's a very festive atmosphere," Quickel said. "The ambiance is completely 1950s style. We always have a lot of lively and entertaining 1950s dancing going on as everyone enjoys the tunes. Some even come decked out in 1950s clothing. It's just a lot of fun for the whole family."