Holmes Habitat taking applications for 2022 build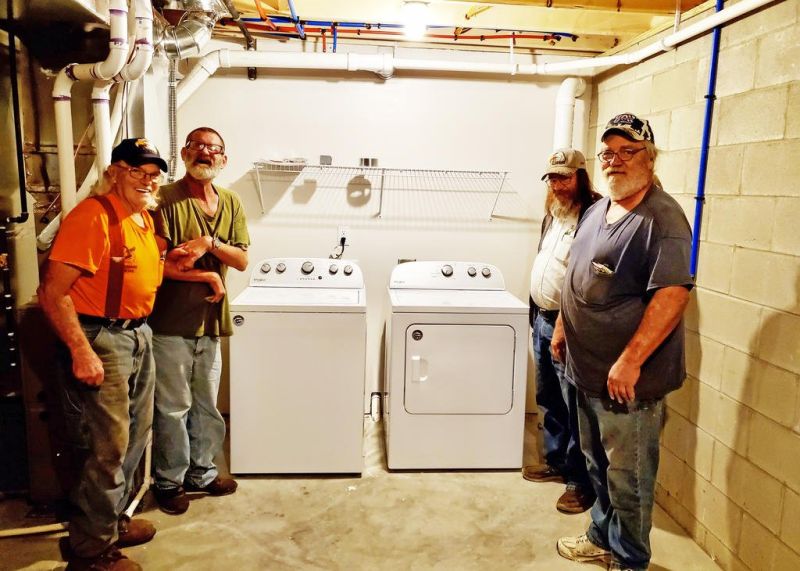 The freezing temperatures have been beastly this winter, but a warm beacon continues to shine on the community as the Holmes County Habitat for Humanity is once again scheduling appointments for families interested in applying to partner for the 2022 build.
Application pickup will be done through the month of February by appointment only at the Habitat office in downtown Millersburg. Prior to returning the application, income-tax returns and current proof of income will be needed. The applications will be received from March 1-31 by mail and postmarked no later than March 31.
Mary Neutzling, executive director of the Holmes County Habitat chapter, said the donations of labor, material and volunteers are essential to keeping the cost of building the homes affordable.
"Holmes County Habitat would not be able to provide homes without the many contractors and businesses that provide the labor and material. We are truly blessed by the compassionate hearts of those contributors in Holmes County," she said. "Many individuals and churches donate their time and money to help support the organization. This service would not be possible without everyone who has and continues to support our cause. It truly takes all of us to make these homes a reality."
Applicants must meet income guidelines set by the Office of Housing and Urban Development. The 2021 income limits have not yet been released, and until that happens, the 2020 income limits will be used. Income information will be updated when those figures are released. There are minimum and maximum income limits in each bracket. The brackets are from a one-person household up to eight or more, and a family of four requires a minimum income of $26,200 and a maximum of $55,450.
The Holmes County commissioners have partnered with Habitat for Humanity for almost 10 years with a grant from the Ohio Department of Housing and Economic Development. This grant has helped to drastically reduce the cost of the homes.
"We truly appreciate this grant and thank the commissioners for their continued help in this community," Neutzling said.
Certain criteria must be met by a family or individual before being considered. There must be a need for suitable housing (examples being living in a poor structure or high rent), applicants must have the ability to make an affordable monthly house payment as the home is sold to the family and mortgaged for 25-30 years, and applicants must be willing to partner with Habitat in the form of sweat equity.
This also is defined as performing work on other Habitat homes and their own, participating and successfully completing a financial course provided by the OSU Extension office, and working with family support personnel for approximately three years before, during, and after the process. A willingness to participate in other Habitat activities like fundraisers and social-media events must be shown as well.
The family selection committee will review the applications, determine which ones will be most eligible, and then begin interviews and home visits with the selected applicants. Once interviews are complete, the committee meets and makes a final determination as to which families to present to the board for final approval.
"We want the families to be successful homeowners," Neutzling said. "We do this through family support and the support of many others, and we encourage this by following the partner family for approximately three years: one year prior as they acquire their financial counseling and help on current projects, mentoring through the build of their own home and a year of follow-up.
"It's our intent to provide new homeowners with homeownership knowledge and be available for any questions or concerns that may come up in that first year of transition."
With so much time invested, the Habitat circle has become like family.
"I particularly enjoy keeping up with the families beyond this three-year period," Neutzling said. "Life circumstances can abruptly change a family lifestyle, and I like to be there to help provide or refer the additional services that may be needed to help a family get through a particular situation."
There are currently 15 Habitat board members, and the affiliate is always in need of others to join.
"Since becoming a board member of the Holmes County Habitat four years ago and now being president of the board, I have had the pleasure of working with the best board members who go above and beyond for Holmes County Habitat," said Tiffany Stefano, the current board president. "My favorite thing about Habitat is to get to help make a family's dream of homeownership come true."
Meetings are held monthly, and other volunteers are needed on the many committees that help the organization run smoothly. These committees include church relations, construction, family selection, finance, fundraising, family support, marketing, site selection and volunteers. Committees are only active during specific times of the year, and the commitment is less than those of the monthly board meetings.
For anyone interested in submitting an application or becoming involved in Habitat, call Neutzling at 330-674-4663 or email director@holmescountyhabitat.org.