HCFA to present 'Beauty and the Beast' at Ohio Star Theater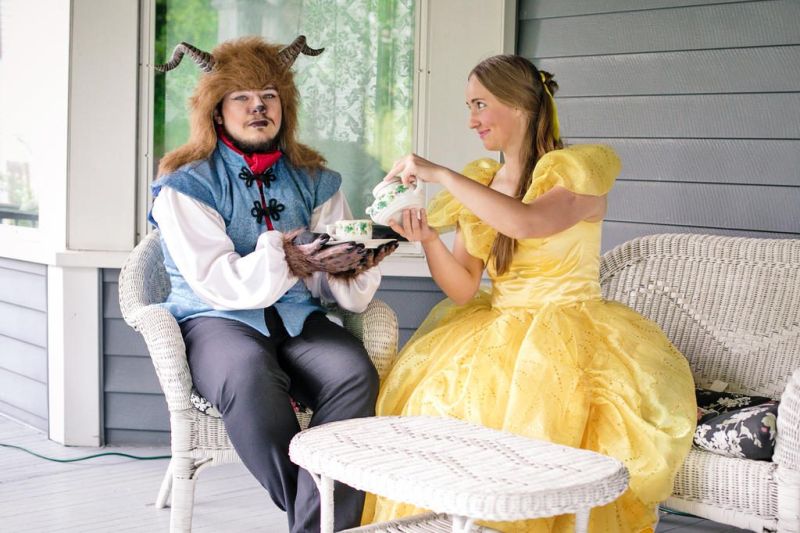 "Beauty and the Beast" is coming to Amish Country at Ohio Star Theater in Sugarcreek.
Presented by Pomerene Hospital, the show will take place June 29 and 30 at 7 p.m. with a matinee June 30 at 2 p.m.
The cast will feature local talent with some leads who are proven veterans of the theater.
Central Christian High School graduate Connor Mast takes on the role of the Beast. Mast has showcased his talent at the Little Theatre in New Philadelphia, where he starred as the lovable ogre in "Shrek" as well as taking on several roles in productions at Weathervane Playhouse in Akron, where he performed in "The Hunchback of Notre Dame" and "Joseph and the Amazing Technicolor Dreamcoat."
This marks his first venture with the Holmes Center for the Arts ensemble.
"I love the opportunity to perform locally," Mast said. "It is awesome to see that so many people are invested in making the arts center something special and to give us somewhere to do what we love doing. This is something I want to do for the rest of my life, and every opportunity to perform is a learning opportunity for me."
Mast said getting to work at Weathervane opened his eyes as to the amount of work that goes into productions on a big scale. He said he hopes he can bring some of that knowledge he has gained to Holmes County.
"Joseph was the most grueling thing I have ever done on stage," Mast said. "I had to do a ton of dancing, which is not a strength, but it made me better. That show was also 22 performances, which is by far the most I've ever done. I am thankful for experiences like that, and I hope that I can bring some of the experiences I had there and use them to help others grow in their craft here. I like the idea of helping others grow to use their gifts in the theater."
The role of Belle will be played by Hannah Frank, a West Holmes High School graduate who took on many roles while performing at Excalibur Theater when she was a student. After a hiatus from the stage, she returns to singing and acting.
"I did theater in college," said Frank, who is currently teaching at Millersburg Elementary while also serving as the assistant varsity softball coach at WHHS. "I have always loved to sing, and I came back into the district, and I was teaching and coaching, things I really love doing. But I also really wanted to sing, and Holmes Center for the Arts has given me and many others that avenue."
Frank said Holmes Center for the Arts has opened the eyes of area youngsters who have found acting and singing can be enjoyable and inspirational, and it takes what they have done at school in music and drama and kicked it up several notches.
"This has given kids a lot of different avenues to explore the arts in ways they may not have imagined," Frank said.
Playing the role of Belle's possible love interest, Gaston, is Shane Byler, a Hiland High School graduate who has been a star of stage productions for years. Luke Havener is Lefou. John Harris is Lemiere, and a host of other characters will come to life in this classic.
Assistant director Olivia Ward, another Hiland High School graduate, is taking on her first venture into the directing realm. She said the talented cast will bring the story to life and that fans of the musical will be thrilled with the production.
She said the production of "Beauty and the Beast" is a difficult one because of the big production numbers and involved dance sets. However, she said with director and choreographer Mindy Miller and music director Jaime White providing leadership the production is coming along nicely.
"Some of the musical production numbers like 'Be Our Guest' are just these massive pieces that take so much coordination and production," Ward said. "Everyone is putting in the work to perfect them, and everyone is so talented that it makes it much easier."
Because of the number of roles in the production, a great number of smaller roles were available for younger actors and singers wishing to gain some experience in the theater. Ward said experienced actors like Mast and Byler can step into leadership roles in helping the younger talent gain experience and confidence, which was one of the things the Holmes Center for the Arts wanted to see happen as it grew.
"We have a lot of really talented people from this area including a lot of adults who never got the chance to continue their joy for the theater," Ward said. "As theater kids, we get to share our passion with the rest of the community, and what these performers are doing is amazing."
Hoping to find an assistant director, Miller knew Ward was big into acting and singing but not doing anything with it at the time. Ward said when Miller approached her about becoming an assistant director, she jumped at the chance to get back into the theater.
"It's been challenging but fun," Ward said. "Basically I help Mindy with everything she can't handle, and she handles a ton. Everyone here just wants to share their passion for the arts with everyone, and 'Beauty and the Beast' is a great way for us to invite everyone to experience what we are doing here at the center."
Tickets are on sale at www.holmescenterforthearts.org. Click on the Beauty and the Beast Tickets icon to purchase tickets.
Ohio Star Theater is located at 1387 Old Route 39, east of Sugarcreek.