Holmes Park District takes control of former landfill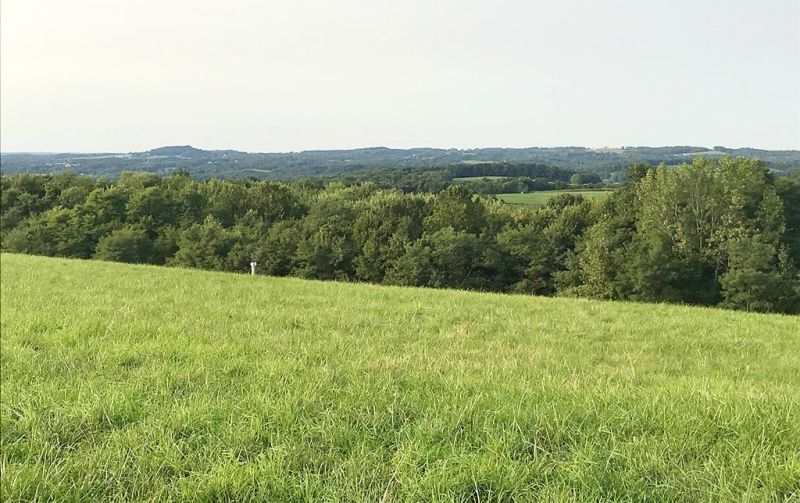 The Holmes County Landfill is no more, and it has now officially been handed over to a new entity that will turn it into green space.
On Monday, Sept. 14, the Holmes County commissioners signed a resolution to execute the documents involved in transferring the former Holmes County Landfill property over to the Holmes County Park District. Where once was a giant eyesore filled with garbage and a foul odor, there will be a respite for those seeking myriad outdoor activities or to get away from the rat race for a few hours.
The commissioners were joined by park district board members Jen Halverson, Mike McDowell and Dan Mathie, along with Miller, Mast & Mason Ltd. attorney Andrew Brower, and both parties were excited about what the resolution will mean for the county, especially in the future.
Where the future of the former landfill goes is now in the hands of the park district board, and they are more than eager to dig in and make something special and unique with the land.
"This space is now one of the nicest places in Holmes County," commissioner Joe Miller said. "We are transferring this to the parks because that is where it's supposed to be. It is going to be a green space forever."
Commissioner Ray Eyler said the former landfill was an eyesore and a headache for the county for decades, but after closing it and having the Ohio EPA lead a revitalization process nearly a decade ago, the county began formulating how the area could be best utilized as green space.
The park district showed an interest, as did area bird enthusiasts, and when the option to turn the area into green space arose, the commissioners jumped at the chance to bring in the park district.
"When we got up there and saw how far you could see and how beautiful it was, it was a no-brainer," Eyler said. "We are excited to turn it over to them, and we are thankful that it is going to be used and no one can ever use it for anything else. It's going to be a 200-acre sanctuary."
The commissioners will continue to pay the Ohio EPA its annual fees of an estimated $50,000-$75,000 to monitor the land for the next two decades, leaving the park district to develop a game plan as to how it can best utilize the space.
"On behalf of the park district, we are really excited and grateful to be a part of this," said Halverson, park district director. "I know the community is excited about this because we get phone calls every time there is something in the paper we are a step closer. It's great to finally be able to say it's official. Let's get to work now and see what we can do up there."
Whether it is hiking, leaf collecting, bird watching, picnicking or simply finding a space to relax and soak up some sun, the new park district green space will provide ample opportunity for the people of Holmes County and those who visit the area to find solitude and relaxation.
It also will serve area Scouting troops and other organizations that wish to gather there for outdoor experiences.
"We will be circling back around to meet with all of the different groups who have expressed a desire to be involved," Halverson said.
McDowell said the park district board has the utmost respect for the commissioner's faith in them to turn the area into something attractive and useful. He said these kinds of green spaces are critical to communities, even in a rural county like Holmes County.
"You look at our community and you think it is a rural community with all kinds of open green space, but it is disappearing," McDowell said.
McDowell said the commissioners have taken a very forward-thinking step, commending them for their keen insight into creating something from nothing.
"In a broader perspective, the park district board has been really thankful for all of the support we have received from you three commissioners," McDowell said.
That includes support on the Holmes County Trail and the Crissy Memorial Pool, as well as this newest addition.
"We pledge to be good stewards," McDowell told the commissioners.
Mathie added his appreciation for the support of the commissioners and the community, noting the many projects they have taken on have all been to the benefit of the people of Holmes County.
While citizens of Holmes County are excited about the project with plenty of community interest in the property and its possible functions, Halverson said what the green space can provide this area goes well beyond just the people of Holmes County.
"I think right now a lot of the interest is local because that is where our media coverage is," Halverson said. "We haven't publicized this outside of this area. But the hiking, the mountain bike riding, the horseback riding, people will travel far to do all of those things when you provide them with good facilities, and that is our hope. Those visitors coming in to use the trail or to shop, they can extend their stay because they have a couple more things they want to do in our community."
Halverson said the board has already begun pursuing some funding sources that will help them establish and grow the green space into what they envision in the future.