Livestock book judging a big step in the process for 4-Hers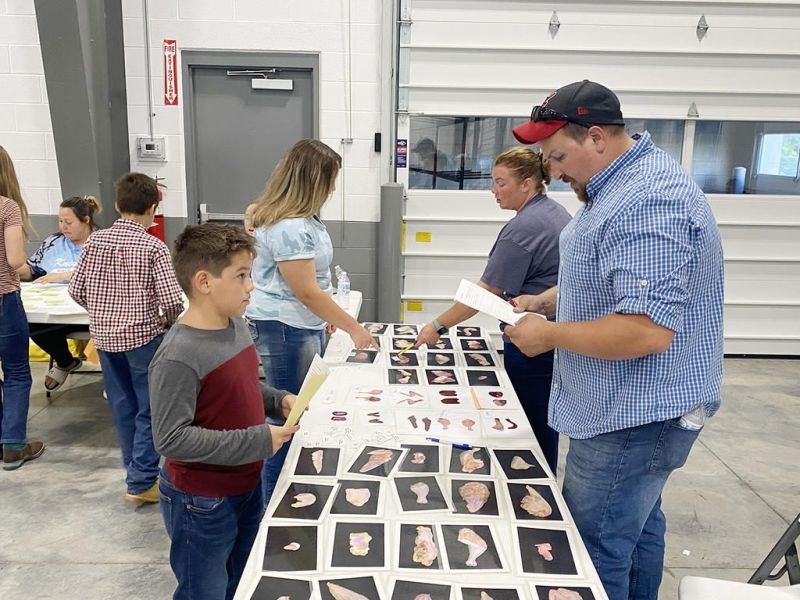 While there were no official authors attending the 4-H event at Harvest Ridge on July 14 and 18, there were a whole lot of young people who invested time in creating books.
The 2022 Holmes County Fair 4-H livestock book judging night took place Thursday, July 14 and Monday, July 18 in the expo center at Harvest Ridge, where close to 600 youth brought in more than 800 livestock books.
The evening was filled with plenty of nerves for the 4-Hers showcasing their animal project booklets, but that was only half of the equation. They also had to speak to a judge and go through some testing, meaning not only did they have to have their booklets properly and thoroughly completed, but also they had to show some working knowledge about the animals they will show the week of the fair.
According to Janessa Hill, Holmes County Ohio State Extension educator, the two-evening event encompasses any type of animal that will be shown at the Holmes County Fair. She said the hands-on stations where they test their skills help encourage them to learn about the various parts of their animals while the booklets contain all the work each 4-Her poured into their animal projects.
While the youth were moving through the process of the hands-on skills, their books were being evaluated and graded by qualified judges.
Books were judged on how compete, neat and correct they were, and scores ranged up to 100. Any youth scoring a 98 or higher received a reward of a carrying bag and a T-shirt from Loudonville Equity.
Hill also said the overall score doesn't determine whether a youth can take their animal to the fair to show. What mattered was their books were completed, turned in and they went through the judging process.
"This event is the completion of their projects and allows each youth to take their animal to the fair," Hill said. "It's always a bit nerve-racking, but it also helps them develop a lot of great skills. They have to keep accurate records. They have to talk to an adult about their project, and they have to be able to demonstrate they have worked with their animal over the past year and exhibit knowledge about their species. It ensures that they know their animal very well."
The event takes many volunteers, from junior fair board members, to the judges at each animal station, to those tallying the scores.
With so many youth in attendance each night, much of the evening becomes a waiting game, which can be just as nerve-racking as the judging portion.
Youth sat in waiting stations after going through the hands-on process, biding their time until their books came back from the judges.
"You get done and you wait, and waiting is about as hard as anything," Timothy Feikert said.
Fortunately, Feikert has plenty of friends to sit and wait with, which helped pass the time.
One of those friends was Reid Coleman, who raises market hogs, breeding sheep and market lambs. That keeps him busy, and come fair time, he will be really busy. He said talking to the judges gets easier every time you do it, but the nerves are always there.
"I think anyone who comes in to get judged is going to always be a little nervous," Coleman said.
Sarah Berger, who is taking a couple of projects to the Ohio State Fair in Life Skills, said handling the nerves of getting judged is all part of the process. As someone who has taken projects to state before, she speaks from experience.
"I've done this before, so it's not as bad now as it was, but I remember the first time I came in to get judged a few years ago," Berger said. "That year I was freaking out."
At that time 4-Hers had to take their books with them during the interview to walk the judges through their experience, explaining their book as they went through the project.
Berger said it is easier now, simply handing the book to one judge and then focusing on talking to the person in charge of the respective stations around the expo center.
"It's definitely less stressful not having to watch a judge go through your book, marking up things you missed and telling you things," said Berger, who has three animal projects, along with Life Skills projects, Rockets Away and Exploring Polar Science.
As for waiting for the fair to roll around, Berger said there was no waiting because the fair started long ago for her.
"In my eyes the fair started when I got my books," she said. "I've had to work and worry about all this starting then, and that is when you really have to focus. The fair itself is just the end of the journey."
Berger said the scores received for the book projects will factor into the chase for a piece of the outstanding livestock awards handed out at the fair.
For the hundreds of 4-Hers attending the event, the nerves, joy and hard work of raising animals and the dedication of journaling and recording the progress in their books serve as one more way 4-H helps build character and responsibility in today's youth.