Holmes show the 'Super Bowl' of the great outdoors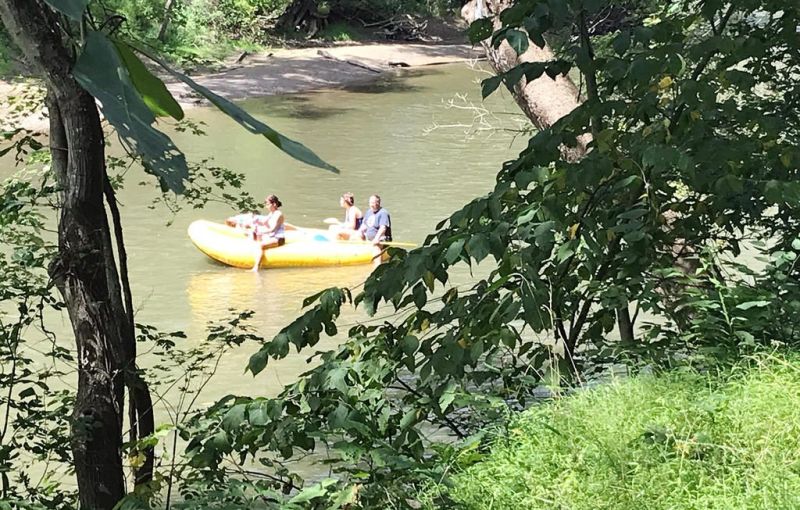 Yes, there will be a fairly important professional football game that is deemed "Super" on Sunday, Feb. 2, but before the big game, there will be sports of a different kind that will be very super as well.
While there are many outdoor shows that focus on the entire outdoors experience, the second annual Holmes County Fishing & Camping Show zeroes in on the joys that come with the family experience of travel and everything that takes place in or on the water.
The event is open to the public and will take place at Harvest Ridge Holmes County Fairgrounds on Jan. 31 from 3-8 p.m. and Feb. 1 from 8 a.m. to 2 p.m. Once people find their way into the expo center, they will find anything and everything connected to the joy of fishing, whether it is for sport or relaxation, as well as all kinds of water sports and travel fun.
Participants can enjoy a day of angling, the thrill of packing up for a weekend in the outdoors and meandering along the Mohican River in a kayak or canoe.
The two-day event will feature a popular draw in Jim Vitaro's Hawg Trough, a mobile 500-gallon fish tank that is transported to locations around the country as an attraction at boat shows, sportsman expos, fairs and festivals. Once on location, the tanks are filled with water and stocked with fish, where patrons can actually get a realistic idea of what happens under the water rather than just on top of it.
A number of guest fishing experts will be at the Hawg Trough, providing on-the-hour interactive fishing demonstrations for the purpose of education and entertainment, each speaker bringing insight into a different area of fishing.
"The great thing about the tank is that it allows people to see what is taking place under the water," Vitaro said. "They get to see how different techniques work and how the fish react, and that isn't something fishermen get to see very often."
The Hawg Trough attracts crowds while demonstrating fishing techniques. Audience participation by both seasoned anglers right down to youngsters keeps the crowd entertained.
Vitaro, a professional fisherman from Wooster, started fishing professionally four decades ago at the age of 16, where he competed against experienced anglers four times his age.
In 2008 he purchased the Hawg Trough business, five huge fishing tanks that were portable and would house all kinds of fish. Vitaro's business took off when Lucas Oil became a sponsor, and since then many other companies including Berkley Company have hopped on board to sponsor his Hawg Troughs.
While Vitaro will bring the 500-gallon tank rather than the 2,500-gallon tank, he said people will be awed by the sheer magnitude of even the smaller tank.
"The little tank is extremely impressive until you see them side by side," Vitaro said. "It's immense in its own right."
The smaller tank is still 35-feet long and 4-feet deep. Vitaro said he will stock the tank with fish that are available at this time of the year: smallmouth and largemouth bass, perch, crappie, blue gill, and catfish.
"That Hawg Trough is impressive to everyone, but it is especially overwhelming to these little kids who come to the show," said Charlie Bauer, the food manager at Harvest Ridge, who is promoting the Holmes County Fishing & Camping Show. "I don't care what fishing show people are visiting: These tanks are always the biggest draw."
The fishing experts will be at the tank throughout the two days, providing experience and insight into the fishing world, offering plenty of tips on how anglers can improve their craft.
Speakers on Friday night include Steve Fender of Fender's Fish Hatchery, the host of Buckeye Sportsman Dan Armitage with the kids' show and Vitaro with Hawg Trough bass fishing. Saturday's line-up includes Jamie Darr, a kayaking seminar, ice fishing with Doug Stewart, Vitaro's Hawg Trough demonstration, Armitage and Doug Stewart presenting saugeye fishing.
"We are teaching people how to be successful," Vitaro said. "You don't have to have a boat to be successful, and it is great information from beginners to experienced fishermen. With so many different speakers, we will be hitting a lot of different types of fishing too, so there is going to be something that connects with every fisherman. We break everything down, from fishing conditions to what equipment and bait to use in what conditions, and techniques, in ways that will help people improve their fishing skills."
Each speaker will not only disseminate valuable information, but also will provide a Q-and-A where visitors can learn even more of what they want to know.
While the Hawg Trough is a huge draw, there will be plenty of other activities inside the expo center that will connect with the camping and water sports fans. There will be a large number of vendors and in-house catering for food and refreshments.
Vendors will include boat dealers, bicycles, camping supplies, charters, tackle suppliers, a professional kayaking club and more.
"We've definitely brought in a lot more vendors than last year," Bauer said. "It's all about fishing, biking, camping and creating an atmosphere where people and families can share their passion for doing things together. We want to create an opportunity for people to come in and be engaged, to interact and to enjoy our outdoor atmosphere."
Whether it is talking fishing or sitting back to glean some insight from the professionals, there will be plenty of opportunities for visitors to enjoy at the two-day event as some gifted fishing minds will be on hand to share as they touch on a vast number of fishing experiences.
Friday evening also will have a fish fry featuring an all-you-can-eat smorgasbord of Canadian perch, coleslaw, green beans, French fries, chicken tenders, baked potatoes, salad pies, cookies and more.
The show is very family-friendly with admission set at $5 per day. Harvest Ridge is located at 8880 state Route 39, west of Millersburg.