Homelessness in Wayne County a complex situation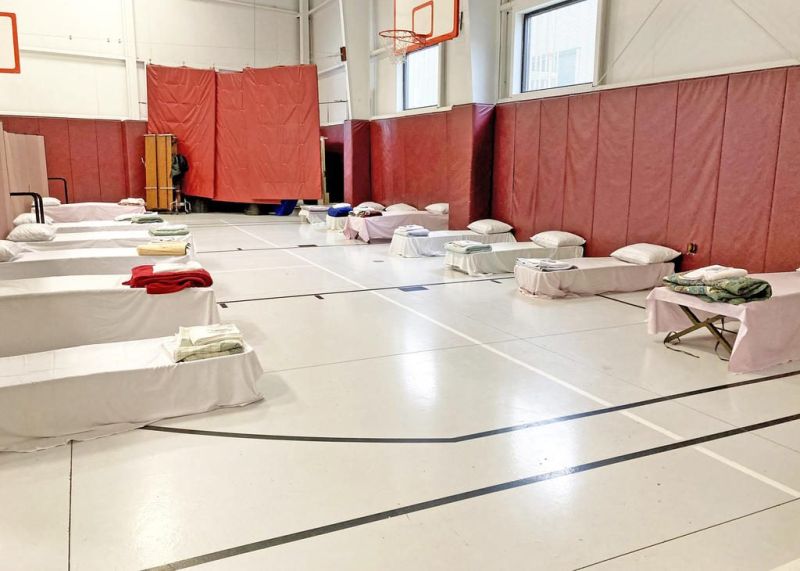 "We don't have a stereotypical homeless person per se. Everyone's situation is different, whether it's a domestic-violence situation, mental-health issue, loss of a job, medical issue, etcetera," said Krista Kidney, chair of the Wayne County Housing Coalition since 2013.
In many ways the homelessness situation in Wayne County has grown more complex during the pandemic. With instability in jobs and the added challenge of many families having school-age children engaged in remote learning at home, many new families and individuals face homelessness for the first time. At the same time, many new and existing programs are available to support those in need, and agencies and nonprofits in the county have come together to service the homeless.
"Things are definitely worse than they were at the beginning of the pandemic. Some of our partners have talked about seeing new situational poverty due to the circumstances. We are also seeing that beyond people who are low income; it is impacting mid-income as well," said Melissa Pearce, president/CEO of Community Action Wayne/Medina.
Pearce shared a recent story about a woman in Wooster. "This woman was at the shelter, and we were taking her to her job, and she was desperate to find a place in Wooster. She couldn't find a place, even a small efficiency, for a long time," Pearce said. "Finally, a month or two ago, she was able to find an apartment in Wooster. She's interesting because she was working, she had resources, she was really trying to do all the right things but couldn't find a place to live."
Indeed, many individuals do maintain a job while homeless. "We've been offering rides to the major manufacturers in the county, and we plan to expand that in 2021. We have helped several folks so they don't lose their jobs while they are in the shelter," Pearce said.
Here's the data on homelessness in Wayne County: The poverty rate in the county is 9.9%, which means about 1-in-10 people earn an income that is below the poverty limit. The winter point-in-time count on Jan. 1, 2020, showed 121 total homeless people in the county with 97 people living in shelters and 24 unsheltered. At the summer point-in-time count on Aug. 11, 125 people were identified as homeless in the county with 62 living in shelters and 63 unsheltered.
The homeless population often aggregates in Wooster because it is the largest city in the county. "The bulk is in the county seat of Wooster because that is where the services are, though most of what you see outside of Wooster is people in their vehicle or even a tent on someone's property or a camper," Kidney said.
Preventing homelessness is a critical first step. According to the 2019 CAWM annual report, 4-in-10 adults in the United States would not be able to cover an unexpected $400 expense. CAWM offers support such as utility assistance, car repairs, food pantries, transportation services and senior outreach.
The outreach to seniors and those with disabilities proved to be especially valuable this year.
"In mid-March when the pandemic hit and things started shutting down, normally our heating assistance expires at the end of March, but the federal government extended that until the end of May," Pearce said. "We started calling people to let them know about this opportunity. Initially, when staff started talking to people, our staff said they couldn't get off the phone. People wanted to keep talking, and I said, 'Talk to them; they need the support.' We even hired a new staff to connect with the older folks in the county."
CAWM also has funds to help with rent and mortgage assistance because the moratorium on eviction expired at the end of the year.
"If someone has fallen on hard times, we have a homelessness program to prevent evictions. Starting Jan. 1, landlords can start evicting tenants if they haven't paid, and that's a change from the CDC moratorium (which was from September to the end of the year)," Kidney said, describing OneEighty's Housing and Supportive Services family assistance program.
If a family or individual do find themselves in a situation where they cannot prevent homelessness, there are shelters available in Wayne County. Also, the Living Room is a day center at the Salvation Army in Wooster that opened on Oct. 7 to ease the burden on people.
"We do have our shelter that will provide up to 90 days shelter for individuals or families. We also have the Living Room project, so if the homeless need a place to go during the day between 10-3 Monday through Friday, they can visit. They can charge their phone, do their laundry, take showers," said Connie Higgins, who is a pastor and corps officer with Salvation Army in partnership with her husband, Tim Higgins.
"The City of Wooster was involved early on in the day center. I initially found a day center case study in Tennessee because we knew folks needed a place to go in the day to charge their phone, do laundry, get access to counseling and other services. We ended up visiting a day center in Newark (Licking County). The city secured community block grant funds of $100,000, and that assisted in making that a reality," said Tim Monea, who represents the City of Wooster in the housing coalition.
The Living Room also was funded by Wayne County, Salvation Army and Wayne County Community Foundation, among others.
Monea also noted that on Dec. 7 the city council approved OneEighty can manage a house owned by the city.
"We're definitely excited about being able to use this house at a significantly reduced cost to the family. The family will have to be willing to work with a case worker to help stabilize their situation so they will be able to move out on their own in the future," Kidney said of the project.
Another resource is the severe weather shelter in the Salvation Army gymnasium (also at its Market Street location in Wooster), which is operated by the housing coalition. Last year it was open any time the temperature dropped below 20 F, for a total of 13 days. This year the criteria changed, and it will be open when it "feels like" the temperature is 20 F or below, factoring in the wind. That likely will increase the number of nights the severe weather shelter is open this winter.
The Trinity United Church of Christ in Wooster also plays a role in alleviating the issues around homelessness. They have a morning breakfast program from 8:30-9:30 a.m. each day, which provided 15,000 meals last year.
"I try not to be partisan about things; I just want solutions. Even if you are homeless, you are still a citizen, and you still deserve the same services as the rest of us," said Rev. Kevan Franklin, who runs the breakfast program.
While the issues around homelessness are daunting, it's also encouraging to see many organizations and individuals chipping in.
"We are seeing a lot of private donations right now, particularly because we are in our Christmas fundraising right now. We're finding this community is very generous, and we are very thankful," Salvation Army's Connie Higgins said.