Homestead's The Met Collection by Abner Henry a global testament of faith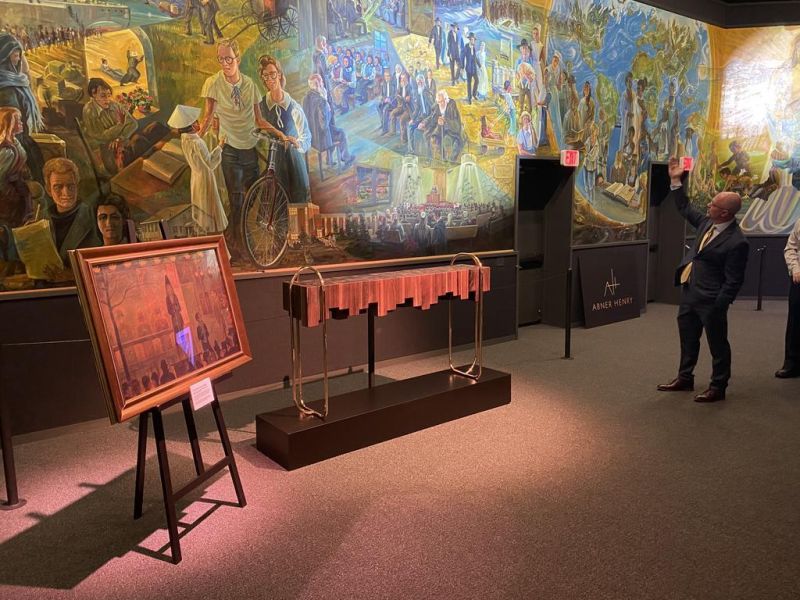 On Tuesday, April 4, art, furniture and faith came together in a most unusual way at Behalt in Berlin, and the result was a stunning glimpse into the future of furniture coupled with a rich, honest faith-based connection to the past.
When curators at the world famous Metropolitan Museum of Art in New Yprk City formulated the idea of combining nearly mythical pieces of art with the form, beauty and function of furniture, they scoured the nation to find the company that they felt would best be able to design and develop the beautiful vision they had for the project.
Eventually they settled on a furniture company, and it wasn't from some massive producer in New York or Los Angeles, but rather they put their faith in Homestead Furniture, a smaller Amish-based company in Mt. Hope, Ohio
Beginning June of 2020, Homestead Furniture steward Ernie Hershberger and his team poured themselves into the project, and in the process, they discovered that much like art, furniture can tell a story just as vivid and breathtaking as any painting or sculpture.
The staff at Homestead worked through many attempts to prefect each piece of furniture in a way that would draw out the intricacies of each famous painting, a list. That included "The Dance Class" by Degas; "By the Seashore" by Renoir; Sunflowers" by Van Gogh; "Circus Sideshow" by Seurat; "Serena Pulitzer Lederer" by Klimt; "Juan de Pareja" by Velazquez; and "The Monet Family in the Garden at Argenteuil" by Manet.
"To this day, I've never really been told why they picked us," Hershberger said. "I'm curious, because there's thousands of companies they could have selected, and maybe they did, but they gave us the opportunity and we dove in."
What Homestead produced after a lengthy period of incredibly hard work, a series of trial and error on each piece and an incredible team effort was The Met Collection by Abner Henry.
"This has been hands-down not even close to anything we have ever done before from a complexity standpoint," Hershberger said. "We stretched our team and we had to encourage each other at times to keep pressing forward. There was an extreme learning curve, but we learned from every mistake we made."
The limited-edition collaboration exemplifies the very spirit of the Abner Henry brand: being rooted in the past, while pioneering the future. It is the perfect blend of art and design, engineering and technique, old and new, tradition and innovation.
The collection includes the Ventana Standing Mirror, the Pirouette Console Table, Duet Nesting Tables, Severine Console Table, Serena Bar Cabinet, Verlang Cocktail Table and Coralie Cocktail Table.
Each signature piece is designed to mesh with the colors, themes and personalities of seven famous paintings, all of which thang in The Met.
While incorporating the art into each piece was a necessity, Hershberger wanted the Anabaptist faith to shine through in each piece. Thus, his team incorporated specific faith values into each piece, making them more than simply a piece of furniture or even a piece of art, but also a testament to faith values that will speak to future generations as to the importance of God in all things created.
"That was very important to us," Hershberger said of implementing a faith story into each piece. "The Met is a global institution, and I wasn't sure how they would embrace our faith, but they were very interested and wanted me to express that spiritual faith side of our lifestyle on a global perspective. That's very humbling."
After the collection was brought to the Met and professionally photographed and displayed with each piece's corresponding painting, the collection came back to Holmes County, where it was set up at "Behalt," with replica paintings and their corresponding signature furniture piece displayed alongside a singular moment in Heinz Gaugel's "Behalt" cyclorama.
Behalt director Marcus Yoder said when Hershberger approached him eight months ago with the idea of tying in each piece to a scene in the cyclorama, he was thrilled.
"When Ernie came to me a month ago with the final pieces and had the final design outline and the spiritual application written, I spent about two hours sitting in (the room housing the cyclorama) and then we talked our way through it."
Yoder said quality art connects people to the world, even without realizing it, and there is always a spiritual piece to art.
Hershberger said early on the idea to connect the collection to Behalt was developed because "Behalt" is a special mural in showing the Anabaptist faith and the impact each story had in the faith journey.
He said this opportunity impacted him deeply and has a chance to now impact generations to come.
"We don't know how that will happen, but if give it our all and we stay true to our faith and who we are, our story will be told," Hershberger said. "When we started connecting the dots, we knew it had to tie in (with "Behalt").
He said once they walked into the cyclorama room, it was almost miraculous the way each piece was called to a specific scene in the mural.
"It came together so quickly and precisely," Hershberger said.
Even the way Homestead will produce the limited collection is based in faith. There are seven pieces, and they will make only 70 of each piece of the collection.
"Seventy times seven is the full forgiveness number, and I wish we could live life forgiving one another," Hershberger said. "We will not make more. We will not replicate anything we've created in these pieces in any of our other furniture. These are special to this collection."
Hershberger said the process of creating this collection has changed the way that he and his staff look at furniture, and they hope that it only drives the furniture industry to new levels in the future.
Preston Miller of Creative Warehouse Marketing revealed something Hershberger had told him during the process.
"Ernie told me after 32 years of making furniture, there's never been a piece that has spoken to him spiritually," Miller said. "This collection started to. It will be interesting to see how Ernie views pieces of furniture when walking through the shop, because after 32 years it has become an art."
As of now, the plan is to have the pieces on display at Homestead Furniture in a private gallery May 1.