Ice carving, model trains top Mohican Winterfest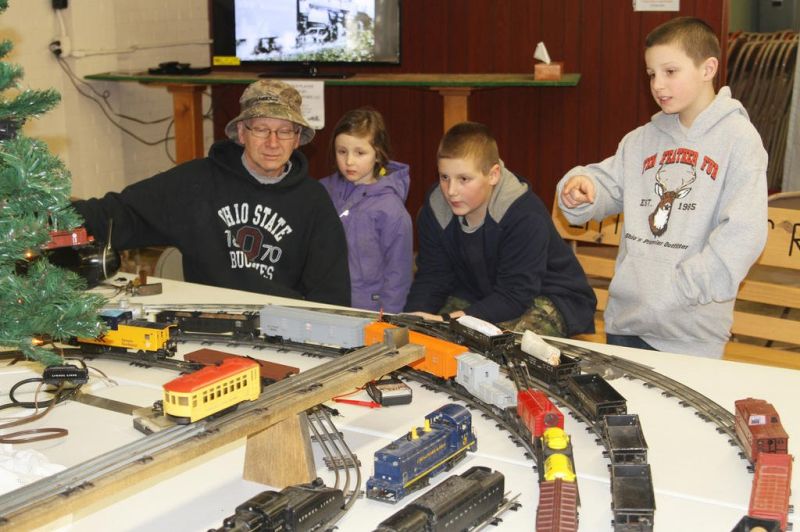 Those looking for something to breathe some life into the blasé winter months need look no further than Loudonville, where an Olympic champion ice carver and his crew of professionals are back to create ice sculptures.
The 14th annual Mohican Winterfest will take place Jan. 10-12 in downtown Loudonville, and with the arrival of some enormous blocks of ice comes artistry that will undoubtedly make patrons view winter and ice in a completely new way.
Olympic gold medal ice carver Aaron Costic and his crew from Elegant Ice Creations Inc. in Broadview Heights will transform those blocks of ice into works of art as the Elegant Ice professionals saw, tip, chip, file and cut. Demonstrations from Elegant Ice featuring a new design each performance will take place hourly on the stage at the main square in town on Saturday from 11 a.m. to 4 p.m.
Perhaps the most enjoyable part of the ice-sculpting demonstrations is when the artists break out their torches — which seems totally contradictory to ice carving — to make the sculptures spring to life.
Costic is a full-time ice sculptor, servicing Northern Ohio and the world with 25 years of ice-sculpting experience. He has competed in Olympic competitions and world and national championships.
This opportunity is definitely one for the entire family as Costic's crew churns out animals, dinosaurs, snowmen and many other sculptures that will be placed all around downtown Loudonville.
In addition to the demonstrations held on the main square in Loudonville, Elegant Ice will have dozens of premade ice sculptures scattered throughout the downtown area for everyone to enjoy. Most of the sculptures will be in front of the downtown business, and the public is invited to see these icy works of art before they disappear for good.
This free event will take place from 10 a.m. to 11 p.m. with the main carving station located on the square in downtown Loudonville.
"These ice sculptures are simply beautiful, and it is fun to see them come to life," said Valerie Spreng, Mohican Chamber of Commerce executive director. "This is such a unique event. There really is nothing like it around here."
The event will start on Friday, Jan. 10 with three demonstrations on the square. The ice-carving demonstrations will be at 5, 6 and 7 p.m. After each demonstration there will be kids' names in an ice autograph session at no charge. Demonstrations also will take place Saturday at the top of the hour between 11 a.m. and 4 p.m.
"Aaron and his team have always done such a great job of interacting with the crowd and especially the kids," Spreng said. "And for those who haven't seen them at work, it is something else to witness the way the ice sculptures come to life."
The model train expo will take place from 4-8 p.m. on Friday and from 10 a.m. to 6 p.m. on Saturday. The train expo will feature dozens of model trains trundling along on their tracks.
"The trains have added another exciting element to the event that is wonderful for people young and old, and it is a wonderful experience for the whole family," Spreng said. "The model train people do a wonderful job of setting up some really creative layouts and train sets, and the kids always enjoy watching them operate, but adults will too."
Also featured during the three-day event will be a steak fry at the American Legion on Friday from 5-7 p.m.
Saturday will feature a host of events including Cleo Red Fisher Museum and Workman Cabin tours at noon and 4 p.m., the American Legion Riders Poker Walk from 1-4 p.m., live music at the Ugly Bunny Winery by Henry J., a free family movie at the Ohio Theatre, and stuffed-animal workshops for the kids at the Loudonville Public Library at 10:30 a.m., 12:30 p.m. and 2:30 p.m.
On Saturday evening the annual Snowball Dance with disc jockey Rockin' Al will take place at the American Legion from 7-11 p.m.
Sunday, Jan. 12 will feature the train expo from noon to 4 p.m., and all of the ice sculptures will be available to view throughout town as long as Mother Nature doesn't bring the heat and melt them away.
"It's a fun weekend full of activities for the whole family," Spreng said. "The only thing we can't control is the weather. It has been everything from freezing cold when the sculptures are around town for a couple of weeks to 60 degrees and sunny where all of the sculptures melt within a couple of hours of being made, but everyone here does an amazing job of preparing for just about anything."
Spreng said each year the downtown businesses support the show by purchasing ice sculptures to represent their businesses. Those sculptures are preordered and brought in by Elegant Ice and placed along Main Street before the show begins. That gives people a chance to walk through downtown and see even more of the artwork on display.
"This event is an important one to our community and to our downtown businesses because it does bring in a lot of people, and the businesses have done a wonderful job over the years of supporting the event," Spreng said.
For a complete listing of the schedule of events, visit www.discovermohican.com/events.