Jay Lehman dies at 91, leaves legacy of simple living and Christian life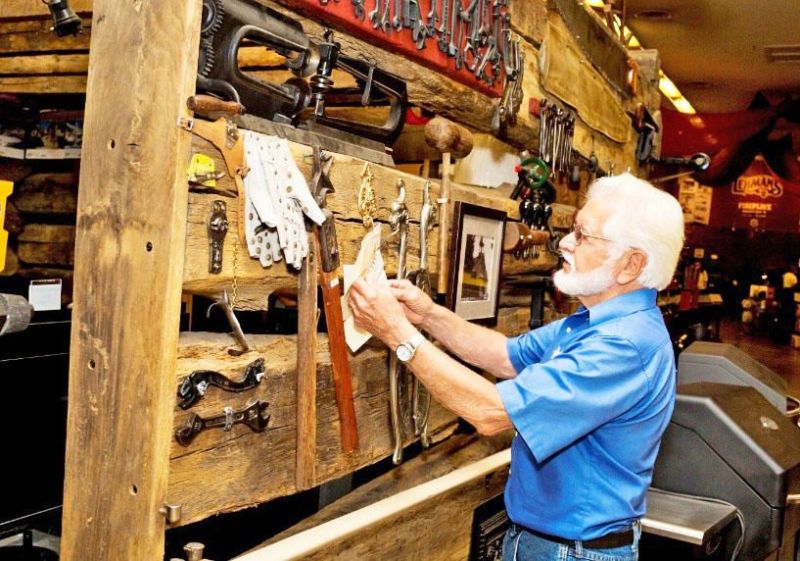 Lehman's in Kidron is filled with many treasures, but none was more special than founder "Jay" Junior Ezra Lehman, who passed away at the age of 91 on July 26 with his family by his side.
"He lived a very full life and was deeply religious, so we know he's in heaven," daughter Glenda Lehman Ervin said.
Lehman Ervin said her father was only educated through the 10th grade but "was a graduate of the school of hard knocks."
Born in 1929, the year the Great Depression started, Lehman achieved unparalleled success in business.
The store he started in Kidron in 1955 mainly to support the local Amish community grew over the years to a multi-million-dollar enterprise that is known around the world for providing nonelectric and simple, practical goods for a simpler life.
Lehman's is still located at its original site in Kidron, a 35,000-square-foot facility made up of the remnants of a log cabin and four pre-Civil War buildings. Customers visit from the local area and around the world including multitudes of tourists each year who come to see firsthand the collection of unique resources for homesteaders, missionaries, environmentalists, survivalists and doctors in developing countries.
Lehman's counts among its customers the American Red Cross, Peace Corps volunteers and Hollywood set designers who use the store to find historically accurate items for decorating period sets. The business also has a thriving catalog and online sales presence.
"Dad had what I like to call a 'servant attitude,'" Lehman Ervin said. "He always made sure everyone had whatever they needed."
Lehman Ervin said her father worked in the store into his 90th year, doing everything from working on restoring antiques, which was his passion, to helping customers. "He had great patience. He would restore antique pot-bellied stoves, trading parts with friends all over the country," she said.
Lehman was well-traveled and served the world community, his daughter said. "A lot of people don't know, but he spent years overseas in places like Africa, helping arrange tours for missionaries and doing other work," she said.
Lehman, who spoke several languages, had traveled to more than 70 countries.
"On the surface he seemed so simple, but there was a lot more to him," his daughter said.
Lehman Ervin said her father had a good sense of humor. "He was a big Cleveland Indians fan. When a game was on the TV when we were kids and we walked in front of it and blocked it, he'd always tell us we 'made a better door than a window,'" she said.
Lehman also was modest. "Whenever someone asked him what he did, he would simply respond, 'I work in a store,'" Lehman Ervin said.
Lehman Ervin said her father also was athletic and enjoyed a good game of tennis clear up to his later years. "He had a wicked serve," she said. "It got to the point where my brother and I would have to team up as doubles just to play him."
Lehman also was very generous and supportive, especially to the Amish community.
"He spoke what I call 'the language of love,' and he demonstrated that through his generous financial donations to the Amish and Mennonite communities," his daughter said. "He had a great regard and admiration for the Amish and their way of life."
Due to the COVID-19 pandemic, the family was not able to host an in-person funeral service but will conduct a Celebration of Life observance when the virus abates. A small family service was live-streamed on the website of Spidell Funeral Home for friends and family.
As a tribute, mourners can have a tree planted in Lehman's honor through the Spidell Funeral Home's website at www.spidellfuneralhome.com, and they also can leave condolences there. Donations can be made to the Mennonite Economic Development Association and the Mennonite Central Committee in his honor.