Kaufman named Tuscarawas County Friend of 4-H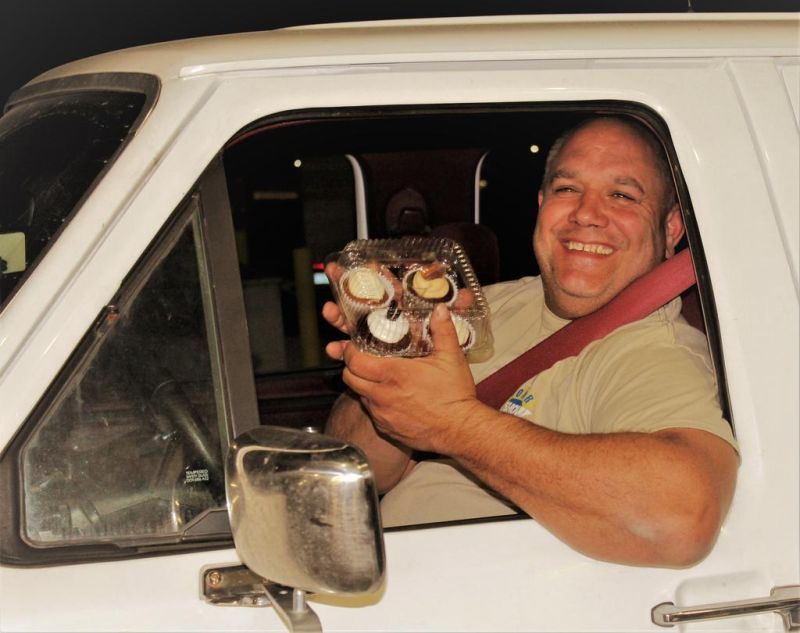 Kaufman Realty and Auctions was presented with the Tuscarawas County Friend of 4-H award recently at the Clover Café at the Tuscarawas County Fairgrounds. The Kaufman organization and its staff were instrumental in providing the expertise needed to allow all three of the fair sales to accept online bids as COVID-19 restrictions limited crowd size at the auctions.
Accepting the award for Kaufman Realty and Auctions was Melody Yoder and Annalisa Miller, two of the company's employees who put much work into the fair sales.
"Kaufman Realty worked tirelessly to get an online bidding platform set up for our market livestock sales at the fair," said Diane Glazier, president of the 4-H committee.
Glazier is grateful for the time and expense the company put in, only charging a minimal amount for their services, to support 4-H youth. "It was very successful."
In addition to the work that was done prior to the sales, much of the work was completed quickly at the last minute after 4-H members weighed in their animals at the fair.
"It all went very smoothly," said Cassie Putt, a member of the market livestock committee.
The exhibitors sent in photos to be displayed onscreen during the auction, and Kaufman's staff put the sales bills online ahead of time so the buyers could plan their bidding.
"Then the day of the sale, they had girls working in the office, handling the online portion, and they brought a laptop here so they could have live bidding and see what was going on online," Putt said.
At the end of the sale, the company made up the invoices and automatically emailed them to the buyers. "It was really helpful," Putt said.
Yoder and Miller said they have made some notes on ways to improve the service for next year's fair, and they plan to meet with fair officials soon to discuss it.
"There are a few things they want to change for next year, just to tweak, and we want to do that while it's still kind of fresh in our minds," Kiersten Heckel of the OSU Extension said.
Everyone involved was amazed at the process that created this year's in-person and online auctions.
"I felt like we were both on the same understanding, and it all just came together," Yoder said.
The online option made bidding accessible to more buyers.
"After we were done, one parent came up to me and made the comment that he was at his daughter's soccer game but he could still keep bidding," Yoder said. "You'll still have more people who will be able to bid because you open it to people who might not be able to physically be here."
Grandparents who live out of state had the opportunity to bid too. "That was exciting for them," Miller said.
Kaufman has much experience with online auctions for land and collectables, but not as much with livestock. Overall, the use of online auctions has increased. The pandemic restrictions demanded the fair sales to become hybrid.
"They had talked about adding this to the fair, so being forced into doing it worked out perfectly, and I think we have started something good for the future here this year," Miller said.
Prior to the award presentation, a drive-thru cupcake social was held to thank the 4-H volunteers for their service this year. At the event, 4-H volunteers were treated to a box of cupcakes, and they picked up packets of information and awards for their clubs for the year. There were 55 4-H clubs involved in projects this year.
"It's just a very, very small gesture to thank the advisors for their work this year. Normally, there would be a nice meal and some fellowship and socializing, but not this year," Heckel said.
There are about 220 4-H advisors in Tuscarawas County, and not all are affiliated with clubs.
"We have something through Ohio 4-H called a key leader," Heckel said. "Those are folks who may have experience, knowledge and expertise in a particular skill area, and that's where they want to lend their help, but they may not be tied to a specific club."
Key leaders may have young children but not want to give up volunteering. They help with areas like food, livestock, clinics or camping.
"I've actually gotten more of those since I've been here because I don't think people understood what a key leader was," Heckel said. "They thought you are either with a club or you're not a 4-H advisor at all."
Another highlight of the evening was the local recognition of Janet Kemp as one of only three 2020 Ohio Friends of 4-H winners. She was nominated by Heckel.
"I put together the application primarily based on all of the work that Janet has done for 4-H Camp Piedmont," Heckel said. "She's been on the 4-H board for years, and she's done so much."
Kemp was the driving force for grant-writing efforts to completely remodel the kitchen at Camp Piedmont.
"She goes to camp with us every year to teach crafts. She goes on camp clean-up day and is always busy just trying to make the camp look good," Heckel said.
As a former 4-H member, Camp Piedmont has always been a place Kemp loves. Kemp also was an advisor for the Crooked Run Clover Stitchers for 24 years, serves as treasurer of the 4-H committee, is a key leader and is involved with the camp. She also is on the Clover Café committee and was pleased to get a granite countertop donated to the café in recent years.
Kemp would have been recognized for her efforts at the Ohio 4-H Conference in March, had it not been canceled due to the pandemic. She will now be recognized at the state level virtually on Dec. 1.
Kemp was surprised and honored when she learned she had won the award. "I couldn't even talk after that," she said. "It's not hard; it's a labor of love. Always making the best better, that is the 4-H motto, and it's my life now. You can always make something better."
A member of the former Jolly Jills 4-H club as a youth, Kemp enjoyed the experience.
"I always took different projects every year because I wanted to learn something new, everything from rabbits, to sewing, to gardening. It was fun," Kemp said.