Ken Miller Museum prepares for final day before closing its doors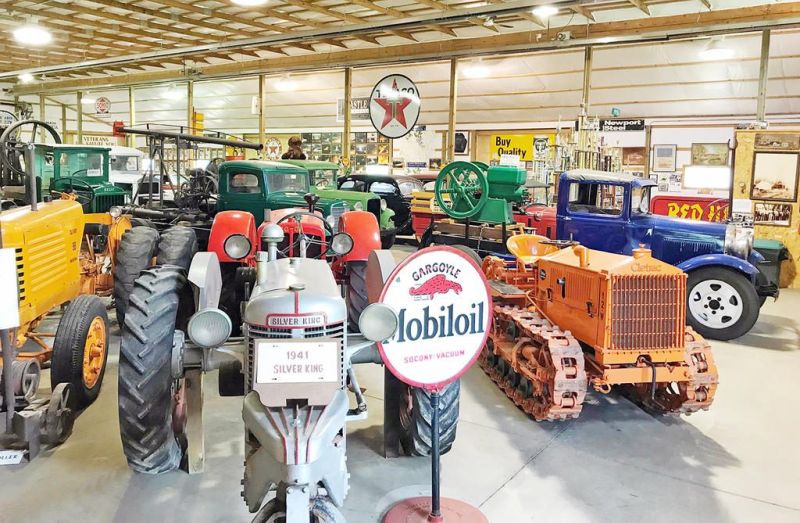 Many people call the museum located just north of Shreve the Ken Miller Museum of Oil and Gas, but one step inside the front doors and people will discover it is really the Ken Miller Supply Oil, Gas, Car, Truck and Agriculture Museum.
Filled with decades of artifacts and memorabilia that cover Americana at its finest, the museum is home to a plethora of well-preserved local history.
However, anyone who wants to experience this treasure will have one final opportunity as the museum is set to close its doors forever.
The public is invited to take one final tour of the Ken Miller Museum from noon to 3 p.m. on Saturday, July 13. Once that day is over, there will be no more tours for the museum.
According to Jayne Neal of the County Line Historical Society, the museum has struggled since the oil and gas boom fell off in 2016 and the charitable foundation that had supported the museum dissipated. However, since welcoming the historical society into its fold many years ago, the Miller family and the CLHS have worked hand in hand in presenting this display of oil and gas, old vehicles, and more.
"The Miller family has been incredibly gracious to our historical society over the many years," Neal said. "They have allowed us to have programs and fundraisers there, and they have been a big part of our ability to share our local history. It is going to leave a hole in the lives of our historical society and this community. What is represented in this museum is a part of America that is disappearing."
Because the museum will close permanently, this will be the last chance for the public to view this local museum that features tons of local historical items.
The museum includes 150 years of oil and gas business history. According to Neal, the Swabbing Machine 1918 Model T that resides there is said to be nicer than the one in The Smithsonian Institute. There are early gas pumps, drilling machines, tractors, trucks and automobiles, as well as Pennsylvania Railroad and Shreve industry memorabilia.
A visitor favorite is the four-engine 1280-horsepower street machine built and owned by Paul Wirt of Wooster. The car was built in 1959, and the hope was that it would set the land-speed record on the salt flats in Utah. It never did but is still a great story. Whether the memorabilia was donated for exhibition or part of the extensive Ken Miller collection, it has been one of the area's hidden gems.
"There is no other museum with Ken Miller's variety and collection of this size," Neal said. "This is a gem of a museum, and much of the community is very disheartened to see it go away. It has been such a big part of our community for a number of decades that it will seem odd not to have it there anymore."
The cost to visit the museum is $5 for adults while children 12 and younger may visit for free. There is a maximum of $15 per family. Members of any historical society may visit for half-price while County Line Historical Society paid-up members may visit for free. All admissions benefit County Line Historical Society for its museum in Shreve.
"At just $5 this museum is a genuine bargain to visit," Neal said. "It has been a source of income for our historical society for years, and I don't think any of us saw this coming, but it just became too much to maintain, and it couldn't sustain itself anymore."
Neal said over the eras they have seen a good number of people visit the museum, but unfortunately there is nothing anyone can do to save the museum.
The Ken Miller Supply Oil, Gas, Car, Truck and Agriculture Museum is located just north of Shreve and 15 minutes south of Wooster on state Route 226 at 7920 Shreve Road.
In addition to the aforementioned items, there also is a huge display of realistic train paintings by Roger L. Debnar (1917-88), a native of Rayland, Ohio. He began painting in 1975 after retiring from Wheeling-Pittsburgh Steel Mill, bringing history to life with precise detailing. Filling most of the north wall of the museum's second building, there is a clear glimpse into the past of steel mills and trains.
According to Neal, the contents and property will be sold at a later date.
"It is definitely the end of an era," Neal said. "It's been around for so long that it is hard to remember a time when it wasn't available for people to come in and experience not just the oil and gas industry, but to learn a lot about our local history."
The Ken Miller Supply Oil, Gas, Car, Truck and Agriculture Museum may be fading into the sunset, but for at least one more Saturday, there will be an opportunity for the public to experience its wealth of history one final time.