Kidron celebrates a bicentennial built on faith in style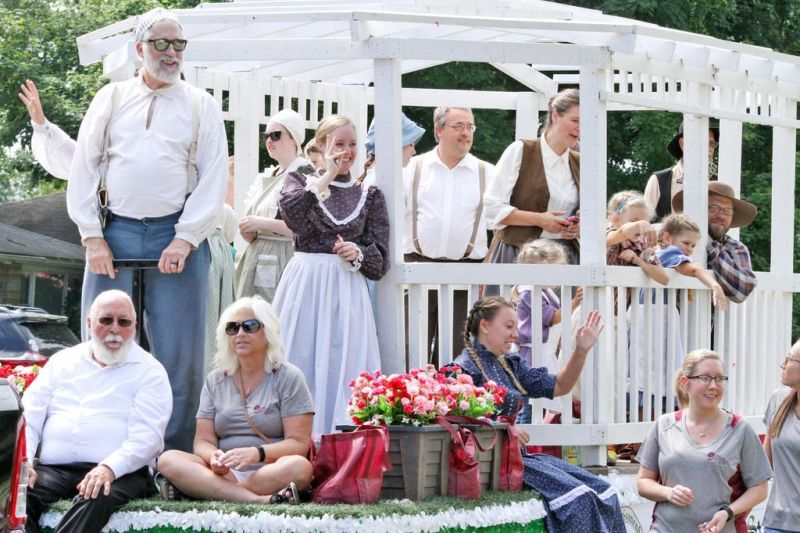 In 1819 a group of people left their homes in Switzerland to venture to a new world. Some of them landed in Kidron, where they created a new settlement based on faith and hard work.
Two-hundred years later their descendants celebrated their achievements in a bicentennial celebration.
Dick Wolf, director of the Kidron Sonnenberg Heritage Center, the museum branch of the Kidron Historical Society, helped put together the weekend of activities that included a parade on Saturday, Aug. 10.
Wolf also put together the Kidron 200th anniversary book, which encompasses Kidron's growth over the past two centuries in stories and photographs. He noted Larry and Renee Yoder and Ray Leisy did the yeoman's work on the parade.
"There has been some stress in putting this weekend together, like anything this size brings, but it has been extremely joyful to be able to tell our story," Wolf said. "It has definitely been a labor of love."
The parade featured floats and entries that celebrated the many businesses and organizations in Kidron. Families and friends began lining the streets well before the parade kicked off at 11 a.m.
Wolf said his wife grew up in Kidron, and he is a transplant from Wooster, but he said the people of Kidron continue to share the same passion and faith that has always been present in the town since 1819. He noted the town began preparing for the celebration two years ago, and the book began to take shape more than one year ago.
The book is available at the Kidron Heritage Center, located across the road from Lehman's parking lot and open Thursdays and Saturdays, or at Kidron Town & Country. It features more than 500 photos from throughout Kidron's history.
The historical buildings were open and busy all weekend, and an old-fashioned baseball game took place along with craft demonstrations.
Included in the festivities in the celebratory weekend was an original play titled "A Sonnenberg Story," written and directed by Christa Wolf. The actors in the play were all local, many of them having long family history in the area.
"I would be willing to say that at least 80 percent of the people involved with the play are from the direct descendant line of the original settlers in this area," Christa Wolf said. "I think a lot of them wanted to be involved in the play because it would help their children and grandchildren better understand and celebrate their heritage."
Christa Wolf began formulating the play two years ago when her father-in-law Dick Wolf encouraged her to begin the thought process of it, knowing she had done one similar to it for her hometown in Pidgeon, Michigan.
The past year saw her journaling, researching and using her creativity to tell the story of Kidron's past. She got history from James O. Lehman's book, which celebrated the 150th anniversary, and explored E.P. Gerber's collection, which resides in the Heritage Museum in Kidron.
"I really tried to be thorough and keep everything as realistic as possible," Christa Wolf said.
Christa Wolf has been writing plays for more than a quarter-century, but this is only her second feature-length production.
The cast put on three productions over the weekend. Attending the shows were people from Ohio, Pennsylvania, Kansas, Wisconsin, Missouri and Michigan as they stood outside the Sonnenberg Church, congregating and sharing with one another.
"It felt like a reunion, and nobody wanted to leave," Christa Wolf said. "I got tears in my eyes, knowing that something like this can bring people together. It's not just a story. It is people's heritage, and there is a connection there that they can all enjoy together."
Perhaps the highest praise came from one gentleman who said, "Now that is the way to tell history."
The play, the parade, a community coming together and a weekend of celebration made people in Kidron look forward to the next celebration, whether it is in 25 or 50 years.