Kidron Town & Country adds taste of Greece to restaurant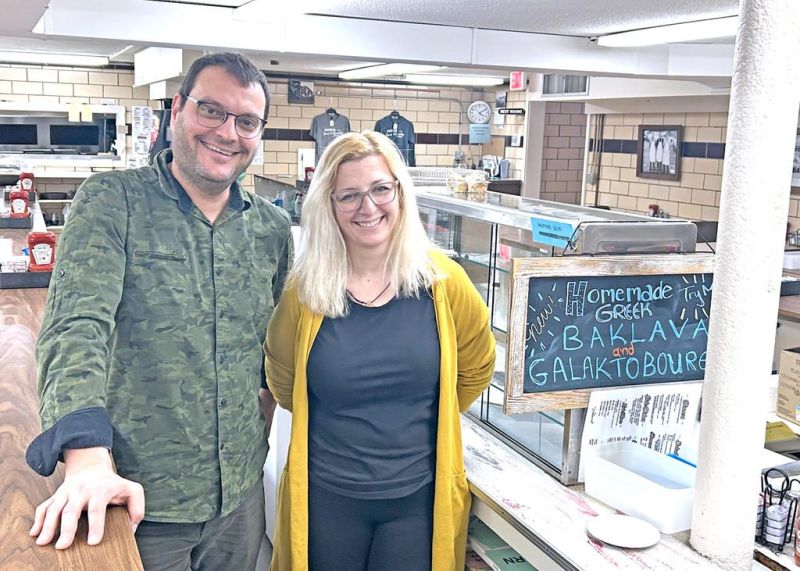 The Kidron Town & Country Restaurant, located in the basement of the store, is a popular breakfast and lunch place for the community and for those passing through. The home-style restaurant features traditional Amish breakfasts and lunches including sausage gravy and biscuits, pancakes, bacon, hamburgers, hearty dinners, and Troyer's homemade pies.
Now thanks to some unique circumstances, the restaurant has added Greek items to the menu, cooked by a couple from Greece.
"We are the first Greek-Amish restaurant," said Ranee Yoder, who is the manager of the restaurant and co-owns the store with her husband Larry.
Lefteris Charalampidis, whose first name is pronounced "Left Eddy," and his wife Maria Theodoridou heard from his first cousin Tim Rohrer, who is local to the area, how most restaurants in the country were looking for help. Although the couple owned several businesses in Greece including a restaurant, they were struggling to keep their establishments afloat after COVID-19.
"After COVID everything changed. The business was no good," Charalampidis said.
"For two winters we were shut down or could do carryout only," his wife said.
"So," Rohrer said, "the whole country was kind of shut down and no one was making any money. And then when it kind of opened up, people just didn't have money to go out to eat."
Born in the United States, Charalampidis is a U.S. citizen, so they filled out paperwork and came in October 2022. After hearing about the opening at the Kidron restaurant, they applied, lured by the shorter work day than the 16-hour days they were used to.
Charalampidis and Theodoridou have actually worked in the food and restaurant business most of their lives. When Charalampidis was growing up, his father owned a 1,000-seat place that held weddings and other large events. He helped wait tables and learned how to manage a restaurant. In 1999 he opened his own restaurant and kept it going for over 20 years. Theodoridou has her master's degree as a nutritionist.
"I can't speak (English well), but I can learn here," Charalampidis said. "All my life I'm a boss in Greece. I have three businesses, and I work out of the kitchen. I know everything, but I make nothing in the kitchen in Greece. But now I have the opportunity to make something good from my father and my mother's recipes because they cooked all their lives, and I like very much to cook."
A popular item they've added to the menu is the Greek burger. Some other new options are schnitzel, a breaded and fried chicken served with a cream sauce; souvlaki, meaty pieces of grilled pork; and baklava, a layered pastry dessert made of filo pastry, filled with chopped nuts and sweetened with syrup or honey.
Most customers are a bit reluctant to try the new food, but the chef had a recent success story.
"Today an Amish man took one souvlaki. After five minutes he told me to come here, and he said, 'This is perfect. I want one more to go for my wife,'" Charalampidis said.
They hope to add a Greek item to the Saturday buffet so people can easily try something new.
One of the other businesses Charalampidis owned in Greece was a coffee shop. With that in mind, they've ordered a coffee machine and are hoping to have a coffee truck outside with specialty drinks starting this spring.
The couple lives in Kidron and has been welcomed by their neighbors and the community.
"They have enthusiasm, and they work hard, and they're fun to be around," Larry Yoder said.
"A big big thank you to Ranee and Larry from us," Charalampidis said. "I love it here with the Amish. Maybe they don't know that I like so much the people and this community. For six months now, I wake up at 5 every day and I take my coffee, and I see the Amish buggies outside my window, and I'm so calm. This is a country with a lot of opportunity.
"I see a lot of opportunity here. If someone works hard, makes better his life, people know this and love to see someone try."
Kidron Town and Country Restaurant is open Tuesday through Saturday from 6:30 a.m. to 2:30 p.m., and the Greek burger is served on Tuesdays and Wednesdays.