'Lest We Forget' delivers an important message in Berlin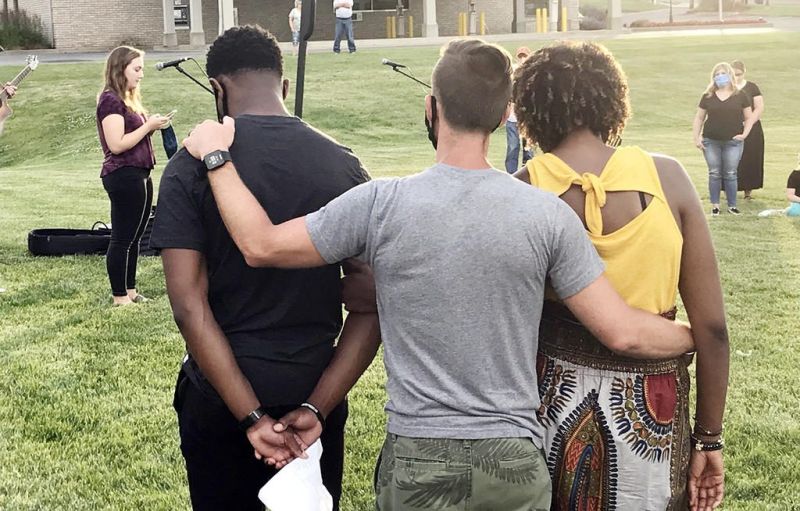 Friday, June 19 in Berlin featured a beautiful sunset that topped off a perfect evening. It could have been any single evening in Amish Country.
However, in the grassy area next to Comfort Suites in Berlin, a group of around 200 people gathered together to partake in the service, "Remember: Lest We Forget," a vigil of prayer and reflection, a celebration of sameness and unity, and a recognition that racism exists even in a faith-based community.
The event was sponsored by The Neighborhood and featured praise music, plenty of prayer, the reading of names of members of the African-American community who have been slain and some messages from a pair of local pastors who shared their own personal experiences concerning racism.
In a community of Amish and Mennonite people that is mainly white, it was a spiritual and meaningful step toward not only recognizing racism exists in the world, but also is evident even in rural communities.
The Neighborhood began as a collaborative effort between local Berlin resident Ashadee Miller and Kidron Central Christian graduate Hannah Troyer.
"Ashadee and I met in a very serendipitous way and had the same idea in introducing the idea of storytelling and creating a way for people to share their stories about racism in the community," Troyer said. "We wanted to see if there was going to be engagement, and there was, so we were excited about getting things rolling and allowing the community to become a big part of the vision. The Neighborhood isn't a building or a couple of people; it is a grassroots ministry designed to create conversation."
Troyer said there are many questions regarding the idea of racism, even in a smaller community like Holmes County.
That was why when Black Lives Matter began to make a major push recently with the murder of George Floyd, they felt it was an ideal opportunity to create an avenue for people to share their thoughts and feelings.
"People are ready to talk about this issue, and there are a lot of questions and feelings surrounding this grassroots movement," Troyer said. "Admitting there is a problem and being open about discussing it is a big first step in the community."
Rowan Miller helped organize the event and said it was exciting to see a large turnout for the event.
"We had heard by word of mouth that a good number of folks were coming, but to see this many people come out and show their support was incredible," Miller said. "It felt so intentional for the reasons we wanted people here, and this feels like a moment that we can use to springboard into further conversation about how we can improve our community and become more accepting. That is what we hoped this would be."
Miller said the goal of The Neighborhood is creating the space for gathering that can further touch on the topic of racism in America and in our own back yards.
"These types of discussions are super-difficult and can be uncomfortable, but they also need to happen," Miller said. "We need to have avenues to share together and having human moments between each other."
The one thing both Rowan Miller and Troyer reiterated was that prayer is an important part of these types of meetings, especially in a county that is so steeped in faith.
"Prayer and faith can be real assets in this discussion," Troyer said.
The fact that a number of area pastors were involved in the evening's events showed there are those who are willing to apply their faith to the BLM movement.
Pastor John Risner of Mennonite Christian Assembly shared about how everyone is our neighbor, and the question isn't about whom we should love — the answer being everyone — but instead Christ talked about how to love. Risner used a portion of one of Martin Luther King, Jr.'s speeches touching on the Good Samaritan, who threw himself into the fray to show love.
"He showed love because he saw someone in need," Risner said. "The first two guys who passed by asked the question, 'What will happen to me if I help this guy?' The Samaritan reversed the question and asked, 'If I don't stop and help this man, what will happen to him?'"
Risner went on to talk about how the book of James says if people favor one person over another, they are guilty of committing a sin.
As a Black man of faith, Pastor Don Stubbs, president and chairman of Off the Wall Discipleship, spoke of several instances when he experienced blatant racism in his life, one as a young boy in a swimming pool, another when he was thrown to the ground and handcuffed in a fast-food restaurant for no reason other than being a Black man.
"I want you to know what racism does to you in your heart," Stubbs said. "What it does to you is different. People wonder why I dread it when I see lights in my rearview mirror on a dark road when I'm by myself. There is a dread that starts to come over you. You don't know if and when you're going to get the one bad one. That is sometimes how we feel. I'm not saying all people's lives don't matter. I am saying when you've been oppressed and when you've been beaten down, if someone doesn't speak for you, your voice will never be heard."
Pastor Herschell Hargrave of Broken Ground Ministries of Millersburg urged those in attendance to speak out against racism and to stand up and be accountable.
"Standing up and speaking comes at a cost," Hargrave said. "There is a cost, but the cost of silence is greater than the cost of courage, and we cannot allow the loudest voices at the table to be the angriest voices. This is not a political issue. This is not a black or a white issue. This is a kingdom issue. If you have placed your faith in Jesus Christ, if you are a person of goodwill, this should matter to you."
Amidst the prayerful words, the time of reflection, the many names that were read of those who passed away and the shared vision of the speakers, those in attendance were enveloped in a somber yet hopeful spirit of unity.
"We can all want the same things, but if we are all trying to get those things by ourselves, it isn't a neighborhood," Troyer said. "It is much easier to get where we want to be together as one."
Pastor Jeff Hochstetler of Berlin Mennonite said during the event, "I didn't come here to speak; I came here to listen."
Perhaps Risner summed it up best with his reference to beloved children's TV character Mr. Rogers, whose theme song simply said, "It's a wonderful day in the neighborhood, a wonderful day for a neighbor. Would you be mine? Could you be mine? Won't you be my neighbor?"
For those desiring to take a closer look at The Neighborhood, Rowan Miller said the best way is through Instagram or on Facebook.