Library's Wooster branch begins updates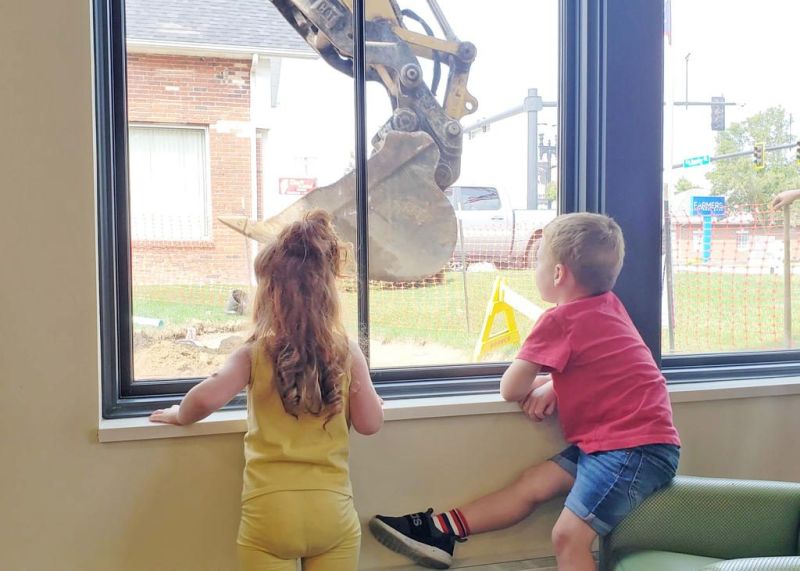 The Wooster branch of the Wayne County Public Library is currently in the process of making some changes and updates to its facilities.
"It has been a bit of a long journey, but we are finally making some long-awaited repairs to the building and while that is happening, we are making some updates that we feel will improve our services and that our patrons will really appreciate," explained Jennifer Shatzer, the library director.
Some of the work is needed repairs and other is a wide variety of updates and additions much of which is based on patron feedback along with lessons learned during the pandemic, such as a need for more private meeting spaces.
What specifically is being done? According to Shatzer:
—Additional meeting spaces: The library has always been a place for the community to gather and connect. The project includes the creation of several additional meeting/study rooms for small to mid-sized groups, as well as a larger meeting/collaborative programming room.
—Expanded genealogy area: The renovation includes an expanded Genealogy and Local History room, featuring additional space for our collections and more space to research family roots.
—Enhanced children's department: Our younger readers are vital to us, and we want to create an engaging space for them to learn and explore. The children's area will be updated with interactive displays and updated seating, and a refresh of the staff desk and story time rooms.
Additionally, we will be creating a special Sensory Room for children who may need a space where they are able to take a break if they become overwhelmed while in the library.
—New outdoor programming area: With this newly created space, located between the library building and our neighbor to the west, we aim to cultivate a safe and engaging environment that fosters learning and creativity. Whether it's an outdoor story time or an interactive program in the fresh air, this new area will offer more opportunities to explore, imagine, and grow.
—Improved parking lot entrance: Convenience is a top priority, and we will be improving the parking lot entrance/exit off Grant St. for smoother and safer access to the library.
—Redesigned drive-up book drops: Returning materials will be easier when the heights of the drive-up book drops are adjusted to better accommodate vehicles of various sizes. We know that we will never be able to accommodate all our vehicles, but we hope that this change will make things more convenient for most of our patrons.
—Café area: We understand that reading and enjoying a cup of coffee go hand in hand for many of our patrons. The new café area will offer an inviting space where patrons can relax with a favorite book or magazine and savor a delightful selection of refreshments. The library will not be operating the cafe, rather we will be partnering with another local nonprofit, who already has two similar locations in Wooster, which employ adults with special needs. We anticipate that the cafe will have limited morning hours.
What are some ways that these new renovations and changes will enhance the library's ability to serve the community? "The new outdoor programming area will offer a safe, refreshing, and versatile space that will enable us to host a wide variety of engaging activities and events," said Shatzer.
Similar spaces at other branches have been used for events such as outdoor story times, gardening programs, and for some of the messier crafting programs.
Maker equipment, donated by Barry Romich, will be housed in the new collaborative programming room. This space will be able to be divided into two separate rooms. "We see that space becoming a hub for innovation and creativity and a catalyst for cultivating skills, sparking imagination, and fostering a vibrant sense of community among library users," said Shatzer.
New spaces to be added to the library are: one additional meeting room on the first floor, with tables and seating for 4-6 people; five study rooms on the second floor, with table and seating for 2 people; and one collaborative programming room that can be divided into two separate rooms. The creation of this room, and its use for library programming, will open up the existing conference rooms on the first floor for more patron access.
Although specifics aren't yet available on how room reservations will work for the new spaces, usage by the community will continue to be free.
The hope is that all renovations can be completed without closing the library, however there may be times that certain areas or services aren't available during the usually scheduled times. The library will strive to alert patrons through signs in the building and also by posts on the website and social media. "If there is something that someone is coming to the library to do or find, it might be best to call first," Shatzer said. "For example, there may be times when the Genealogy Room will be unavailable for an hour or two."
There are three sources of funding for the renovations: settlement monies from the original contractors and the architect; funds saved over the last 16 plus years at the Wayne County Community Foundation; and money from a low interest loan.
The anticipated project completion date is the spring of 2024.
Information about ways to support the library through donations can be found online at https://www.wcpl.info/about/support/donations.
Technically, the library is a political subdivision of the State of Ohio, and as such, contributions are considered charitable contributions.
"We believe that the community will find that the new spaces that are being created will offer a dynamic environment that will foster collaborative learning, creativity, as well as quiet spaces for study, that will enhance their overall library experience," Shatzer said.
One unfortunate casualty of the renovations is the cancellation of the annual Touch-a-Truck event that was scheduled for Sept. 23.