Local author chosen for One Book, One Community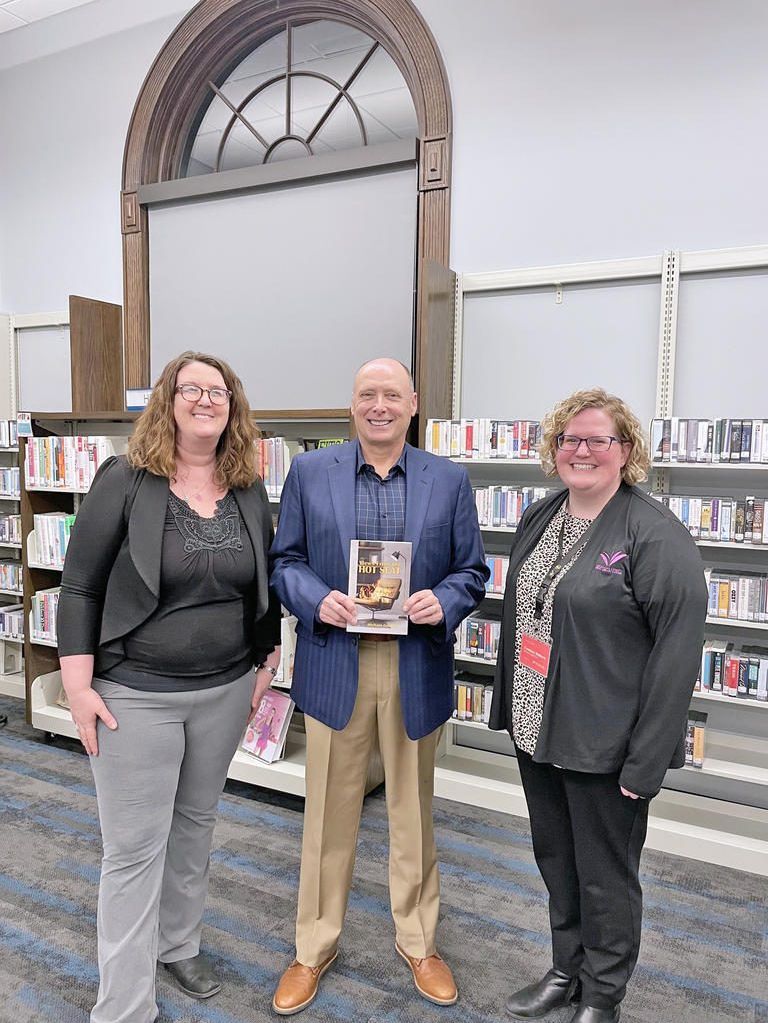 The Tuscarawas County Literacy Coalition has chosen "Views From the Hot Seat" as the selection for this year's One Book, One Community event. The book is by local author and educator Mike Gunther of Dover.
"The selection committee chose 'Views From the Hot Seat' for several reasons," said Jim Gill, Dover Public Library director and a member of the Tuscarawas County Literacy Coalition. "It's local stories about local people and events. And it's a great message to young readers."
"We wanted to focus on Tuscarawas County," One Book, One Community selection chair Rachael Bowers said. "Mike Gunther had just released his book, and he was a founder of the One Book, One Community initiative. It was a really good fit. We all felt it was a good thing to honor someone who has done so much in the community."
Gunther, a longtime educator, began writing a blog after retirement about 10 years ago. "I started writing then," Gunther said.
As his stories unfolded, he felt he was getting better at his craft, "There came a time — we have three grandchildren now — when I wanted them to know who I am and who I was. So I wanted to bring all that I had written into a book."
Gunther described the choice of "Views From the Hot Seat" for One Book, One Community as humbling. "I am humbled and very proud to have the book chosen for this," he said.
The post retirement blog, also titled "Views From the Hot Seat," filled up with stories about area politics, sports, people and stories of Gunther's own life. The material was already there, and Gunther began reformatting and tweaking what he'd written with an eye toward publishing a book, adding plenty of new material.
"We know that local young readers like to read local authors," Gill said. "I think they're surprised to find that someone in our own community is a writer. It gives them the sense that being a writer while living here is something they can actually do. This is someone who has been successful, is a writer and he did these things here in the Tuscarawas Valley."
"The book speaks of the people who have shaped the author into the person he is today," Bowers said. "There's a lot about gratitude for the experiences that have brought you to where you are, the people who have offered encouragement and advice."
Bowers said the official One Book, One Community programming will get started as spring gets underway. "Area schools will get copies. Libraries already have copies of the book, and they will be getting more soon."
On Nov. 6 Gunther will speak at area schools before doing the same at Kent State Tuscarawas that evening.
"The whole idea behind One Book, One Community," Gill said, "is to get as many people as possible in the community reading the same book and discussing it. It encourages people to put aside differences, put away the politics and divisive talk, and come together in appreciating a good book by, in this case, a local author."
Gunther, for his part, is not giving up writing soon. "Will I continue to sit down at the computer and write? Yes," he said. "I don't know if there will be another book, but I'll keep writing."
"Views From the Hot Seat" is available at local libraries or at www.amazon.com with the book proceeds going to Friends of the Homeless Shelter's new building project in New Philadelphia.
Learn more about the Tuscarawas County Literacy Coalition at www.tuscliteracy.org and on Facebook.