Local author Jeff Beitzel at Dover Library Jan. 27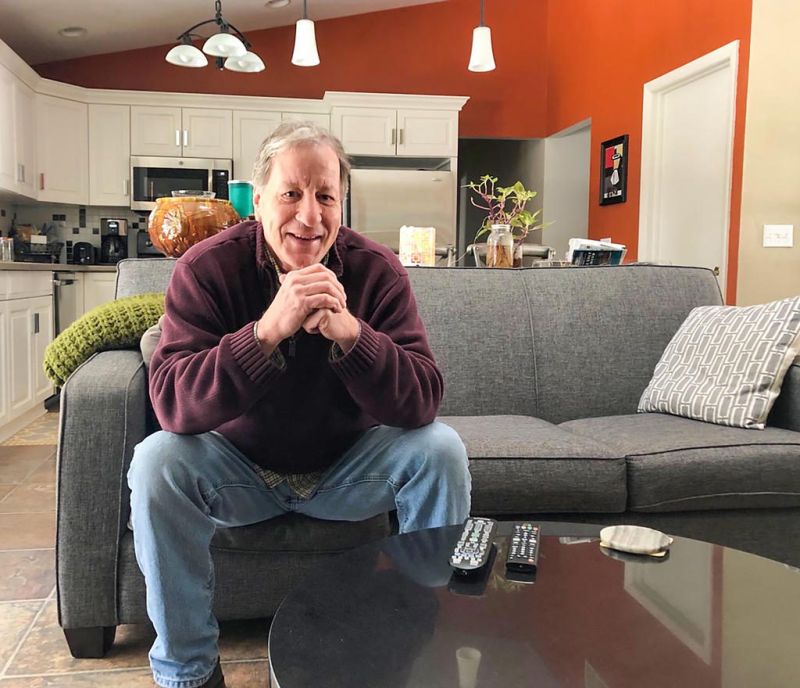 Jeff Beitzel seems to collect stories like pockets collect lint. His first literary work, "Sideman," is a novella that weaves a number of his stories into a tapestry of antics that made up life as he experienced it in the Columbus music scene of the late 1970s and early 1980s.
Beitzel will share passages from his first book at the Dover Library on Thursday, Jan. 27 at 6:30 p.m. Those who attend will hear how the author translated a significant part of his life into a work of fiction told through anecdotes featuring real-life characters and events.
In music sidemen are musicians who perform live with bands, even though they aren't regular members of the band. Beitzel, who plays bass guitar, ended up being a sideman for a number of blues and jazz bands during his time in Columbus.
"I started writing it by kind of recounting these instances of bizarre happenings," Beitzel said. "Then I realized the first-person approach didn't read well. It was just too weird, and I thought people would think it was preposterous, so I had to create an alter ego in the Jack Bradley character."
Bradley functions as the main character, leading the reader from one fantastical escapade to the next with humor, courage and raw honesty.
Beitzel described the work as bawdy and irreverent. He said, "At the time I was out to commit suicide by music. I was playing the roughest joints I could find. I was working Black clubs, many of which had not seen a White face there maybe ever, let alone a White musician. It was real hard-scrabble, so it was kind of a scary time."
Jim Gill, director of the Dover Library, said he has known Beitzel since around 2010. When Beitzel gave him a copy of the "Sideman" manuscript, it was a busy point in Gill's life, and it took him a while to get to it.
"I finally read it, and I was blown away by how well written and authentic it was," Gill said. "It's not going to be everyone's cup of tea. It captures the gritty underbelly of the late '70s, early '80s music scene in Columbus, Ohio, and you can't make this stuff up."
Beitzel dots his literary landscape with stories of some real musicians including blues legend Lonnie Mack and Adrian Belew of King Crimson, who called Beitzel a piss ant in a memorable mess of a concert scene.
Released on Oct. 29, "Sideman" is 72 pages and 17,000 words. "You can knock it out in an hour and a half," Beitzel said.
The short read time is by design. "I realized that, sadly, in American culture, people just don't have that much time, and attention spans are short," Beitzel said. "I wanted to be sensitive to the reader. I likened it to going on Netflix and buying a movie for $6.99 or whatever, and it's an hour or an hour and 45 minute movie. So it's no different than that — the same price, same amount of time invested. I didn't want to torture the reader with too much minutia or more writing than there needed to be."
A multi-talented man
Beitzel is not just an author and musician, but also an artist and a prolific composer. His abstract paintings are on display at the Dover Library and other locations and have been exhibited at the Tuscarawas County Center for the Arts, the Performing Arts Center at Kent State Tuscarawas and other venues.
As for his music compositions, Beitzel said he records an average of five to six albums a year. "It's a compulsion. I don't know anyone else who's written 880 songs or whatever I've written and recorded to this point."
That's probably because something happened to Beitzel as he pursued his notion of suicide by music. "My desire to get whacked waned when the music became a raison d'etre. I had a reason to live."
Gill said it is important for people to know Beitzel wrote his novella after he retired from his position as the City of Dover building and zoning codes administrator.
"There are a lot of people out there who have that dream," Gill said. "Jeff is a living example of the guts to take the first step."
Beitzel's program will be in the community room at the Dover Public Library. To register, call the library at 330-343-6123 or register online at www.doverlibrary.org under the Events tab.
A book-signing will follow the program. Beitzel's music and art can be heard and seen at www.jeffbeitzel.com.