Local farmers offer lots of insights for would-be breeders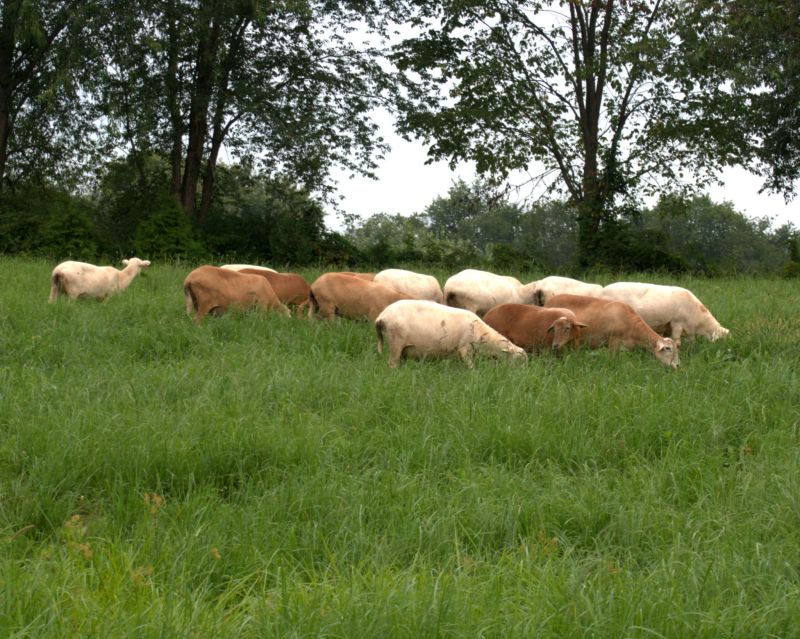 When it comes to raising lamb, Misty Oaks Farm, only a few miles north of Holmesville, is one of a kind. Run by Jeff and Kathy Bielek, the management practices employed there offer lots of insights for would-be breeders.
Pasture management is a major focal point in the Bieleks' breeding program. The pastures themselves are broken down into various paddocks, several featuring different types of forage as pastures have been improved or experiments with different forage blends have been tried.
Kathy Bielek recommends a mixture of forages like chicory, alfalfa, clover, meadow fescue and orchard grass. "It's great for growing lambs," she said, "providing the animals with a nutritionally balanced feed that helps the lambs grow more quickly."
Another interesting part of the Misty Oaks pasture-management program ties directly in with the breeding program that the Bieleks employ. Animals are mainly grass fed, though ewes are given a mix of shell corn and soy hulls at least four weeks prior to lambing (along with hay fed over the winter of course).
Lambing is done between Feb. 15 and March 1 each year. Kathy Bielek said the reason for the timing is because it helps her to maintain her pastures better.
"I can keep my lambs through June to monitor and make sure that they are stable," she said. "Then I can sell the majority of them about the first of July, roughly. That is when my pastures are going downhill for the summer."
As she goes on to explain, this allows her to keep more animals because the bulk of the animals on the farm are sold each year at just about the time that the summer heat and lack of rain reduces the amount of forage in her pastures.
Another specialty at Misty Oaks Farm is parasite management. Kathy Bielek often participates in grant programs, namely at least four different Sustainable Agriculture Research and Education grant programs through the USDA that are designed to reduce parasite problems within sheep populations.
The Bieleks rely on the FAMACHA system to identify parasite problems, especially the haemonchus contortus or the barber pole worm. To employ this system, shepherds look at an animal's conjunctiva or the lower eyelid and compare the color of the flesh with a color chart. Darker, pinker conjunctiva is an indication of good health while pale, anemic-looking conjunctiva is a sign that the animals should be treated.
In addition to the FAMACHA system, the Bieleks also genetically select for animals that have increased parasite resistance. They raise Katahdin sheep, which tend to be naturally more resistant to parasites compared to other breeds, but even so, as they replace ewes and rams, they still choose from stock that is proven to have increased resistances over other animals from the same breed.
"Any breed can select for parasite resistance," Bielek said. "There are differences in the animals in any breed, and even within your own flock, you can start to do actual selection."
Interestingly the Bieleks make use of a fantastic tool to help them select not only for parasite resistance, but also for a variety of other factors as well. This is the Expected Breeding Value. In essence the EBV is a major database that breeders everywhere can contribute to, one that tracks factors including birth weight, weaning weight and 120-day weight to track how fast lambs of different bloodlines grow.
Maternal instinct is another metric that is tracked so that breeders can easily tell which ewes and which bloodlines are less likely to abandon their lambs. Fecal egg counts are tracked at various points in a lamb's life, helping to determine the strains that are the most parasite resistant.
Most importantly, all of this information is fed into the National Sheep Improvement Program's database so that shepherds can more easily track their flocks or purchase breeding stock that is backed by EBVs.
"Because everything is tied together, I can look back over time," Kathy Bielek said. "I can compare these records back four generations, all the way back actually. It looks at siblings, cousins. If I have animals in other flocks, if I have a ram and you use the ram or if you've used a son of that ram, our flocks are linked. It gives me the power of looking at these animals in different environments."
Additionally it is a tool that helps shepherds fine tune their flocks. Want faster growing lambs? Check EBVs to find the bloodlines with the fastest growth rates. Is the maternal instinct a problem among your flock? Look for a new ram that comes from stock with great EBV values for this metric.
As if all of this wasn't enough, the Bieleks also helped to organize the recent NSIP Sale at the Wayne County Fairgrounds. At this sale all animals sold were backed by EBV papers, 79 head in total, averaging a final sale price of more than $550 each, a price that reflects the genetic value of the animals on display. The NSIP Sale was such a success this year that the Bieleks hope to host another next year. If you missed out, check back around the first part of August for the 2018 sale.
To learn more about how you can get involved in the EBV program or for more information about genetics programs, future sales and other topics of interest to shepherds, visit www.NSIP.org.