Local woman waits for kidney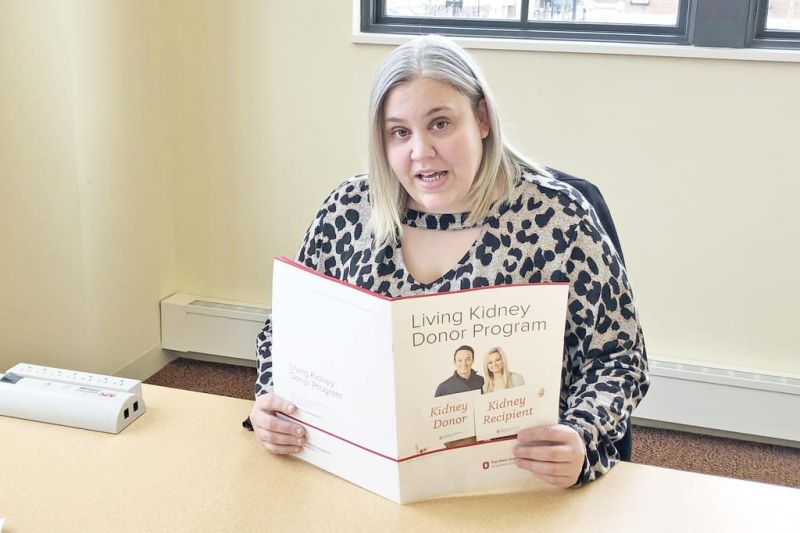 Wendy Leedy needs a kidney transplant. She is one of more than 123,000 Americans currently on the waiting list for a life-saving kidney transplant.
Despite the need, only 17,000 people receive one each year, and every day 12 people die waiting for a kidney, according to the National Kidney Foundation.
Leedy refuses to let the numbers bother her. "I'm a very optimistic person," she said. "I wouldn't say I'm glad it's happened to me, but I'm glad it's me and not someone else who couldn't handle it."
Leedy said she knows there are others out there who also might have additional health concerns, for whom a diagnosis would be devastating. "I have a good sense of humor and a great support system," she said.
Leedy, 38, is a production manager at the Wayne County Care Center. She is married to Seth Leedy and has a 13-year-old son, Jonathan. She said sometimes it seems like her husband is more worried about it than she is.
"I know he's concerned, but I tell him not to worry — I've got this," Leedy said.
Leedy said she also keeps her son in the loop as far as her condition. "I explain everything to him; my mom always taught me that honesty is the best policy. He has questions, but I can usually reassure him," she said.
It was in 2012 after she went to the emergency room at Wooster Community Hospital for what she thought was just a bad urinary tract infection that she was diagnosed. She said the doctors in the ER had noticed high levels of blood and protein in her urine and referred her to a nephrologist, a blood-pressure and kidney specialist who did a kidney biopsy and diagnosed the kidney disease.
The particular condition she has is genetic, and it turned out her grandfather died at the age of 32 from what was probably the same condition. "There wasn't as much they could do back in those days, so I'm really fortunate," she said.
Leedy said her condition is one where the tissues that filter the blood in the kidneys develop scar tissue and can no longer function optimally. "I'm just really lucky they caught it so early on," Leedy said.
Kidney disease is a condition where symptoms don't generally emerge until the disease has significantly progressed.
"I was lucky that they were able to control my blood pressure for a period of years, and the doctor I see in Millersburg only recently told me I probably had only 5-7 years before I would have to start dialysis," Leedy said.
Dialysis is a treatment where a machine basically performs the function of the kidneys. Patients are required to undergo the treatment for usually four or five days a week, for about six hours at a time.
"Obviously it would be nearly impossible to function, or at least to work, while you are going through something like that," Leedy said. "I'm really hoping I can get a transplant before my condition gets to this point."
Leedy is hoping a living donor will be found, as the survival rate is much better than getting an organ from a deceased person. She is working through the Wexner Medical Center at the Ohio State University in Columbus to hopefully secure a living donor, but a living donor could come from anywhere including locally.
"A lot of people aren't aware that if you donate, a donor can live a perfectly healthy life with one kidney," she said.
At OSU they do extensive testing and evaluations to make sure the donor is a match and is perfectly healthy and will be able to thrive after the surgery.
As far as kidney-transplant recipients, some will reject a transplant within six months while others may enjoy good health for 40 years. "Even with all the testing they do, it's just impossible to fully predict the outcome for the recipient," Leedy said.
Leedy said her medical insurance would cover almost all the expenses for a possible donor. "I'm really lucky I work for the county," she said. "The people down at OSU said it was one of the best policies they'd seen."
Between Leedy's insurance and the program at OSU, a donor's expenses are covered for all the testing and the procedure including funds for transportation and lodging if necessary.
"I am lucky that I've been with my current employer for more than a year now, since now I'll have FMLA coverage and support for the time I'll be off work, probably 8-12 weeks," Leedy said.
For a donor recovery time will vary, but most donors will be in the hospital two to seven days after the surgery, depending on the type of surgical procedure. Many donors resume normal activities about a month after surgery. Depending on the nature of their work, donors may return in four to six weeks or less.
"That's the part I feel really bad about for a donor, that although everything else is covered, they might have to go without income for their recovery period since they won't be able to return to work for several weeks," Leedy said.
Some employers do give paid time off for kidney donors.
Leedy said she remains very hopeful about her situation. "I just hope I'll be able to find a donor by my birthday, which is May 21," she said. "And I would like people to be educated about the living donor program. Even if it's not for me, a living donor could literally save someone's life."
If you are interested in the OSU Living Kidney Donor program, call 800-293-8965, option 3, or email LivingKidneyDonorProgram@OSU.edu.