Matrix Performing Arts thrilled to call Harvest Ridge home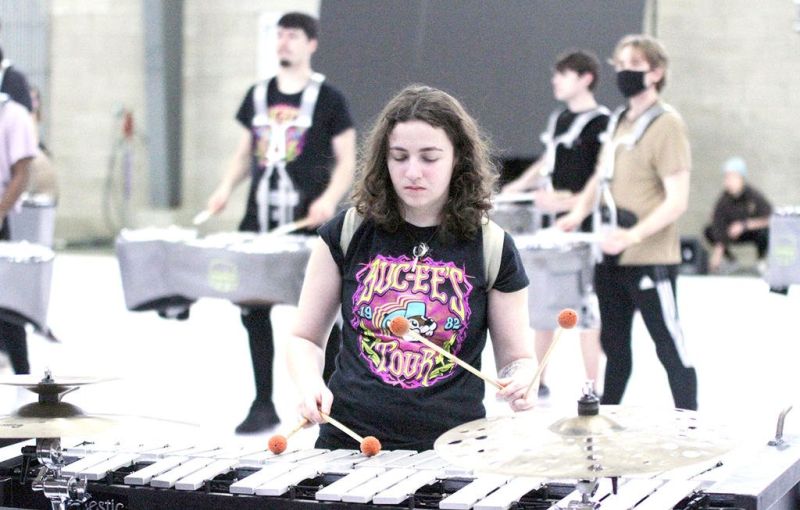 When Holmes County Fair Board dug in and created Harvest Ridge, one of its goals was to create a venue that could serve outside entities looking for a place to call home.
Matrix Performing Arts has found the facility to be exactly what it needs to develop the percussion skills of high school and college-age students from all over the world.
Based out of Akron, Matrix Performing Arts is a nonprofit performing arts education that performs with three different levels including Matrix A, Matrix Open and Matrix World.
The group has performed globally but spends most of its time performing in the United States, and according to Rob Ferguson, director of Matrix Performing Arts, Harvest Ridge has provided the perfect venue for his students.
"Even though our website states we're from Akron, we are from wherever we rehearse, and now that is in Millersburg, Ohio at Harvest Ridge," Ferguson said.
This marks the second year the group has called Harvest Ridge its home, and Ferguson said he discovered the venue after an exhaustive bit of research. The group needed a practice facility with plenty of space and an area for the students to sleep, along with individual rooms where the respective groups can work together on individual roles.
Ferguson said not only did Harvest Ridge provide the area needed to create practice space, but also a place close to fast-food restaurants, a hardware store, Walmart and a diesel repair company. In addition, the fairground allows the team to practice outside when the weather permits.
"This facility has been amazing to call home," Ferguson said. "It's acoustically treated, which is perfect. One fear is that you expect a building of this size to be scary loud. This place is ideal because they built it with concerts in mind."
He said with any high-performance group like Matrix Performing Arts, facilities are everything when it comes to continuing the program.
Matrix Performing Arts conducts tryouts for young people around the world. It is an avenue for the best of the best to perfect their craft, and the group has become renowned as one of the premier venues for percussionists to grow and develop.
Since 1999 Matrix Performing Arts has been a World finalist, and it is known for its set designs, performances and attention to detail.
Students drive every weekend during their season from not only Ohio, but also from surrounding states.
The group begins rehearsal each weekend on Friday at 8 p.m., practices all day on Saturday and until 4 p.m. on Sundays. Over Christmas break it is a nonstop practice time where they zero in on the intricacies of the routine and music. It is a demanding routine that requires dedication, and it also is physically challenging.
With such a demanding schedule and members paying to participate, performing competitively at the highest level comes at a price, but Ferguson said each member understands what is required, and they are willing to push themselves.
With a volunteer staff that comes from all over the world, the students learn from an array of professionals who have a passion for passing on their gift to a new generation.
"We're not here to hand out participation trophies," Ferguson said. "These kids are willing to commit. What does it take to put yourself among the elite at any profession? It requires them to pay a price, and in this case it's with their time and effort. They have to have a real drive to be the best. They are under extreme scrutiny from us as a staff, and our expectations for them are high, and so are theirs.
"It's not for everybody, and that's OK. But these kids understand that when they join Matrix Performing Arts, there are great expectations, and they embrace that. There's no B-plusses here. It's like basketball. It goes in, or it doesn't. We're after excellence. Forget the music for a second. If you learn to be excellent at something, you can figure out how to be excellent at figuring out anything to be successful. It's about work and expectation."
Ferguson said while the students enjoy the challenges that accompany crafting their skills at such a high level, the one purpose they share is building the relationships among one another that make them a family.
"Yes, they all want to compete at the highest level, but what keeps bringing them back is their desire to perform and strive to be the best for one another," Ferguson said. "They are totally committed to each other, so they aren't just doing the work for themselves. It's for their friends and peers."
Now in its 24th year of competition, the 2023 version of Matrix Performing Arts is amid its performance schedule and is reaching the end of its practice time at Harvest Ridge.
The World Championships will take place the third weekend of April, but Matrix Performing Arts will host several shows in the area. There will be a Friends & Family Show on Sunday, April 16 at noon and 7 p.m. They will perform at Harvest Ridge on Saturday, April 8 at 5 p.m. with all three groups performing.
To learn more about Matrix Performing Arts, visit them on Instagram or on their website at www.matrixperformingarts.com.