Miles of smiles highlight Amish Country Half Marathon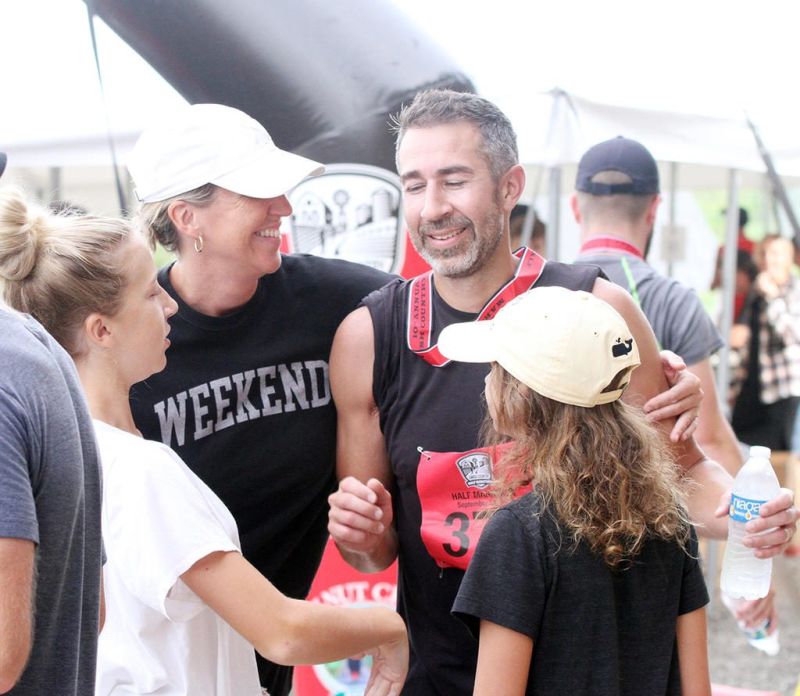 After 13.1 grueling miles in the hills and valleys of some of Amish Country's most challenging roads to run, competitors in the Amish Country Half Marathon somehow managed to produce wide grins and shouts of joy as they crossed the finish line at Grace Church in Berlin.
One by one they raised their arms as they were greeted by a large and enthusiastic crowd, and while the race was difficult and challenging, smiles were the theme of the day, whether people were competing in the 5K, 10K or half marathon, lending hands as a volunteer, cheering on the runners or working for Pure Gift of God, which was the recipient of the proceeds from the event, along with the East Holmes Fire and EMS team.
"One of the biggest highlights for us as organizers is that we get to hear many of these wonderful and heartwarming thank yous and see all of the smiles and joy from everyone involved," said Derek Miller, who chairs the event. "We are so grateful for that type of feedback because ultimately, that is the experience we want people to have here. From our volunteers who give up their Saturday morning to help, to the families who come out to encourage and cheer on our runners, it takes a lot of people and effort to pull this together. This is about running, but it's also about embracing our community's faith, its joy and sharing our lives with one another."
Miller said it's great to showcase and represent everything positive about Holmes County, from the hospitality to the giving spirit, and he said some runners are amazed at how friendly the race and the people are throughout the AC Half Marathon, from registration to the noodles at the end of the race.
"The running is fun, but if people can take away a feeling of happiness and joy because of this event, then we've done our job," he said.
A group of women from Westerville poured across the finish line one by one. As they did, the group grew into a small choir, cheering, laughing and hugging one another after conquering the AC half.
The women met while creating Westerville Women That Run, and Colleen Krupp said attending runs like this helps their bond of friendship grow stronger.
"We're really here for the noodles," she said with a laugh. "The joy we share is really what races like this is all about as we help build each other up."
Jennifer Deskins is part of the women's group that ran, and she has a particular interest in this race. As someone who was adopted as a child, a race that supports an adoption-based organization like Pure Gift of God is near to her heart.
"I'll probably cry when you're interviewing me," she said with a laugh. "I just love supporting this race because of the mission and what it supports, and I love being here with all my friends to celebrate. Whether you're first or last, we are all here to support and encourage one another."
While the East Holmes Fire and EMS crew usually deals with more harrowing events, this is one in which they can relax and enjoy the atmosphere while helping block off intersections along the race path and respond to injuries during the race when needed.
Fire chief John Schlabach said the weekend was a busy one, with the marathon and traffic control for the parade, along with setting off fireworks the evening prior.
"We appreciate the team putting this event together and allowing us to be a part of something special while it serves as a fundraiser," Schlabach said. "We've got a great team of volunteers, and one of the nice things about this event is the way everyone treats us so well throughout."
Evie and Derek Miller from Fort Wayne, Indiana won the women's 10K and the overall title in the half marathon, respectively. It was Derek's second straight championship in the half, which he won with a time of 1:12.45, three minutes ahead of runner-up Andrew Chirico.
Evie Miller ran a 35:53 in the 10K, easily winning the women's division and challenging for the overall crown.
Kevin Beachy captured the overall 10K title, winning in 36:34, while Fredericksburg native Reuben Troyer won the 5K in 20:13.
The Millers were thrilled to be able to run together, something that gives them great joy in their married life.
"It inspires both of us," Evie Miller said. "We met through running, and it has been a complete joy to be able to share the experience together."