Miller journeys to Morocco with 1,800 animal friends in tow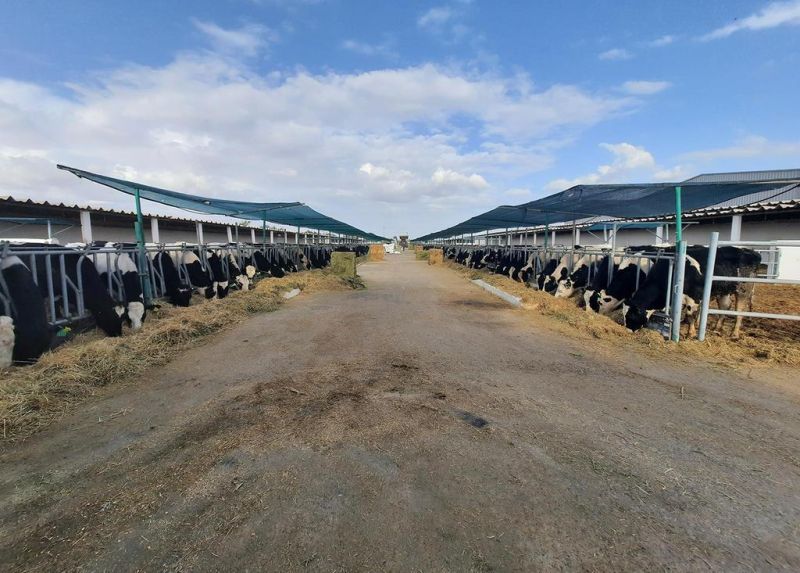 While Noah ushered a huge host of animals on to his ark two by two, Joe Miller went the complete opposite direction in his journey on a huge boat, instead opting to accompany big numbers of just one species of animal.
Miller was tabbed to accompany 1,800 Holstein heifers on an ocean trip across the Atlantic to Morocco in February 2021. Miller was selected to travel with the cattle because of his extensive experience in the cattle industry, in which he has worked for many years. In doing so, his main objective was to ensure all the cows remained in good health before and during the trek. What he experienced was an extremely unique journey unlike he had ever experienced before.
Miller will share his experience at the upcoming 21st annual Ohio Grazing Conference, which will take place at the Mt. Hope Event Center on Thursday and Friday, Jan. 27-28. The event will feature numerous keynote speakers and dozens of vendors, all of whom will focus on providing dairy farmers with insight into how to increase productivity, advance operations, and use new and innovative ideas to make farming both easier and more productive.
While informative, the event also is designed to be entertaining, and Miller's story is certainly that because it is so unique.
"After that experience, I'm pretty sure I have a good idea as to what Noah's ark smelled like," Miller said.
The huge cargo ship was at around 80% capacity, featuring seven decks of animals and 367 pens. Miller's job kept him hopping, having to initially run all the animals through chutes two different times to make sure vaccinations were up to date for the boat ride. The animals were then loaded onto the ship in Delaware, with the vessel carrying enough food and bedding for the 10-day ocean voyage, plus 20% more. The shipping alone was a $4 million investment.
All the heifers were pregnant when they embarked on their trans-Atlantic journey, a condition of their sale to the Moroccan cooperative. While on the ship, Miller walked 6-7 miles daily, checking the entire herd twice a day.
"You had to watch when they fed," Miller said. "You were with the animals during feeding time to make sure everybody's standing up, there's nobody lame, nobody having a baby, nobody sick."
Upon arrival he helped unload and transfer the cows and eventually was ushered around the city of Taroudannt and took an excursion into the mountains, as well as witnessing some of the farms in Morocco.
Those who attend also will learn about some of the culture of Morocco including many of the different foods Miller experienced.
He said among all the uniqueness of the trek, there was one aspect of the journey that stood out to him.
"It's a unique culture that I had never experienced before," said Miller, who had never been outside of the United States other than on fishing excursions to Canada. "But the hospitality blew my mind. Everyone there treated me with such respect and was so kind and grateful."
Miller said being able to follow the biblical principle of reaching out to help your neighbor, regardless of how far away that neighbor might be, was fulfilling.
As for whether he will ever venture into unknown lands again to take such a journey, he said he is asked that question quite often, and the answer is he doesn't know.
"I am a pretty adventurous person by nature, but the timing of this trip worked out so perfectly because I was between jobs and could fit it in my schedule," Miller said. "Whether an opportunity like this ever arises again and whether or not I could fit it in my schedule, I can't say, but it was very worthwhile to have this experience."
Miller will share his story on Thursday, Jan. 27 at 12:45 p.m. at the Mt. Hope Auction Event Center, where he will present a slide show while discussing his adventure overseas. He said he hopes to make a presentation that allows those listening to take the journey with him, to experience the whole trip and get a feel for the excitement and challenges he felt along the way.
"It is an absolutely amazing story," said Andrew Coblentz, one of the show's planning committee members. "I'm sure few people have experienced anything like it, and Joe can share some fascinating details firsthand that will help bring the experience to life for others."
Miller's presentation is just one of many that will take place during the two-day event.
Throughout both days there will be plenty of vendors set up to present countless products to enhance the farming experience, as well as plenty of food options. The cost to attend is $30 for a one-day pass and $45 for a two-day pass.