Mohican Community Theatre to present a Peanuts musical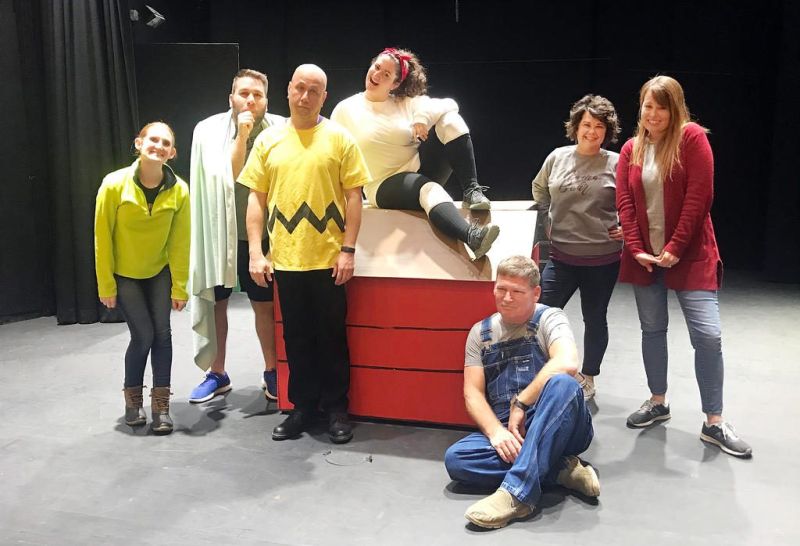 The melancholy of Charlie Brown, the imagination of Snoopy, the wisdom of Linus and the sassiness of Lucy will all be on display in a musical way when the Mohican Community Theatre brings Charles Schulz's favorite Peanuts characters to life on stage at the Ohio Theatre in Loudonville Feb. 14-16 through the musical, "You're a Good Man, Charlie Brown."
"You're a Good Man, Charlie Brown" marks the sixth production for the Mohican Community Theatre players, having produced some classics like "Mary Poppins," "Singin' in the Rain" and "Annie."
However, those were bigger productions featuring much larger casts. This revised edition of "Charlie Brown" boasts just eight actors playing Charlie Brown, Lucy, Linus, Schroeder, Sally, Pigpen, the Little Redhead Girl and of course Snoopy.
Grant Hollenbach will don the familiar yellow shirt with the black zigzag and portray Charlie Brown. He said playing such an iconic role is harder because people have preconceived notions about who and what the character is.
"It is more difficult, but as an actor I just try to draw on my own life experiences of things Charlie Brown might have experienced and try to put those into the character," Hollenbach said. "The hope is to give him some dimension and give people something they haven't seen before in Charlie Brown."
As Charlie Brown's main antagonist Lucy, Amy Loveday will bring the brash, bold older sister of Linus to life. Initially Loveday didn't know anything about the musical and wasn't inclined to try out. Her son encouraged her to check it out, and she found the music fun and exciting. She said once the cast started to delve into the music, they found out the fun hid the fact that the music was very challenging to learn.
"This music is hard," Loveday said. "My husband said, 'It's Charlie Brown, how hard can it be?' But there are some challenging numbers. But that is some of the joy of doing theater like this. You get to stretch yourself and really work toward something meaningful."
Loveday said because the plot is driven by tiny bits and pieces of scenes, kids will be attracted to it as well as adults.
"Every scene is unconnected with the next one and so there are a bunch of smaller stories inside the musical," Loveday said.
With such a small cast, Hollenbach said the opportunity is there to build a greater camaraderie among the cast members, and that can help with the performance. "The biggest difference is that you don't have nearly as many people to draw energy from in a cast this size, but we have really been able to gel together and grow together quite well," he said.
Hannah Cooper will play the role of Snoopy, and while Snoopy normally doesn't get to speak outside of the comic strip thought bubbles, in this version Snoopy is afforded plenty of lines, only the rest of the cast can't understand him.
"This is exciting because in this musical Snoopy actually gets to talk and sing," Cooper said. "It's unique because the audience will hear Snoopy and react to everything he is saying, but the cast will hear him as a dog and not respond to anything he is saying. Snoopy does get to break the fourth wall and communicate with the audience."
Like Charlie Brown, Snoopy is a very well-known and beloved character. Cooper said finding ways to put your own spin on an iconic character is part of the challenge.
"You get to make him your own, and it is especially fun for me because Snoopy is a male," Cooper said. "Plus I get to put myself into the mind-set of a dog, and who hasn't wanted to do that? How many people wouldn't want to go out and howl at the sky?"
Directed by Sally Hollenbach, the eight cast members include Grant Hollenbach, Cooper, Loveday, Marissa Burd, Tyler McQueen, Daniel Mitchell, Jenny Carroll and John Temple.
"It's a fun and unique take on the Charlie Brown universe," Sally Hollenbach said. "There's a lot of fun songs, and it is almost like a series of little comic strips between each of the songs. There is a lot that is happening in the traditional Charlie Brown mold that is entertaining for the whole family."
Tickets are $10 for adults and $8 for seniors and youth age 5-18. If space allows, kids age 4 and under are free. Tickets for reserved seating are available online at www.ohiotheatre.com, at the Ohio Theatre box office and by calling 419-994-3750, as well as at the door if shows are not sold out.
The show will be presented Feb. 14-15 at 7 p.m. and Feb. 16 at 2 p.m. The Ohio Theatre is located at 156 N. Water St. in Loudonville.