Monster Mash 5K and Family Fun Day to benefit Playlab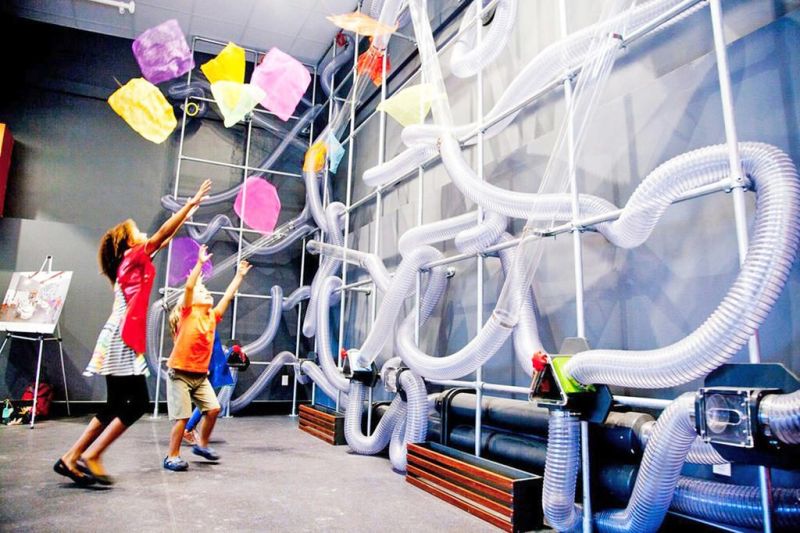 In 2016, rather than gifts for Christmas, Lori Colon asked her family for experiences. Her sister came through with gift certificates for COSI in Columbus and part of that package included reciprocal memberships to more than 200 children's museums around the United States.
Colon and her family began trekking to some of them and each time she was left with a question: "Every time I would say, 'Why don't we have something like this in Wayne County?'"
After enough visits to other areas' children's facilities, Colon had the proverbial light bulb go off and if things go right, the Wayne County Children's S.T.E.A.M. Playlab will open about a year from now.
All Colon needs is some more money. As a nonprofit, the Playlab is being built through sponsorships and donations. Folks will get a chance to chip in a couple weeks from now when the Playlab hosts the Monster Mash 5K and Family Fun Day on Oct. 8 from 10 a.m. to 2 p.m. in downtown Dalton. The event will include street vendors and family fun activities, along with a 5K and Fun Run.
The 5K and Fun Run will take place beginning at 10 a.m. and 11 a.m., respectively, at Rails to Trails Sippo Valley Trail in Dalton. Registration is available online or starting at 9 a.m. on the day of the event. Those registered by Sept. 26 will receive T-shirts and goodie bags. Cost is $25 via the website (www.active.com) and $35 the day of the event.
Activities for the Family Fun Day portion of the event include street vendors, food trucks, a costume contest and prizes, among possible other things.
Sponsors are still being sought for the event, which has a goal of raising $10,000. Sponsorship levels are less $250 for supporting sponsors, $250 for bronze sponsors, $1,000 for gold and $2500 for platinum. The higher level the more added benefits sponsors will receive.
Colon has worked with kids in Wayne County for two decades. Her philosophy is kids learn things by doing. She wants area children to have a place close by to do them. Akron and Mansfield have similar facilities but require a good drive.
If funds come in quickly enough, the 50,000-square-foot building constructed in Dalton will be filled with fun activities for children and families. The location, next to the Dutch Kitchen on U.S. Route 30, will give easy access to families from Wooster, Orrville, Massillon and Canton, most of Wayne County and surrounding areas and even southern Medina County.
Once it's up and running, the Playlab will be the culmination of a dream and vision Colon had over the past few years. She quit her job in 2019 to chase the idea, forming a board to head the nonprofit.
Her lawyer told her at the time that during non-pandemic times, nonprofits can take six months to a year to get established. How long that would be during a pandemic, nobody knew. Colon filed in February of 2020 and had her 501(c)(3) approval by April.
"I think honestly the pandemic helped us," she said. "They weren't receiving as many applications. People weren't going after things. People were shutting down, working from home. I'm a faith believer and believe God had his hand in it and moved it forward."
Colon admitted things were almost a little too easy early on. The groundbreaking for the facility took place in June of 2021. That was in the midst of a $7 million capital campaign that started in 2020.
Things have stalled a little bit lately, Colon said, noting that the country went from the pandemic to a recession. People don't have as much to give now as at other times.
"It will depend on how the community continues to come around and supporting us," Colon said of whether the Playlab would hit the goal of a late-2023 opening. "We're really hoping."
Once it does become available to the public, the facility will give its target audience of children in grades K-8 a place to cultivate dreams. Colon explained that between preschool, when kids are exposed to all sorts of potential futures, and high school and career centers, where they actually can act on those thoughts, there is little exposure.
"You're giving them that exposure," she said. "You're helping them to dream and create. You're exposing them to opportunities they would maybe not be exposed to in Wayne County. There's a dino-dig and they can dream about being and archaeologist. Things like that."
Colon said STEAM facilities are becoming more and more common in areas as the demand for such activity centers has grown. She said there's room for all of them and noted that the Wayne County version, based on its size, will be a draw in a similar vein to COSI and the Cleveland Children's Museum.
When it opens, the Playlab will be a place for kids' dreams to begin and Colon's to be realized.
"It's just some crazy lady's dream," Colon said. "I was a nanny in Europe. I've loved working with kids. I love seeing kids explore something, discover something, be creative and feeling like they've just accomplished something and feeling like they can become something."
For more information on the Playlab, visit www.wccsp.org. Those interested in donating or sponsoring the Monster Mash event or just in general can contact Lori Colon at 330-317-6923 or loric.wccsp@gmail.com. Checks are payable to The Wayne County Children's STEAM playlab and can be mailed to 3979 Batdorf Road, Wooster, OH 44691.