Nearly 100 authors slated for 32nd Buckeye Book Fair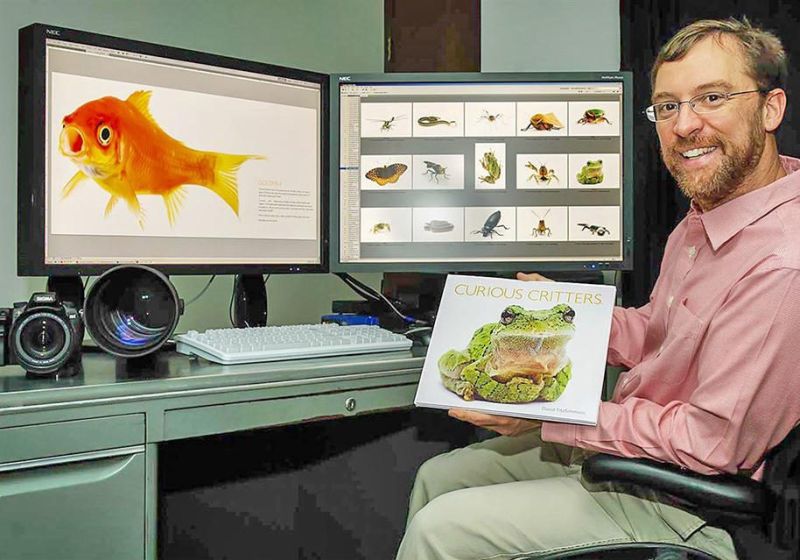 The 32nd annual Buckeye Book Fair will be held Nov. 2 from 9:30 a.m. to 4 p.m. at the Fisher Auditorium in Wooster. Admission is $2.
Nearly 100 writers will attend the event, signing copies of their books, which will be available for purchase. There also will be five speaker programs, all-ages crafts, activities and workshops, and several illustrator workshops and poetry readings. Writers and illustrators come from all over the state to promote their works.
There are 41 children's and young adult book authors and 55 adult authors, both in fiction and nonfiction.
"The Buckeye Book Fair was started over 30 years ago as an event that would promote new books by Ohio authors," said Julia Weisenberg, executive director. "Every year we are really impressed with the literary talent coming out of this state and the incredible local
talent as well. This year we have five authors who are from Wayne or Holmes county including Wooster High School valedictorian Bina Venkataraman, author of 'The Optimist's Telescope;' local businessman Richard Seaman, author of 'A Vibrant Vision;' and Wooster City Schools teacher Kelley Clark, author of 'O Is for Ohio.' Seth Yoder, from Killbuck, has illustrated his first picture book, 'Cowboy Joel and the Wild Wild West.'"
Yoder said he is excited about the event. "The thing about the Buckeye Book Fair that excites me the most is not the book sales or the exposure. It's making connections with the people there," he said.
Weisenberg said authors are selected throughout the year as books are submitted and sought out for review. "We review over 200 books every year, all of them by Ohio authors."
This year, in addition to the book fair, there is a new event the group is holding. "We are having an extra day of activities for 400 local students," Weisenberg said. "We are working with Tri-County Educational Service Center to bus in students for a Young Authors Day
full of workshops with book fair authors and illustrators."
Weisenberg said around 2,000 people come to the book fair each year.
"The Buckeye Book Fair is family-friendly and features author programs and illustrator workshops throughout the day," Weisenberg said. "From a live bird show, to draw-alongs, to author lectures and a discussion with WWII veteran Bill Wynne, this year's book fair has something for everyone."
Children's and young adult authors this year include Gloria Adams, Lisa Amstutz, Allison Black, LeeAnn Blankenship, Lindsay Bonilla, Tim Bowers, Dustin Brady, Judy Carey Nevin, Mary Kay Carson, Cinda Williams Chima, Jamey Cristoph, Kelley Clark, Richard Cowdrey, Jean Daigneau, Adriane Doherty, Sharon M. Draper, Anne and Jerzy Drozd, Jeffery Ebbler, David FitzSimmons, Dee Garretson, Barry Gott, Margaret Peterson Haddix, Jenn Harney, Steve Harpster, Will Hillenbrand, Michelle Houts, Vera J. Hurst, Katharine Kenah, Dandi
Daley Mackall, Ronnie Martin, Angela Matteson, Mindy McGinnis, Brandon Marie Miller, Edith Pattou, Nancy Roe Pimm, Natalie D. Richards, Michael J. Rosen, Julie Rubini, Betsy Snyder, Kerry Winfrey, and Seth Yoder.
Adult authors for this year's event are Bob Batchelor, Laura Watilo Blake, Charles Cassady, Linda Castillo, Thomas Crowl, Dave Davis and Joan Mazzolini, Mark Dawidziak, Laura DeMarco, Mary Ellis, Neenah Ellis, Alex Erickson, Deborah Fleming, Amanda Flower, Julie
Frey, Roger Gordon, Jill Grunenwald, Karen Harper, David Hassler, Alan Hlad, Bob Hunter, John Kachuba, Kenn Kaufman, David Kimmel, David Kline, Elsie Kline, William Krejci, Miranda Liasson, Kylie Logan, Scott Longert, Barbara and Teeba Marlowe, Olivia Matthews, David Meyers and Elise Meyers Walker, Nicholas Money, Constance Moore and Nancy Broermann, Michael Morgan, Ruth Hanford Morhard, Mary Reed, Emiile Richards, Abbie Roads, David Rohr, Michael J. Rosen, Richard Seaman, Dr. Ajay Seth, Daniel Skinner, Mary Stockwell, Walt Sturgeon, William Tabac, Julie Thompson, James Van Keuren, Bina Venkataraman, Heather Webber, Kerry Winfrey, Bill Wynne, Doyle Yoder, and Julie Zickefoose.
The event is sponsored by Smuckers, College Hills Honda, Consumers National Bank, D+S Distribution Inc., Wooster Glass Co., Friends of the Wayne County Public Library, Taggart Law Firm, Broken Rocks Cafe & Bakery, Rox Gastropub, and Troutman Vineyards and Winery.
For more information about the authors and their books, visit the event's website at
www.buckeyebookfair.com.
Fisher Auditorium is located at 1680 Madison Ave. in Wooster.