New Philadelphia man designs Ohio space patch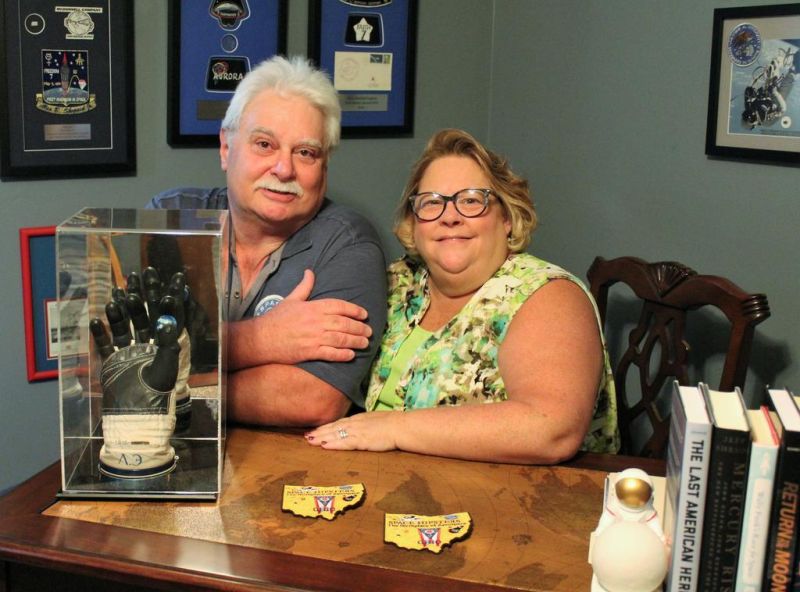 After collecting about 2,000 patches, Kevin Petitte of New Philadelphia has designed one himself. It was his wife, Denise McEnroe-Petitte, who inspired the creation while they were sitting at the kitchen table one evening.
"She asked, 'Why don't you create a patch for the Ohio Space Hipsters?' I thought that was a great idea," Petitte said. "The shape of Ohio came to mind, and that was the first thing we did."
The Space Hipsters is a group founded in 2011, and it is a worldwide community that celebrates the past, present and future of space exploration for professionals and others interested in space.
The patch Petitte designed is one of only three patches associated with the group. He hopes other members will follow through by designing patches commemorating their state's accomplishments in space.
The patch took approximately two months to design and have made. Petitte also enlisted the help of two friends from NASA Glenn Research Center in Cleveland to advise him on the design and make the patch better.
The patch is outlined with the state of Ohio and shows prominent Ohio individuals and areas including Wapakoneta, the home of astronaut Neil Armstrong, the first man to walk on the moon; NASA Glenn Research Center; Wright Patterson Air Force Base in Dayton, home of the Wright Brothers; and a Mercury Spacecraft representing the birthplace of astronaut/U.S. Sen. John Glenn of Cambridge.
In the top left-hand corner are the initials "RB" in honor and memory of Petitte's friend and aerospace historian, the late Rick Boos of Celina.
"I'd known Rick for 34 years, and in my eyes he's one of the most incredible individuals when it comes to knowledge of the space program," Petitte said. "It was an honor knowing him. He was the first individual, along with Scott Grissom, to climb into the Apollo 1 spacecraft so many years after the fire, and they did their own investigation. Rick researched everything; he wanted the facts."
Boos passed away unexpectedly in December 2020, and Petitte said he still feels the loss.
"We had a lot of plans of things we were going to do this summer together. Now they're all gone," Petitte said.
The two men had previously made a pact; the remaining living collector was allowed to select an item from the other's collection to add to their own. Petitte is grateful to Boos' widow, who sent him a glove that once belonged to a cosmonaut. The piece now commands a prominent place in his space room, which is full of collectables including a few new additions: a piece of material from Skylab; signed photographs from John Glenn's daughter, Lynn, one with President Kennedy and her father; and a model of a lunar lander that was custom-made for Petitte.
McEnroe-Petitte is supportive of her husband's hobby.
"It's actually been very enjoyable. I met a lot of astronauts and a lot of important people," McEnroe-Petitte said. "I met John Glenn and his wife, and we became friends. Just going to different places that I never would have gone before, it's been very interesting. It's been blended into our marriage."
Every time they go somewhere, they have to look for patches.
McEnroe-Petitte is happy to have seen a moon rock, visit space-related sites, met and had dinner with a number of astronauts, and visit Space Camp with her grandchildren.
"Kevin took pictures, and I helped with the kids. It was just great to see what they had the kids do. We made a terrarium, and we made pop bottle rockets. The kids had a great time, and I did too. I learned a lot," McEnroe-Petitte said.
As professor of nursing technology at Kent State University at Tuscarawas, McEnroe-Petitte enjoys asking questions about the astronauts' health and if they have noticed any changes after being in space.
"I talked more with Scott Parazynski because of his background," McEnroe-Petitte said. Parazynski was the personal physician to John Glenn on a Shuttle Discovery mission in 1998. Some of the questions she asked were about the tests they do when the astronauts come back from space and the tests they do years later.
This spring the couple combined their interests and went to North Carolina to the Wright Brothers Museum and McEnroe-Petitte's favorite — the beach. Next, they'd like to go together to Cape Kennedy to see a launch. "He's told me so much about it," McEnroe-Petitte said.
The one thing Petitte would like to add to his collection is a hammer used by the late astronaut Al Beans on the moon during the Apollo 12 mission. Beans later used the hammer when he began painting to move the paint and create texture.
Petitte already has a paint brush used by Beans that contains actual moon dust, and he thinks he will have to settle for that. Beans' daughter, Amy Sue, now owns the hammer, and he doesn't think she will give it up.
The response to the Ohio Space Hipsters patch has been good. One of Petitte's connections, a former CNN correspondent who opened an Italian restaurant in the Cocoa Beach area where many members of the Space Hipsters dine, has tipped off his friends in the national media about the patch.
The patch is available at the John and Annie Glenn Museum in New Concord, where Petitte currently has several items from his collection on loan for display.
Patches are $20, and the price includes shipping and handling. To purchase a patch, send a check to Kevin B. Petitte, 268 Kent Circle NE, New Philadelphia, OH 44663.