New release delivers with a boost from Nashville's finest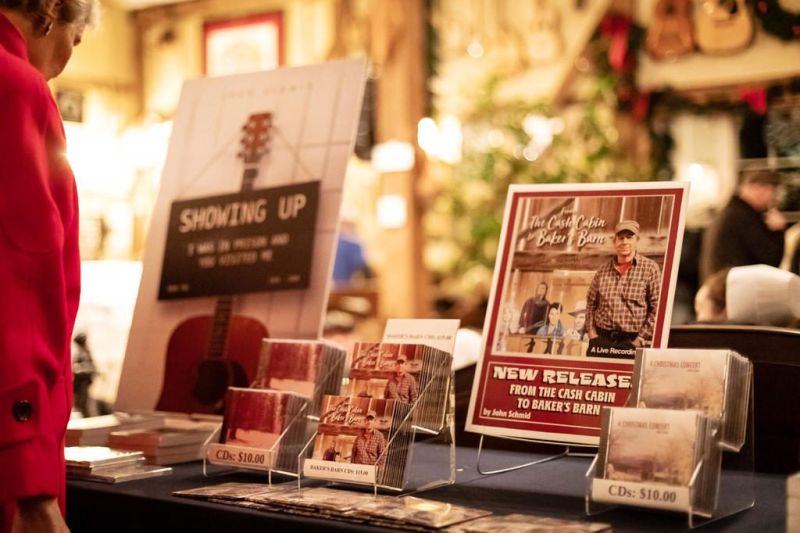 Local singer John Schmid has cranked out a lot of albums during his long singing career.
However, his newest entry is something of a novelty even he said was several steps beyond what he has ever done in the past.
Over the past year Schmid has invested in bringing some of the top musicians in country and gospel music to create the album, "From the Cash Cabin to Baker's Barn."
The album started five years ago when Schmid was in Canada with national speaker Steve Wingfield. Wingfield's guest that day was bluegrass singer Ricky Skaggs, whose base guitar player Mark Fain had been in a session with Schmid earlier. Schmid reconnected with Fain, and the two set up plans to someday do another recording session.
One of Nashville's premier base players, Fain invited Schmid to Nashville, Tennessee to record at the Cash Cabin, the property of legendary singer Johnny Cash.
In addition Fain knows all of the best talent in and around Nashville, and the cast of performers who showed up to record included electric guitarist Kerry Marx; acoustic guitarist and singer Thomm Jutz; acoustic guitar great Bruce Watkins; Justin Moses, one of Nashville's top mandolin and fiddle players; drummers Lynn Williams and John Gardner; and accordion player Jeff Taylor.
It was a large expense to bring in that level of talent, but Schmid said after decades of producing albums it was well worth it because the quality and professionalism of the CD are off the chart. With Schmid singing some of his favorites and the guys providing the instrumentals, the album was awesome, according to Schmid.
"I got the feeling that they really liked what we had done because Mark called me up and was hemming and hawing, and he asked me if I minded if he was listed as producer," Schmid said, adding that Fain felt that this project would help him garner additional work in Nashville.
"He really did think I was OK," Schmid said. "For him to want to put his name on something I did was a real compliment."
Next came phase two in the process. Schmid knew Fain and the guys were big music fans, so in spring 2017 he sent Cash Cabin sound engineer Chuck Turner pictures of Rusty Baker's Legends Barn, Baker's own barn on which he has painted some of the all-time great musicians from Elvis and Dolly Parton to Willie Nelson and of course Cash.
Turner's response was immediate. He wanted to bring in the crew to do a recording at Baker's Barn.
"I thought he was kidding, and I kind of laughed it off, but he told me he was serious," Schmid said.
With each of the performers being independent contractors, it took a great deal of work to figure out a schedule, but finally in December 2017 all of them were able to find their way to Killbuck to record in Baker's Barn.
"I was blown away," Schmid said. "These guys are the guys people in Nashville call when they want the very best. But they are all no-nonsense guys who love to play and have fun, and we went there and had a blast singing."
Once the initial recording was complete, it was far from a finished product. The recordings went back to the Cash Cabin, and additional recordings and plenty of background work had to take place.
"There were some really big names doing recordings there over the past year. And who am I?" Schmid said. "I kind of got pushed back as some of these greats came in to record and produce, so it took some time."
This is actually Schmid's fifth recording with the crew from Cash Cabin, although it was his first working with the talent there. He said their expertise and knowledge is so vast they have the ability to produce an unbelievable album.
"Not only are they pitch-perfect on every note, they know what it takes to make people want to come back and listen time and again," Schmid said. "Working with these guys was an incredible experience."
After two-dozen albums, Schmid said, "These guys actually make me want to listen to myself."
Schmid said he picked out a number of songs he had wanted to sing over the years but hadn't recorded for the new album. Songs like "Belshazzsar," a song Cash said was the first he ever performed; "Lost Highway;" "Ghost Riders;" and "Gospel Bookie" are only a few of the old favorites Schmid chose to perform. It also included "Jenny Lind," a song Schmid wrote.
"They are all songs I like that I haven't recorded before," Schmid said.
In May 2018 he went back to the Cash Cabin to touch up some of the vocals and the CD album cover and booklet designed by local artist John Mast, who created a booklet to go with the piece that showcases each of the performers.
Schmid recently held a CD release party at the Baker's Barn, where they played music, mingled and talked about the CD.
"It was a relaxed, concert-type atmosphere," Schmid said, and then added with a laugh, "This is the first time I have ever held a CD release party. I guess all of my other CDs are still being held captive. But it really was very special to go back and play in the barn."
For those looking to purchase "From the Cash Cabin to Baker's Barn," it is available at Gospel Book Store in Berlin and Faith View Books near Mt. Hope. It also can be purchased online from Schmid's website at www.johnschmid.org.