Norma Johnson Center opens new dock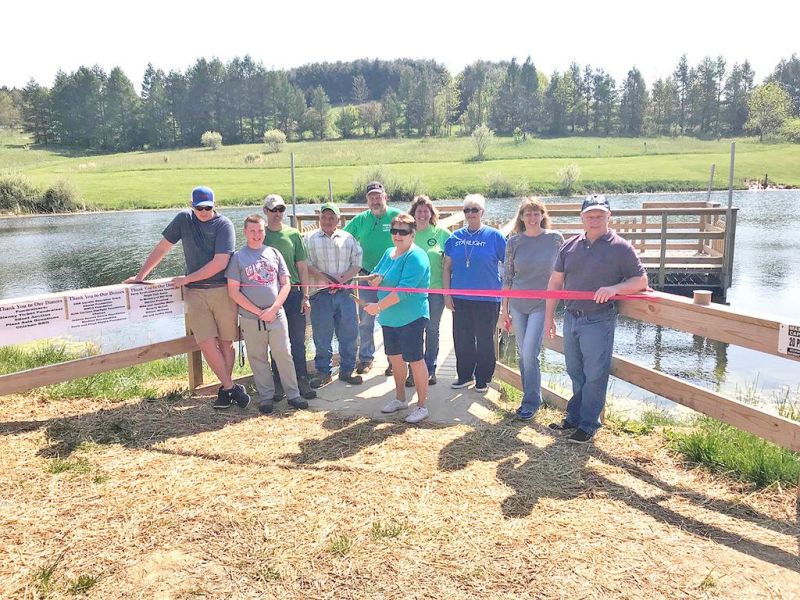 Those who love the outdoors with special physical challenges, especially those who love to fish and enjoy the water, have new accommodations at the Norma Johnson Center on Route 39 between Dover and Sugarcreek.
A new all-access fishing dock has been constructed to safely allow wheelchairs to move close to the water. The project saw its unveiling during a ribbon-cutting ceremony at the center on Saturday morning, May 12.
The dock is situated on Preservation Pond, some distance behind the large yellow pole barn on the property. The arrangement to build it there was conducted with the help of Tuscarawas County Commissioners.
The dock is the culmination of a $9,800 project and will soon see the addition of a specially graded trail path with greater accessibility for all visitors.
Starlight Enterprises CEO Cassie Elvin was on hand to help launch the new dock. "We're already seeing people use the center here quite a bit," she said. "We're out on the trails, people who are able to walk at least somewhat, and for people who are in a wheelchair, we have staff to help get them out here. They've come and just sat and enjoyed the water. So this is fantastic. It's very peaceful. I'm just so thankful for these guys and the work they do here."
Elvin said the Norma Johnson Center staff clearly listened to the needs and concerns of those needing special access. "Well, those who are self-propelled in a wheelchair, they could get too close and go in the water. But they've done a great job of creating a safe access area. They really listened to us," Elvin said. "This offers genuine access to persons with disabilities."
"The goal now is to get an easily accessible trail completed," said Marsha Freeland, director at the center.
A preliminary path for the trail has been laid out, and funding is being secured for its completion. "There really won't be any grade to climb to get here," she said.
Fundraisers were held to help reach financial goals for the dock project including a sale of tickets to win Disney passes, a silent auction, a plant sale and a chicken barbecue.
Donations were secured through grants written by Gabriel Riggle, AmeriCorps member for TuscParks and Norma Johnson Center from the Ohio Department of Natural Resources, the Homan Foundation, the Ruth Carlson Starlight Foundation, Chevron, Jeanne Souers Garcia Foundation, Winfield Homemakers, the Doris and Floyd Kimble Foundation and several other local businesses and individuals.
Tuscarawas County commissioner and Norma Johnson Center board member Chris Abbuhl was on hand for the ceremony while board member Shirley Everhart snipped the red ribbon.
The eventual plan is for most areas of the park near the two ponds to be connected via all-access trails with the two conservation and preservation ponds to be connected by trails as well. An additional $10,400 is being raised to help complete the full project.
Freeland said the community is very helpful in supplying volunteers. "The students from Buckeye Career Center have been here all week, staining tables, clearing brush, trimming and cutting trees. It has been a very busy week for all of us."
The dock was constructed by American Muscle Docks and Fabrication.
The funding solicitation document for the project explains, "The Norma Johnson Center is excited to grow our programming to include those with special needs and families with children in strollers. When complete, we will be able to provide access to nature and education programs to all residents of Tuscarawas County, regardless of mobility."