Ohio Theatre players presenting 'Little Shop of Horrors'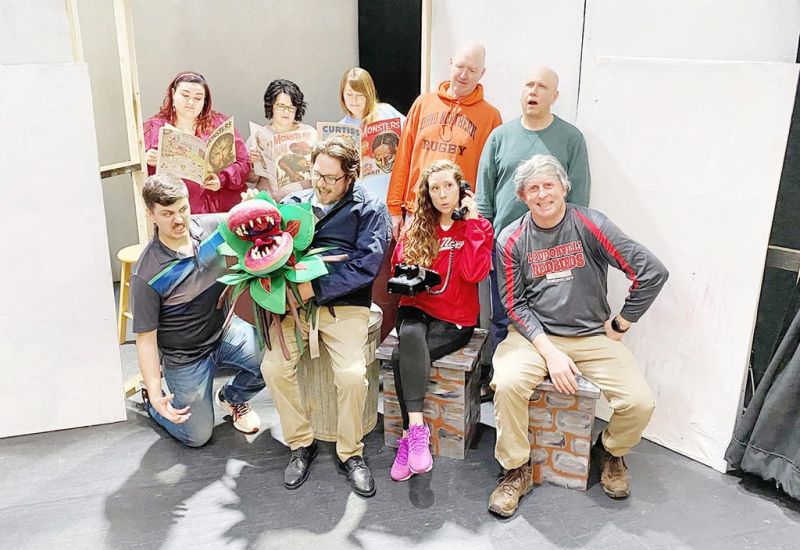 An enormous, egotistical plant will be on full display at the upcoming musical production of "Little Shop of Horrors."
The stage production of "Little Shop of Horrors" will be presented at The Ohio Theatre Feb. 10, 11, 17 and 18 at 7 p.m. with matinee performances Feb. 12 and 19 at 2 p.m. by the Mohican Comapny Theatre.
"It's such an iconic show, and it's a small cast, and it's been so much fun working together," said Director Sally Hollenbach, who also manages The Ohio Theatre.
Hollenbach said the time during the pandemic in which they could not make presentations was a challenge because they are all passionate about the craft in which they perform, but that time did have one benefit.
"By taking away what you love to do and what you're passionate about, that time made us even more passionate because you realize how much you miss it," Hollenbach said.
Prior to the pandemic, the troop was doing four shows annually. That came to a stop, but they are now rejoicing with the chance to return to the stage with this newest production.
"We try to create a variety of opportunities and styles in what we present," Hollenbach said.
Starring in "Little Shop of Horrors" will be Zachary Kistler as Seymore, Rachel Miller as Audrey, Grant Hollenbach as Mr. Mushnik, Dennis Morgan as Orin, Jenny Carroll as Chiffon, Rachel Kelly as Crystal and Amy Loveday as Ronnette with vocal performances by Nathan Roblin, Cameron MacQueen, Larry Kauffman, Hannah Endslow and Natalie Endslow.
Joining Hollenbach in directing the musical is Deaunna Morgan.
Hollenbach said members of the current crew have graced the stage at Ohio Theater in many productions including "Steel Magnolias," "Singing in the Rain," "Annie," "Nunsense," "Shrek the Musical," "Mary Poppins," "Oklahoma" and more.
Hollenbach said the cast comes from all around the area from Wooster to Millersburg and Baltic to Lakeville. She said they all provide their own gifts and talents, but one common thread bonds them together.
"They're all very passionate about the theater and love to entertain," Hollenbach said. "This is an amazing cast, and we have so much talent in this area."
"Little Shop of Horrors" is a comedy-horror musical by Frank Oz. The key figures are Seymour Krelborn and his colleague Audrey, who work at Mushnik's Flower Shop in a run-down, rough neighborhood. They lament that they cannot escape the neighborhood, and struggling from a lack of customers, Mr. Mushnik decides to close the store, but Audrey suggests he may have more success by displaying an unusual plant Seymour owns.
Immediately attracting a customer, Seymour explains he bought the plant — which he dubbed "Audrey II" — from a Chinese flower shop during a solar eclipse. The plant brings much business to Mushnik's shop, but what ensues is Audrey II taking on a life of her own as things soon spin out of control.
"This movie came out when I was younger, and I fell in love with the music," Hollenbach said.
There are four different versions of Audrey II as she grows, and it may have cost quite a bit to rent the four plant characters, with the fourth one being quite large.
However, the cast put its collective talents to use, creating and building the four Audreys, managing to make each look true to the story's origin.
"It's been an amazing transformation," Hollenbach said. "We have a whole team of people who created Audrey II. Originally, we were looking at renting them, and it cost a fortune. So we started watching YouTube videos and thought, 'We can do this.' I'm so impressed by the incredible talents of these people."
Much of the costume work and details of Audrey II came from the mind of Deaunna Morgan. She said crafting the leaves and other parts of Audrey II was a challenge, but a fun one.
"Building the actual pods was a complete collaborative effort," Morgan said. "I've just added a lot of the details like tendrils and leaves to enhance her appeal. There are some mechanics that went with the creation of Audrey II."
The collective effort will serve the show well, and Audrey II is sure to be a big hit.
Morgan said she has been creating costumes for two decades, but this was a new challenge.
"My kids were involved with musicals, so I started making their costumes, and it grew from there," Morgan said. "However, working with set pieces is a new type of challenge."
Hollenbach said not only does The Ohio Theatre present musicals and plays, but also it presents first-run movies every weekend, hosts educational events, and has camps and concerts. There will be a summer program called Arts Alive! for kids in kindergarten through 12th grade.
The next musical production will be a summer presentation of "Beauty and the Beast," and they anticipate a fall production of a children's show.
Tickets for reserve seats for "Little Shop of Horrors" are $15 for adults, $12 for seniors and $10 for students age 5-18 while those age 4 and under are free if space allows. The Ohio Theatre is located at 156 N. Water St. in Loudonville. Patrons may call the box office at 419-994-3750. Tickets may be purchased online at www.theohiotheatre.com/live-shows.