Holmes Courthouse project a painstaking labor of love for many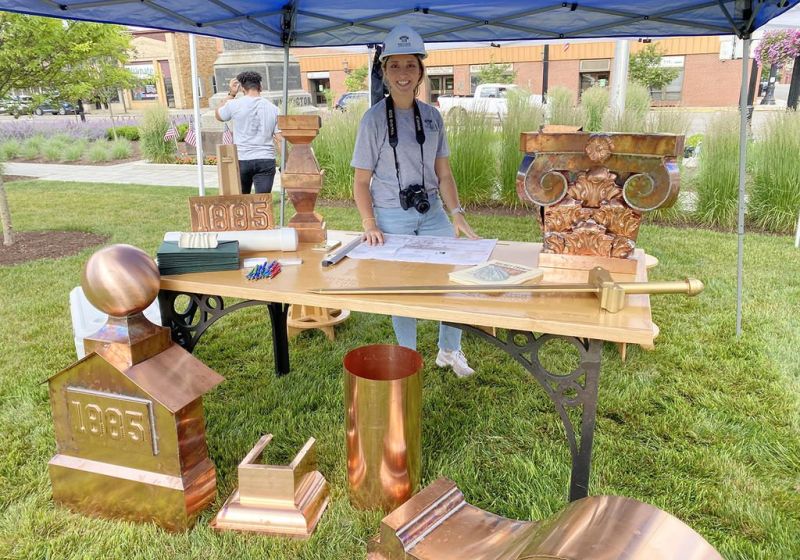 While it wasn't the public event the upcoming Holmes County courthouse clocktower big reveal day is expected to be on July 3, Thursday, June 10 marked a big day in the ongoing restoration process of the clocktower.
Interested passersby and other people who planned to attend the event scattered around the courthouse premises with plenty of cameras and video-recording equipment, capturing the sight of MidState Contractors Inc. placing the gates, Lady Liberty and the crown jewel — the copper cupola that rests atop the structure — on the courthouse roof.
When the Holmes County commissioners signed on to complete this restoration project, this is one of the days they were excited about seeing take place.
With MidState taking time to custom-design and create each copper piece and going to great lengths to make sure the courthouse would return as closely as possible to its original state, it has been a painstaking labor of love for all involved.
From the tiniest of copper moldings to the bright-white glow of Lady Liberty, the courthouse project took a giant leap toward completion with the placement of these larger items, where the MidState team used an enormous crane to hoist each to the roof high above and expertly place them.
For the commissioners, the courthouse clocktower committee and even the team from MidState, this marked a significant occasion.
"It was a long process, and we have to restore our history and keep it in good shape," commissioner chairman Rob Ault said. "That is our responsibility. We are just thankful that we have the funds to do it now, and we will continue to get this building back into the shape it once formerly was because it is something that our entire county should be proud of."
Commissioner Joe Miller was instrumental in the remodeling process, and he said it has taken the cooperation of many to bring the project to fruition.
"It's been a real team effort," Miller said. "We put together a great group together to head this project and celebration up, and this has been a real community effort. The big thing was that we made sure we would have the money in capital improvements to be able to do this, and we have also been able to take advantage of the casino funds that have come in from the state."
While the clocktower project is nearing completion, there is more work to be done, with the commissioners ready to invest in further reparations that will take place in the near future.
"We are excited to see this take place because it needed to be done to preserve this incredible piece of history, and we are grateful for the job the MidState team did working with us on the project," Miller said.
For Doug Hooper, owner and president of MidState Contractors Inc., this was a day they had long anticipated and was personal.
"We went through a great deal of detail and work to make sure that we duplicated the original courthouse as closely as possible," said Hooper, who said this job became more meaningful because his father Jerry passed away in November. "He was the one who taught us everything we know today. This day is really important to us, and it can be a very emotional time, even more so since Dad passed away. He would be very proud of this."
MidState is a family-owned business, and Hooper said they had around 15 family members in attendance for the placement event including his mother and 6-month-old granddaughter. They all were adorned with special shirts commemorating the event, and they all celebrated together as the cupola, Lady Justice and the iron gates adorning all four corners of the courthouse were placed.
"This one is special. They all are special, and when we pull away from a job like this after we're done, it is emotional, and I've cried leaving when we've finished," Hooper said. "When you work on something this long and pour yourselves into it, you get attached, and it becomes part of you."
Hooper said they have done so much research on the building and undergone so much attention to detail that they know as much and probably more than most everyone in Holmes County does about the courthouse's history. Simple changes included replacing the machete-like weapon in Lady Justice's hand with a sword that was more representative of the original.
He said looking at original drawings and photographs allowed them to zero in on details, and with each customized piece, the feeling of commitment to the project and the purpose behind recreating the original building becomes greater.
Under a tent on the courthouse lawn, Mallory Hooper of Cornice Works, a subsidiary of MidState Contractors Inc., was displaying all of the various copper pieces that were created to adorn the clock tower.
She said the company's artisans worked hard to create the custom-made pieces, fabricating each piece including decorative cornices with dentils and modillions, columns, pediments, and a special 1885 copper sign that will adorn the tower.
"A lot of the architectural elements and ornamental details were lost in the last restoration, so we are bringing a lot of those details back," Mallory Hooper said. "We made each of these pieces by hand from old courthouse drawings and photos, so they are all unique, and our artisans took great care in duplicating the smallest of details."
Even after MidState celebrates with the community in the unveiling ceremony on July 3, Hooper's team will continue to work on the building, moving their attention to the porches that have seen significant wear due to erosion.