Paint Valley Equipment's family values pave the way for Small Business honor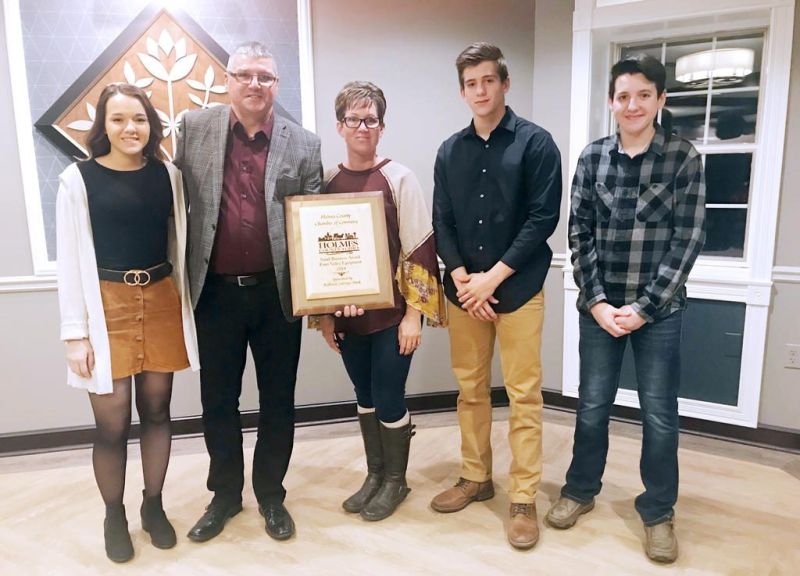 Paint Valley Equipment recently received the Holmes County Chamber of Commerce Small Business of the Year award for 2019.
Like many businesses that rely on heavy equipment, Paint Valley Equipment struggled to maintain their heavy machinery with repairs being so costly. Thus the idea was born to begin to make replacement parts for themselves, which eventually grew into an industry-leading source of parts that has spread all over the nation and beyond.
"What they realized was that customers continued to struggle to maintain heavy equipment on rugged job sites," presenter Vic Weaver of award sponsor Killbuck Savings Bank said.
Weaver said in the same spirit of ingenuity and innovation, Paint Valley Equipment began building its own replacement parts, which are now available through a network of dealers located throughout North America.
"They provide customized solutions to customer's challenges," Weaver said.
Weaver said the success and growth of the company has come through innovation and great customer service.
"Their dedication exceeds creating high-quality products," Weaver said of Paint Valley's staff. "In each transaction Paint Valley Equipment commits to provide the best customer service through a positive company culture. An investment in employee support and satisfaction creates loyal and satisfied customers."
Since those early days, Paint Valley Equipment has become one of Ohio's largest heavy-construction equipment dealers.
According to founder Levi Miller's son, Lee Miller, who now heads up the sales and distribution part of the company, the humble beginnings were nothing more than finding a way to fix their own issues with replacing heavy farm machinery parts.
"The start of the company was not romantic," Lee Miller said after accepting the award.
Miller said he can remember as a youngster growing up on the farm, and after the family had purchased a farm in Western Holmes County, they began clearing out timber with an old bulldozer. He remembers running the tracks off the machine in the mud and wondering exactly how they were going to replace the tracks.
"We didn't know how, although a lot has changed since that time," Miller said. "Dad made connections to get pricing to repair that piece, and he came back and said there was no way we could spend that kind of money. That was really how our company started. Dad started our company in 1984 as an alternative way to repair heavy equipment."
One of the first pieces of equipment the company made was a press to easily knock the pins and bushings out of a track. That simple machine has been retired but remains behind the shop as a testament to the family's journey.
Working in mud, dirt, cold, water and oftentimes darkness, Miller said it wasn't easy in the beginning.
"If you think that is a romantic way to start a company, it's not," Miller said. "We had to move forward. That was the way Dad felt he could better provide for our family."
Miller left a couple of years and came back in 1990, and by then the company was buying and selling used equipment and parts.
Miller said industry-wide, breaking down equipment was a common way to rebuild other heavy equipment, but in the early 1990s they began making new parts to sell that were actually affordable.
Having broken down and repurposed used equipment for years, that is no longer the case for Paint Valley.
"Stop by today and there are no salvage machines left," Miller said. "We got out of that in the year 2000. We have replaced that with manufacturing facilities and warehouses that serve a dealer network that ships on demand. Our niche is selling to other dealers all over North America and Australia. We serve their needs on demand and have a 95 percent same-day fulfillment rate."
Putting the logistics together has been a challenge, but the company has done so through the gifts of hard-working people. Miller said Holmes County work ethic is the biggest advantage they and every other business in the county have.
"Nobody else in our industry has that," Miller said.
Miller credited his father for having the vision and attitude that allowed him to succeed. "He is probably the hardest working individual I know," Miller said of his father. "The vision he had will outlive him because it is sustainable."
Miller ended by thanking his family for their patience and love they have exhibited throughout the years as he has strived to continue the legacy his dad built 35 years ago.