Parker Wieland is using flower power against ALS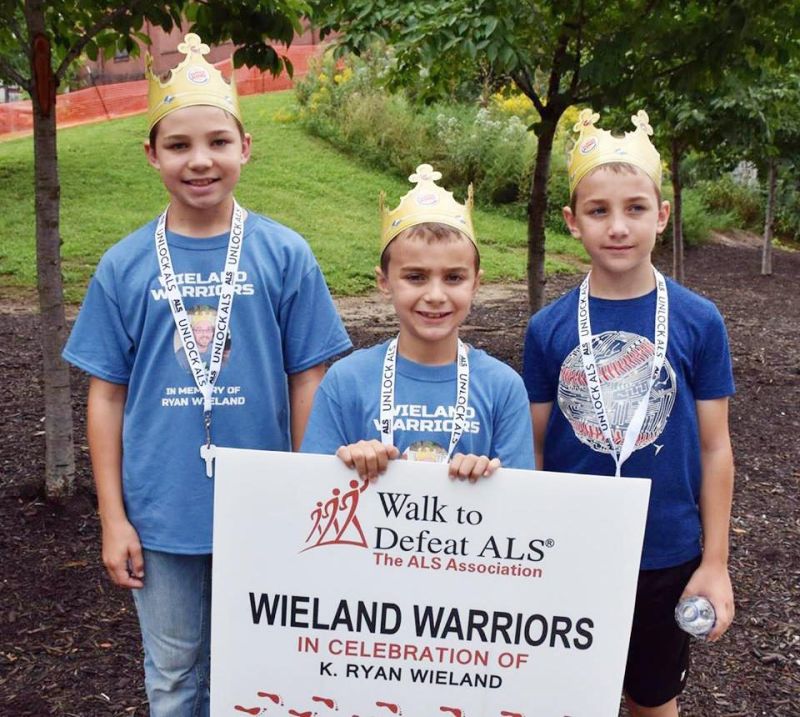 How many people have old glasses, plates and tea sets sitting around cluttering up their cupboards and collecting dust? One area youngster has given purpose to those old glass wares.
Parker Wieland, age 8 of New Philadelphia, is rounding up glassware and turning old junk into art to raise money for ALS research, a disease that claimed the life of his father, Ryan Wieland, at the age of 37 on March 10, 2018.
Ever since Parker has put his artistic skills to work in raising money he then presents to the ALS Walk in Akron. Last year he sold drawings, but this year he has upped the ante, creating glass flowers to sell and raise money.
For the past number of years, ALS has become famous for its ice bucket challenge fundraiser. Maybe Parker has created a new fundraiser with his flower power.
"Parker is very artistic at heart, and he has really approached this project with a lot of passion," said his grandmother, Yvonne Cozart. "It obviously means a lot to him, and it is a neat way for him to do something special in memory and in honor of his father."
Ryan Wieland graduated from Garaway High School in 1998 and worked for Tuscarawas County in the road and bridge department. He later continued his employment with ODOT District 11. He met his wife, the former Jenifer L. Cozart, at Jerusalem Church while they were in high school, and they married in July 2001.
Wieland's passion was his family and the outdoors, and he often spent time with his three sons, Tomas, David and Parker, building bird houses or simply spending time outdoors with them.
Parker has made the commitment to create works of art to raise the money to fend off ALS as science strives to find ways to curb the effects of this debilitating disease.
Parker already has several-dozen flowers on order and is busy pouring himself into his creations. Last year he brought in more than $60, which he then gave to ALS, and this year's project will bring in even more. His effort has already seen him surpass the $200 mark, and that total is climbing.
"Not only does he make everything he sells, he actually goes out into the community and sells it," Cozart said.
It's tough enough to turn down someone raising money to fight ALS, but when that somebody is an 8-year-old, that makes it exponentially harder not to make a purchase.
While the 8-year-old is doing it in memory and honor of his father, he also is doing it to raise money for those who are currently battling the disease.
Parker has gone around to different places to collect old glassware that people have said they no longer want and were willing to donate. He brings it all home, amassing a number of items to make his creations.
To create each flower, Parker chooses different sizes of plates, platters and saucers; uses a variety of styles of cups; and epoxies them together to create a flower. He will paint some of the pieces to bring life to each.
"They are really neat," Cozart said. "He is donating all money to the ALS Association - Northern Ohio Chapter. If anyone is interested in ordering one, please let me know. His kindness never ceases to amaze me."
Anyone wishing to order a flower may do so by going to Facebook and visiting Yvonne Parker Cozart and scrolling down to the glass flower post. The suggested donation price for each flower is $15.
The ALS Association - Northern Ohio Chapter Walk will take place in Akron on Sunday, Aug. 25 at 10 a.m. at Lock 3 at 200 S Main St. in Akron.