Ping pong fundraiser in Charm will benefit local family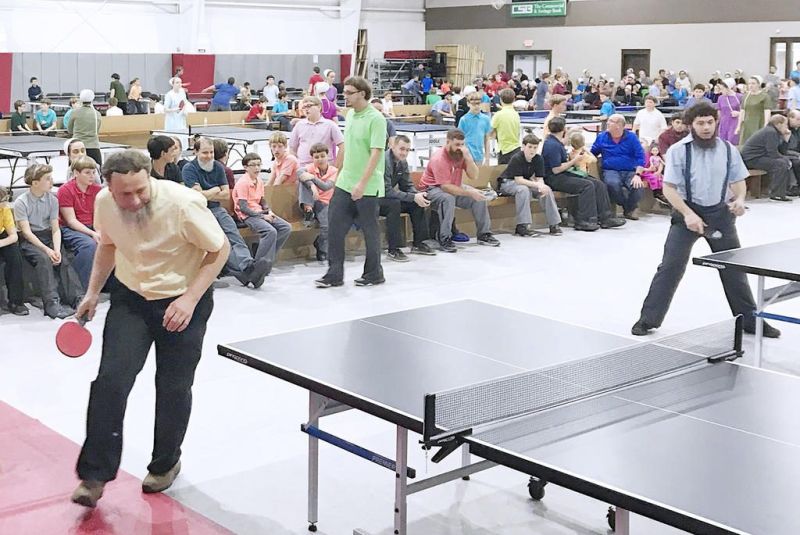 It's time to grab a paddle and attack a tiny white ball. Or if someone thinks they can't compete with some great talent, they could simply choose to come and watch and help support a local family in need.
The fifth annual Pine Pallet table tennis tournament fundraiser will take place Saturday, March 6 with hundreds of ping pong players putting their game up against all challengers to claim a title of bragging rights, but in the end it will all be for a good cause.
The table tennis tournament is sponsored by Pine Pallet near Charm, and since the tournament's inception, it has grown in popularity so much it had to be moved out of Pine Pallet's warehouse and into the Oasis Center.
According to Pine Pallet owner Duane Hochstetler, the thrill of playing a game all of the participants love playing, combined with the excitement and joy of playing with a greater purpose in mind, is a perfect storm.
"It just keeps growing, and every year we continue to see some incredible talent playing on all of these tables," Hochstetler said. "The Oasis Center is a perfect place to host our tournament, and there is plenty of parking and space for everyone to play and watch."
Over the years there have been many spectators who won't pick up a paddle but will instead simply relish in the play taking place at the multitude of tables.
Hochstetler said even if people don't feel capable of competing, it is still an incredible experience to watch with nonstop action taking place on more than 20 ping pong tables.
"It's pretty mesmerizing watching the speed and skills of these players," Hochstetler said. "We have some really talented players come in, but it isn't just for the best players. It is for anyone who loves playing the game and just wants to come out and have some fun and support a good cause."
That cause is raising funds for a local person or family facing medical expenses.
The past couple of years the tournament has raised upward of $10,000, and Hochstetler believes that will again be the case.
This year the proceeds will go to the David and Adah Schlabach family. According to Hochstetler, Adah had cancer, and after treatment it was thought to have been taken care of. But the cancer returned again, and the Schlabachs now face more medical expenses.
"We have seen our community rally around these families and support them through this tournament," Hochstetler said.
Event coordinator Marlin Yoder said organizing the event is a tall task, but with plenty of volunteer help, the set-up and tear-down goes quick.
"We've seen this event grow since that very first year, and it shows how caring people are for one another," Yoder said.
That volunteer help includes people from around the community offering their ping pong tables for the event. With nearly two-dozen tables in the Oasis Center, there is action everywhere. Play is set to begin around 8:30 a.m. The double-elimination tournament was created with four divisions including a 14 and under, age 15-29, age 30 and over, and a women's division. Games will be played to 15 in a best-of-three series.
As for food, there will be coffee, juice and doughnuts available in the morning with lunch food served throughout the day. Hochstetler said the entire tournament will wrap up around 5 p.m., a feat considering they are expecting more than 200 players in the tournament.
"People don't realize how popular ping pong is in this area," Hochstetler said. "And it is great talent. I know there are some places around the community where more than 100 people will gather and play for an evening. Some of these little Amish kids can barely see over the top of the table, but they are just out there battling and competing like crazy. It's fun just to sit back and watch everyone playing and having a blast."
In addition to the ping pong action, the event also features a raffle with prizes. This year's biggest buzz has centered around a Robo Pong 2050 robot, which shoots ping pong balls out and affords a player plenty of practice time. Other raffle items include a new Marin eBike, a 6.5 American Creedmoor rifle, a Milwaukee cordless drill set and a $150 gift card to Charm Fabrics.
Anyone interested in signing up for the event needs to show up at the Oasis Center and sign up by 8:30 a.m. Players are encouraged to show up between 8-8:15 a.m. to sign in. Winners of each division will receive gift cards. The entry fee is on a donation basis for the double-elimination tournament.
If anyone would like to donate a raffle prize to the event, they may do so by calling either Hochstetler or Yoder at 330-893-2614 or 330-600-8941. The Oasis Center is located at 3460 Township Road 159 near Charm.