Pomerene goes east with new medical center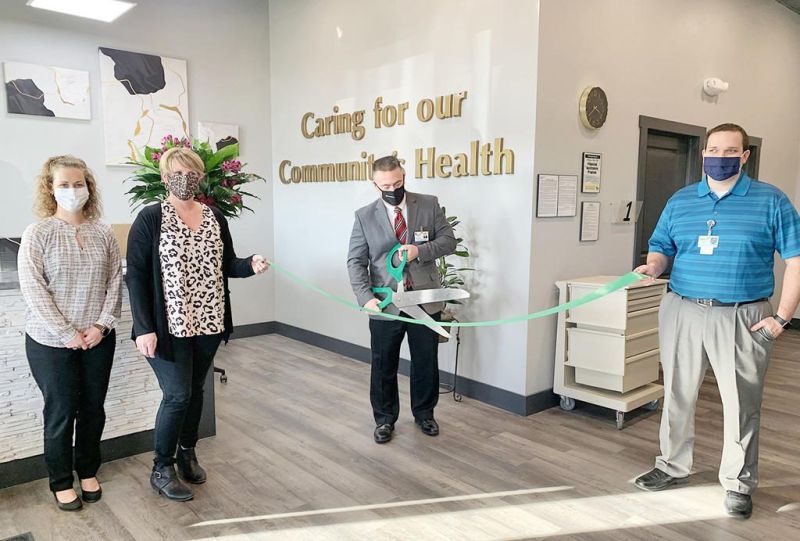 As the sole local hospital in Holmes County, Pomerene Hospital's commitment to growth and serving its community continues with the introduction of Pomerene Medical Center East, located at 3169 state Route 39, just west of Berlin.
The new facility was designed to provide urgent care, occupational health and X-rays, along with providing care in many other ways.
Pomerene Hospital encouraged the public to join them for an open house celebration of the new facility on Jan. 11, where the public could explore the new facility, meet with hospital executives and learn more about everything the new facility will provide.
"We are excited to be on this part of the county," Pomerene Hospital CEO Jason Justus said. "We know access to healthcare is as important as making it readily available, and having efficient and quick access to healthcare can only be provided by being closer to where people live. One of the reasons we wanted to have a presence on the east side of the county is because we believe it is important to be nearer to where folks live so we can provide the best healthcare possible to them."
The move has already been a blessing to one group of people, the residents of Walnut Hills, where the new center has already made progress. After opening in mid-December, Justus said they quickly realized they were caring for people who desperately needed quick, quality healthcare.
"It became apparent that this side of the county didn't have enough health resources, and many people had to continue to go outside the county or travel across the county to the hospital," Justus said. "We saw this as a great and necessary opportunity."
Justus said local employers seeking support through occupational medicine and occupational health have already begun taking advantage of the facility, noting while people on the east side of the county may not require hospital care, there are many who require urgent care, and the Medical Center East is helping to meet those needs.
In serving the community through urgent care, occupational health and medicine, Justus said they can provide occupational drug testing for employers, physicals, injury care and urgent family care. He said the facility also has a radiology room that provides X-rays and lab services, and in the future they plan to add additional services and specialists from time to time.
"It really is a mini-medical center," Justus said.
Providers from nurse practitioners, physician assistants and physicians will rotate through the new center, meaning qualified personnel will always be on hand during open hours to attend to those who come in.
Justus said as the sole multi-specialty medical group in Holmes County, Pomerene Hospital's primary goal is to provide high-quality medical care for every stage of life, providing a team approach that is easily accessible and responsive to people's needs.
Justus said with a highly skilled team of professionals who consistently strive to exceed expectations, provide an excellent experience and demonstrate compassionate care, the same disciplines at the hospital will carry over to the new facility.
"If we've learned anything through this pandemic, we've learned we have to be flexible," Justus said. "If we're the sole community hospital in the county, we must be adaptable and flexible, and we've tried to do that in many ways, realizing that everyone is special, every patient isn't the same. That is why this setting is so important. We want to understand that we need to be flexible and adaptable in serving our community."
Justus said they began the idea of adding a new facility in August 2021 when the location became available, and they recognized it was perfectly suited to accomplish everything the hospital wanted to create on the east end of the county.
Fran Lauriha, Pomerene Hospital chief nursing officer, said seeing this type of growth and expansion for the hospital is encouraging to both the hospital and the community, as they continue to work together. She said they have already begun discussions on other opportunities. She added they have already had positive feedback from the community, as well as staff members who have enjoyed the opportunity to work in a different atmosphere than the hospital.
"It's about caring for people in the very best way possible," Lauriha said. "For us the goal is to provide quality care and meet their needs the best way possible, and this facility is one way we can do that. It's a wonderful facility in an easily accessible site, and they receive the best in healthcare. We've been able to expand beyond our hospital walls to provide urgent care and occupational health and medicine care for our community."
Pomerene Medical Center East is open Monday through Friday from 7 a.m. to 7 p.m. and Saturday from 9 a.m. to 1 p.m.