Post Office committed to delivering following storm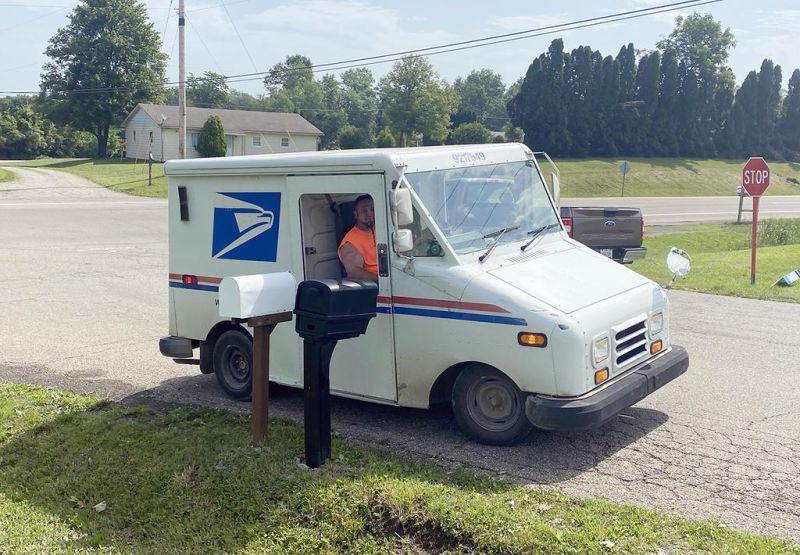 "Neither snow nor rain nor heat nor gloom of night stays these couriers from the swift completion of their appointed rounds."
That motto has long been associated with the United States Post Office, and after the harrowing gales of a major storm wreaked havoc on Holmes County, that motto was put to the test.
Huge gusts of wind near 100 mph rushed through many parts of Holmes County in the early hours of Monday, June 13, knocking down thousands of trees, many of them snapping off power lines and crossing roads, making travel a major difficulty.
Those trees didn't deter the county's U.S. postal workers from hopping in their delivery trucks and making their rounds. While many of them had to find alternate routes and traverse the downed trees and potentially live wires, the mail did indeed roll on, fulfilling the theme of the motto.
U.S. postal delivery driver Jamie Swigert delivers the mail on both the east and west sides of Millersburg. Early on following the storm that came in just after midnight and then again at around 4 p.m., many roads were closed, and even in the days that followed, the widespread destruction was so great it was taking electric county and township work crews a long time to get to all the problems, despite their determined effort.
Swigert said he had plenty of chances to find inventive ways to get people their mail.
"It's been a challenge to say the least," Swigert said. "On an average day, I put about an average of 56-57 miles on the vehicle during my route. I put 72 miles on (June 14). I had to backtrack so much and find new ways to work around the downed power lines and trees."
Each of the U.S. postal delivery drivers had to deal with similar situations throughout Holmes County. However, Swigert said they had a job to do and complaining about it wasn't going to help anything. He said they understand many people who were without power, had storm damage to their homes or had lost many trees had it much worse.
"We're just doing the best we can," Swigert said. "Unfortunately, there are roads closed where we simply can't get to homes. There are homes where the roads are closed on both sides, making it impossible to get there. Those people have to wait, and I feel really bad for them, not just because of the mail, but because of the stress they are put under, and so many people are without power. It's a difficult situation that is going to take time to get through, but we'll all get through it together."
He said communications remain a critical part of the post office's working through its struggles to deliver. He said with no Amazon packages to deliver, the time to deliver routes is actually far less.
While giant gusts of wind aren't in the post office's motto, the post office drivers were working hard to make sure the swift completion of their appointed rounds took place.