Reclamation becomes Save & Serve's 10,000th auction item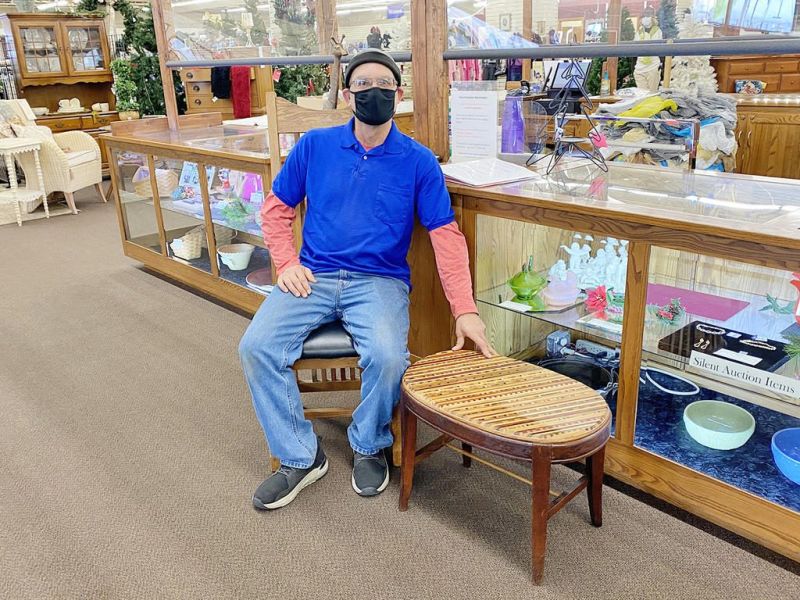 The silent auction at Save & Serve Thrift Shop in Millersburg has over the year become a unique part of what the thrift shop offers. While there are many articles of clothing, games and puzzles, books and records, kitchen gadgets, toys, houseware items, and a whole lot more that have come in and out of the shop on a daily basis over the past many decades, the silent auction was developed 15 years ago and has featured some rare items that have caught many people's fancy, enough to make stopping in or calling in and placing bids a regular activity.
The staff at Save & Serve suddenly realized it had a somewhat important moment in its history arriving and wanted to find the perfect piece to celebrate as the 10,000th item to be placed in the silent auction.
"To be able to post our 10,000thsilent auction item is exciting," general manager Eric Raber said. "I remember when this first started, it was kind of a simple idea of how to get some items out that we wanted to focus on."
The idea for the silent auction first started with Dorothy Mast and Vivian Hershberger about 15 years ago when Save & Serve operated at its former location on South Grant Street in Millersburg. Since then a variety of items has come through the silent auction over these years, giving the thrift store an added feature that draws people to the store.
"It really caught on, and now many people come in to check out what we have on display in the auction," Raber said.
Jenny Hofstetter, Save & Serve Thrift Shop soft goods manager who is in charge of the silent auction process, said since its initiation more than 15 years ago, the silent auction has become a fun and interesting part of the store's appeal.
"We feel like the auction is a really unique part of our store because it is something that people wouldn't necessarily envision as part of a thrift store," Hofstetter said. "It's the first thing people see when they enter the store, and we designed it to be that way when we built the store here."
The auction has featured plenty of vintage and antique items over the years, as well as items that have meaning locally.
"Public interest pieces always draw a lot of interest," Hofstetter said.
The items in the auction are all items donated to Save & Serve that find their way to the store and into the auction, most of them going through Dave Schlabach, who is in charge of evaluating pieces that could be auction worthy.
According to Hofstetter, each item auctioned will be on display until going five days without receiving a bid. If a bid is placed, the five-day period starts over.
"Part of the thrill is seeing how long an item remains in the auction," she said. "It could be a couple of weeks or several months."
Bids must initially be made in person, where interested parties receive a bid number. They can then stop in and bid or do so via phone.
Raber said they were looking for something rare and unique for that illustrious 10,000th auction item. What they found was something handmade that is definitely a one-of-a-kind piece, handcrafted by a local man.
After some discussion as to what item would be a fitting entry to assume that place of recognition, the managers recognized they had the makings of a wonderful and sentimental piece right in their own midst.
Volunteer Keith Lyndaker Schlabach is a master woodcraftsman and has been a part of the Lyndaker Inlay family legacy for four generations. When asked if he would be willing to create a piece they could use as the 10,000th piece in the silent auction, Lyndaker Schlabach said he was thrilled and honored.
Unbeknownst to Lyndaker Schlabach, the managers already had a piece picked out and he didn't have to give it a second thought because the piece was actually a small table that had come through Save & Serve as a nonauction item earlier this fall.
It was in such disrepair it stood a good chance of being thrown away. However, Lyndaker Schlabach saw something in the piece that caught his eye. The base itself was solid wood and sturdy. He estimates it was originally built in the mid-1950s to 1970 by The Gettysburg Furniture Company. According to the tag, it was built for the Ideal Furniture Company in Canton, which began in 1957.
The strong base of the table was perfect for Lyndaker Schlabach's creative marquetry inlay style, and he went to work. While the table itself isn't huge, it does contain more than 1,000 pieces of around 20 different types of wood including domestic and exotic woods, some of them rare and unique in their own right.
"It was a piece that probably was going to get thrown away, but a lot of what we do is upcycling and repurposing furniture that a lot of people might throw away," Lyndaker Schlabach said. "Wood inlay works really well as a way of repurposing tabletops."
In rebuilding the table, Lyndaker Schlabach purposely kept the underside of the tabletop intact, meaning all of the original markings including The Gettysburg Furniture Company label were kept. He said they never stain the wood, allowing the beauty and contrast of each existing wood to shine.
"Eric and Jenny visited me at my house, and they said they wanted a piece, this one in particular, to be the 10,000th piece in the silent auction, and I was blown away," Lyndaker Schlabach said. "What an honor."
Thanks to the steady hand, keen eye and expert craftsmanship of Lyndaker Schlabach, Save & Serve has its very unique 10,000th item. How long it will be available for bid is now in the hands of the community and the bidders who would like to purchase a piece of history.
Save & Serve Thrift Shop is located at 1108 S. Washington St. in Millersburg.