Rodeo returns to the fair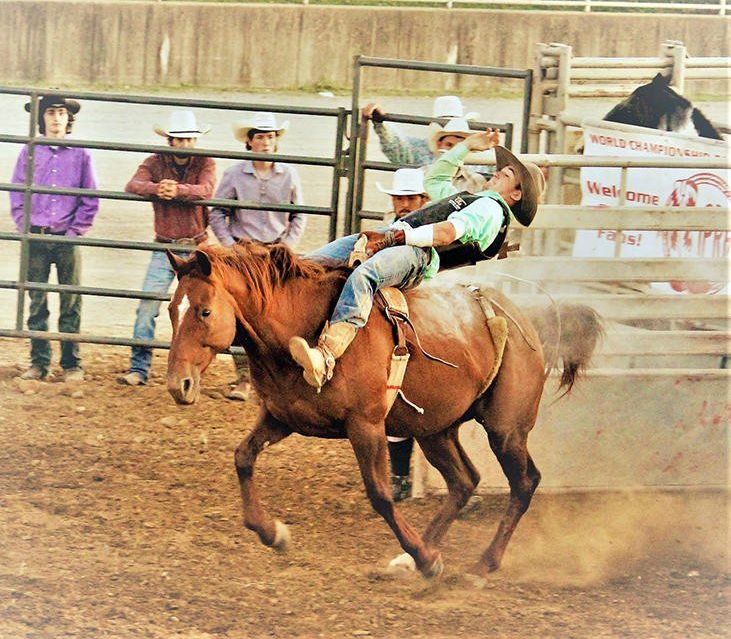 Rodeo fans turned out in approval of the Wednesday night Tuscarawas Fair schedule change with a nearly full grandstand. There were only around 200 unsold seats left in the grandstand.
Rodeo traditions go back to the root of our agricultural beginnings. Cowboys and cowgirls "pay to play" and many times go home empty handed. It can also be dangerous, but those who compete love the sport.
Some of the events mimic the skills ranchers need to use to care for their cattle. In addition to bareback riding, breakaway roping, tie down roping, barrel racing, team roping, and bull riding, the show featured Shadow Montag and Emmie Martin in an exhibition of trick riding. Categories for younger riders included mini-bull riding, mutton busting (riding sheep), and mini-bronc riding.
Overseeing all the activity was the Rafter M Rodeo Company of Belmont, Ohio. The rodeo brought in 63 competitors from all over the state of Ohio and as far away as West Virginia, Pennsylvania, and Michigan.
The company had recently started offering mini bronc and the Tuscarawas County Fair rodeo was the first one to feature mini bull riding.
The evening started with a grand entrance with riders on horseback carrying American flags, a salute to the mounted deputies that help patrol the fairgrounds, and a prayer.
Uhrichsville area resident, Cooper Smitley, 16, has been around horses his entire life and was a cowboy mounted shooting champion at a young age. He has competed in many rodeos across the country was in the top 20 in Chute dogging in the National Junior Finals Rodeo. He began bull riding two years ago and competed in the wanted to challenge himself and move up to the most exciting of rodeo events bronc riding and bull riding.
Smitley only had one piece of advice for anyone considering bull riding, "Close your eyes and hope for the best."
A young wrangler, Tyler Rogan, 11, of Lisbon attended to compete in the mini bull competition. "If you can sit on a horse, you can ride a bull," said Rogan.
His brother, Travis, 16, was on hand to watch all the action but was unable to compete because he had just gotten pins out of his arm from a previous ill-fated bull ride. Travis did plan to compete in bull riding at another rodeo in a few days. The boys said they come from a rodeo family. "It's in our blood," said Travis Rogan. The boys' mother and sister are barrel racers.
Rev. Andre Wilson of Canton was one of the many spectators enjoying the event. "I've never been to a rodeo before so it's cool. There's some good talent out here," he said. Wilson said he and his wife come to the Tuscarawas County Fair every year. "We love it, it's a good activity and I love fair food. There's nothing like fair food."
Tuscarawas County had plenty to cheer about at the rodeo; local contestants were:
Bareback Riding: Cody Shuss of New Philadelphia and Cooper Smitley of Uhrichsville.
Breakaway roping: Hadassah Mullet of Baltic and Reese Graham of Stonecreek.
Tie down roping: Philip Mullet of Dundee.
Barrel Racing: Triska Leslie of Tuscarawas, Esther Miller of Sugarcreek, Grace Gingerich of Dundee, Brooke Miceli of Dover, and Reese Graham.
Team Roping: Ty Mullet of Dundee; Steve Widder of Uhrichsville, Cade Jones of Dover and Philip Mullet.
Bull Riding: Conner Miceli of Dover and Cooper Smitley.